Press Release: Over-the-Counter (OTC) Self-Medication Now Common Practice in Hong Kong
Due to their busy lifestyle, more and more people in Hong Kong find over-the-counter (OTC) self-medication the most appropriate remedy to minor ailments.
With increased exposure to OTC information and easier access to drug stores, consumers feel more comfortable using self-medication: The top three factors mentioned, contributing to an increased OTC usage being ease of access to drug stores, the rise of general health consciousness and freedom from the hassle of doctor visits. And OTC usage keeps rising with the years.
Most Commonly Purchased OTCs
According to Q1 2017 data from Media Atlas, Hong Kong's most renowned syndicated media survey, the three most common self-medicated (OTC) health conditions in Hong Kong are cold & flu, cough & sore throat and headaches; Over half of Hong Kong people declare having purchased OTCs for one of these conditions over the past 12 months.
Samuel Lam, Ipsos Healthcare Director in Hong Kong, explains: "Each of the three conditions usually present acute, easily identifiable symptoms, which may contribute to the choice of self-medication. Besides, the great amount of advertising by well-known OTCs brands like "Panadol" and "Fortune" have also greatly increased awareness and purchase consideration over the years."
Comparatively, people in Hong Kong tend to buy less OTCs for sleeping problems, allergies and mouth & dental issues, since less OTC products are available for those more serious symptoms.
Yet the study shows that almost 9% purchase OTC medicine for sleeping problems at least once a month -  and even twice a month or more for 6.7% - suggesting more widespread sleeping disorders in the city.
Meanwhile, 12.2% of respondents purchased OTC for backache/muscle pain at least once a month. Samuel Lam continues: "We see this as a common illustration of typical issues caused by sedentary lifestyle, such as stress and anxiety." Perhaps not surprisingly, 5.7% of consumers in Hong Kong say they buy OTC for both sleeping problems and backache/muscle pain at least once a month.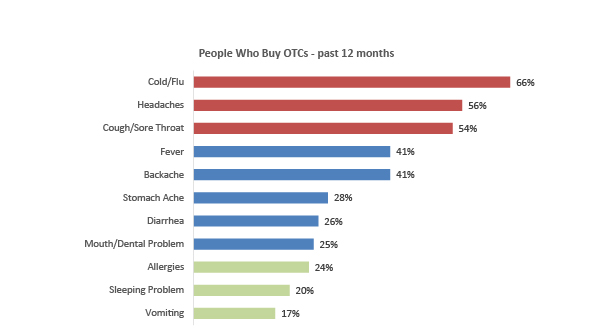 Click the link below to Download the full Press Release