What worries the world - August 2023
Inflation has now been the top global concern in our What Worries the World survey for the last 17 months. However, worry about rising prices has declined for three months in a row, having dropped 3pp from June.
Our monthly What Worries the World survey explores what the public thinks are the most important social and political issues, drawing on more than ten years of data to place the latest scores in context. This wave was conducted between July 21st – August 4th, 2023.

Key findings
Inflation is still the highest concern this month. But this month sees a further easing of 1pp to 37%.
This month's level of inflation worry is the lowest it's been this year and the lowest score since June 2022.
12 nations – Argentina, Australia, Belgium, Canada, France, Germany, Hungary, India, Poland, Singapore, USA, and Turkey – have rising prices as their biggest concern. Two more than last month.
Across all countries, worry about inflation is followed by poverty & social inequality (31%, +1pp), crime & violence (30%, -1pp), unemployment (27%, +1pp), and financial & political corruption (27%, +1pp) which together make up the top five global worries.
Climate change is still the seventh biggest concern globally, with 18% worried, +1pp from last month. A third (32%) of the Dutch are worried about climate change, their joint second concern with immigration.
Coronavirus worry remains at 17th out of 18, with less than one in 10 (5%) picking it. This is the lowest level we have recorded since adding it to the survey in April 2020.
The "Right vs wrong direction" monitor sees 36% saying their country moving in the right direction, a 2pp drop. Thailand's (44%) optimism has dropped 16pp.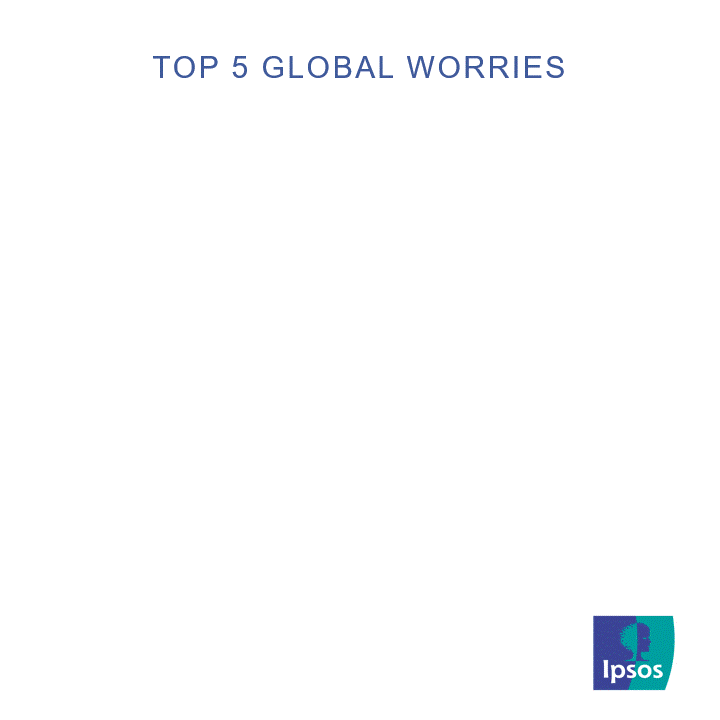 Inflation
Inflation concerns have now gone through three months of consecutive decline, having dropped 1pp in June, 2pp in July, and now 1pp this month. At 37%, it is the lowest it's been in 2023 and the lowest since June 2022.
Despite a decrease, the number of countries who list inflation as their top concern has gone up, from ten to 12. The list comprises Argentina, Australia, Belgium, Canada, France, Germany, Hungary, India, Poland, Singapore, USA, and Turkey.
Argentina (69%) is still at the top of our list and has been the most concerned country since November 2022.
Once top of the list, Poland's level of worry (53%) is falling. After dropping 6pp this month, it's now at its lowest level since April 2022.
For more on public attitudes towards inflation, see our recent 29-country Global Inflation Monitor.
Climate Change
Climate change ranks seventh out of 18 global concerns in our What Worries the World survey, between healthcare and taxes. This month's worry has increased by 1pp.
Singapore now has just under a quarter (23%) worried this month, despite being the most concerned nation last month. Their score has dropped by 8pp. 
With a third (32%) now concerned, the Netherlands is top of the list. Climate change is joint second in the level of worry for the Dutch with immigration control.
After recent heatwaves, a few European countries have seen increases. France (30%) is up 5pp, Italy (27%) is up 7pp, Great Britain has moved +6pp, and Spain (21%) has risen by 3pp.
Crime & Violence
Just under a third (30%) have crime & violence as their highest concern, down 1pp this month. This is after a slight bump in July when it increased by 2pp.
In July, France experienced a sharp rise in this issue, making it its biggest concern. In August, however, concern has cooled, dropping 14pp to 35%.
Despite still having it as their number one concern, the level of concern in Israel (38%) has also fallen, a drop of 10pp.
Five other countries have crime and violence as their top concern: Chile (62%), Sweden (59%) Peru (57%), Mexico (57%), and Israel (38%).
Poverty & Social Inequality
Poverty & social inequality is now second on our list of 18 worries with 31% saying it is an issue in their country. This is after a 1pp rise.
Brazil (41%) and the Netherlands (35%) all have inequality as their top concern. Overall though, the Dutch, having been third, are now eighth after dropping 5pp.
Nearly half (47%) of Indonesians have inequality as a top concern. Indonesia's level of concern for poverty has always been relatively high. This time last year, the country was third at 42%.
Hungary (34%) is now tenth, decreasing from first position last month by 7pp. 
Financial/Political Corruption
Over a quarter (27%) choose financial/political corruption as one of the top issues in their country. This is up 1pp this month. 
South Africa now has just under half (46%) worried about corruption. After declining by 9pp this month, it no longer holds the top position on our list. Instead, Indonesia (55%) is now top, increasing by 1pp.
Alongside Indonesia, Thailand, and Malaysia both have over half saying corruption is their top issue (52% & 51%, respectively).
Last month we noted Singapore had moved up by 6pp. This sees an additional 8pp increase to one in five (19%).
Satisfaction with the economy
Across 29 countries, 36% of people describe the current economic situation in their country as "good", with no change since July 2023. 
Positive sentiment has increased most from last month in Poland (+7pp), India (+6pp), Sweden, and Great Britain (both +5pp). 
Spain's "good" economic score has increased by 2pp this month, marking the third consecutive month it has recorded a new all-time highest score.
Meanwhile, Colombia's "good" economic score has dropped 10pp down to 22%. A 9pp decrease in Turkey's "good" economic score sees the country record its joint-lowest ever score (tying with July 2022).