Following the catastrophic August 4th explosion in Beirut, Lebanon, the World Bank Group asked Ipsos to conduct a Rapid Damage and Needs Assessment (RDNA) to understand extent of the damage across 12 major economic sectors. In an unprecedented turnaround of nine (9) days, Ipsos' risk analysis division conducted a drone survey, analyzed high-resolution satellite imagery, and deployed ground survey teams to survey nearly 17,000 locations within the impact zone. This work resulted in World Bank's assessment that the explosion caused estimated $4.6 billion in damages.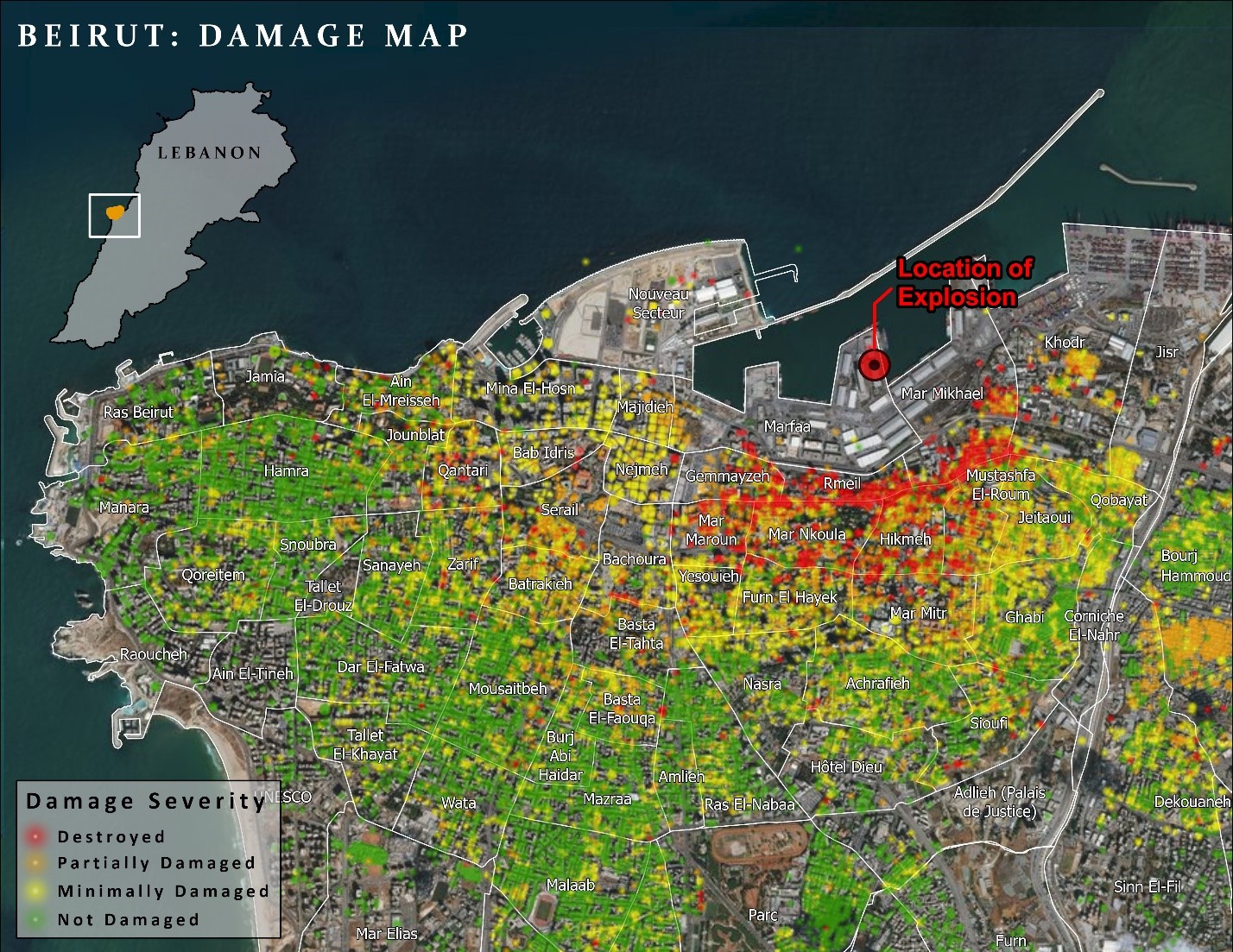 Simultaneously, the rad team fused drone and satellite imagery, human mobility data, NGO assessments, social media posts, thousands of live photos and videos, and municipal data to build a comprehensive picture of the situation on the ground.
The analysis focused on the three-mile radius of the explosion. Ipsos delivered insights about the impact and the needs it created in the areas of housing, healthcare, education, security, economy, governance, water/sanitation, municipal services, and cultural heritage. Through visual observation, Ipsos assessed the physical and functional damage of 16,471 locations as well as took 25,000 geo-located photos of damage. We also conducted more than 500 on-the-ground interviews with administrative staff of impacted facilities.
Select findings:
52% of housing within the blast radius was damaged.
Of the total 14,324 housing units surveyed, 864 (6%) were destroyed.
55% of 143 schools in the blast radius were damaged, 18 of them heavily damaged or destroyed.
43% of cultural heritage sites (including museums, places of worship, cinemas, etc.) were damaged.
Of 3,430 cultural heritage sites, 359 (10%) were destroyed.
Ipsos hopes this work will inform and guide the significant short-term and long-term international assistance needed to reconstruct Beirut. We join the World Bank, the United Nations, and the European Union in expressing our confidence in the resilience of the Lebanese people who are yet again demonstrating their strength in these extremely challenging times.
Download