Malaysians Confident About Current Data Protection Measures
Ipsos conducted a study among Malaysians to understand their views and attitudes towards data privacy. The study revealed Malaysians are confident in themselves and in the Malaysian Government on matters pertaining to the protection of their personal data.
The survey showed that 94% of Malaysians believe they bear responsibility for protecting their own personal data, and 83% believe that the Malaysian Government/Government bodies should share that responsibility. Additionally, 76% believe banking/financial institutions should be held responsible for the protection of personal data.
Malaysians are convinced that the Malaysian Government/ Government bodies (80%) and banking/financial institutions (76%) are doing enough to protect their personal data.
Only 51% of Malaysians are willing to deal with companies that they trust to protect their personal data, while less than 50% trust telecommunications/mobile, online e-commerce and social media companies to handle their personal information appropriately. Furthermore, less than half are confident that companies use secured systems to store personal data (45%) and would not misuse their personal data for other gains (41%).
Are Malaysians cyber savvy enough to protect themselves from cyber threats?
Only less than half of Malaysians (44%) are aware and have some knowledge about online data privacy. While Malaysians from East Malaysia as well as the uneducated group (below SPM) and the older age group (45 to 74 years) are three groups that do not have any knowledge about online data privacy.
31% of Malaysians do not review, or understand privacy policies pertaining to websites that they use.
Passwords and PIN hygiene is weak; only 39% of Malaysians use different passwords or PINs across their various accounts, while 36% store passwords and PINs in what they believe are secured locations.
30% of Malaysians feel they do not have sufficient control over personal data on the internet.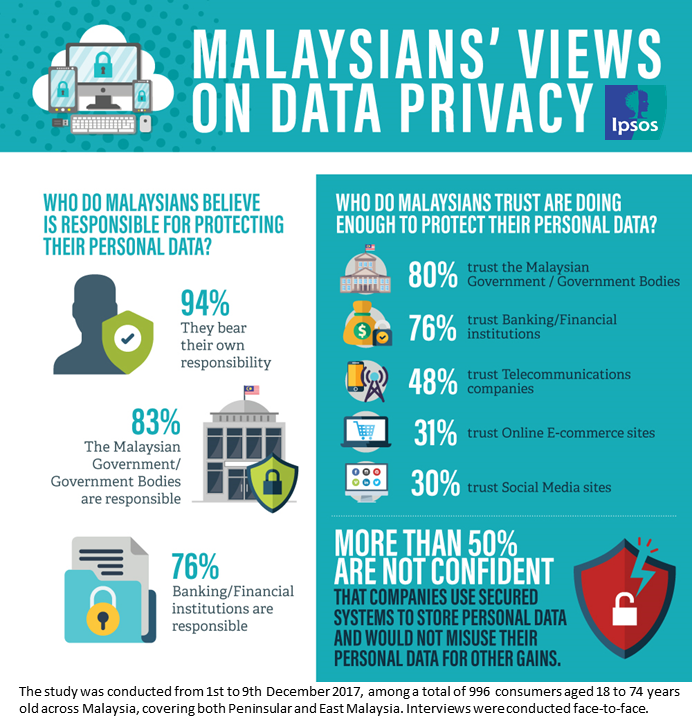 Arun Menon, Director of Public Affairs, Ipsos in Malaysia, comments, "The study shows Malaysians do care about data privacy, and view themselves as having shares responsibility to safeguard their own personal data. However, they are doing less to protect themselves, as 61% use the same passwords and PINs for multiple accounts and surprisingly, 31% would store these in locations that they believe are safe! The government bodies and private organisations alike, must continue to educate citizens and their customers on the importance of data protection and ensure that the rights of the people are protected."
About the study:
The study was conducted from 1st to 9th December 2017, among a total of 996 consumers aged 18 to 74 years old across Malaysia, covering both Peninsular and East Malaysia. Interviews were conducted face-to-face.