Malaysians Expectations of Budget 2018
Malaysians want the government to focus on three priorities: cost of living (55%), affordable housing (42%) and GST/ tax reduction (37%)
IPSOS STUDY REVEALS MALAYSIANS WANT 2018 BUDGET TO BE PEOPLE CENTRIC, AND FOCUSED ON EASING THE BURDEN OF COST OF LIVING
Malaysians want the government to focus on three priorities: cost of living (55%), affordable housing (42%) and GST/ tax reduction (37%)
---
The top three areas of expectation that Malaysians would like the Government to focus on and prioritise in the upcoming Budget 2018 this month are cost of living (55%), affordable housing (42%) and GST/ tax reduction/ rebates (37%), according to an Ipsos study* involving 950 Malaysians aged 18 to 74 years.
Cost of living ranked as the biggest concern among Malaysians. According to the latest data released by Malaysia's Department of Statistics (DOSM)¹, the consumer price index (CPI), rose 0.6% to 4.3% in September 2017, compared with 3.7% in August 2017 on a year-on-year basis. The food and non-alcoholic beverages index, which accounted for 30.2% in the CPI weighting, increased 4.6% in September 2017, driven by oils and fats (+39.6%), fish and seafood (+8.0%), fruits (+3.9%) and vegetables (+4.8). The transport group index showed an increase of 15.8% on a year-on-year basis in September 2017 after rising 11.7% in August 2017.
Affordable housing was the 2nd most important area for Malaysians.  According to a statement by The Real Estate and Housing Developers' Association Malaysia (REDHA)², since the implementation of 6% GST, construction materials for properties and stamp duty have resulted higher construction costs, which has been passed on to house buyers. In addition, the price of steel has increased by 60% (RM1,700 increased to RM2,800 per tonne) after a new levy was implemented in February 2017.
The concerns on GST/tax reduction/rebates came in as 3rd most important in the study. GST has resulted in a rise in the price of goods, therefore increasing household spending. Based on the data of DOSM¹, the CPI index has increased on a month-to-month basis in the last 17 months since the introduction of GST in April 2015 from 111.9 to the current CPI level of 120.3 in September 2017.
A call for economic growth among Malaysian was the 4th most important area (26%) for the Government to prioritise in the next Budget announcement. This was especially important for the lower income group (48%) and lower education levels (38%), indicating that Malaysians expect the Government to announce various measures to bolster the economy and strengthen the resilience of its economy.
Commenting on the findings, Katharine Davis, Managing Director of Ipsos in Malaysia, said: "The survey results revealed that Malaysians place more emphasis on basic needs before education — including putting a roof over their heads and food on the table. They want to see almost instant improvements in their current situation, the ability to keep afloat and to cope with the rise in the cost of living."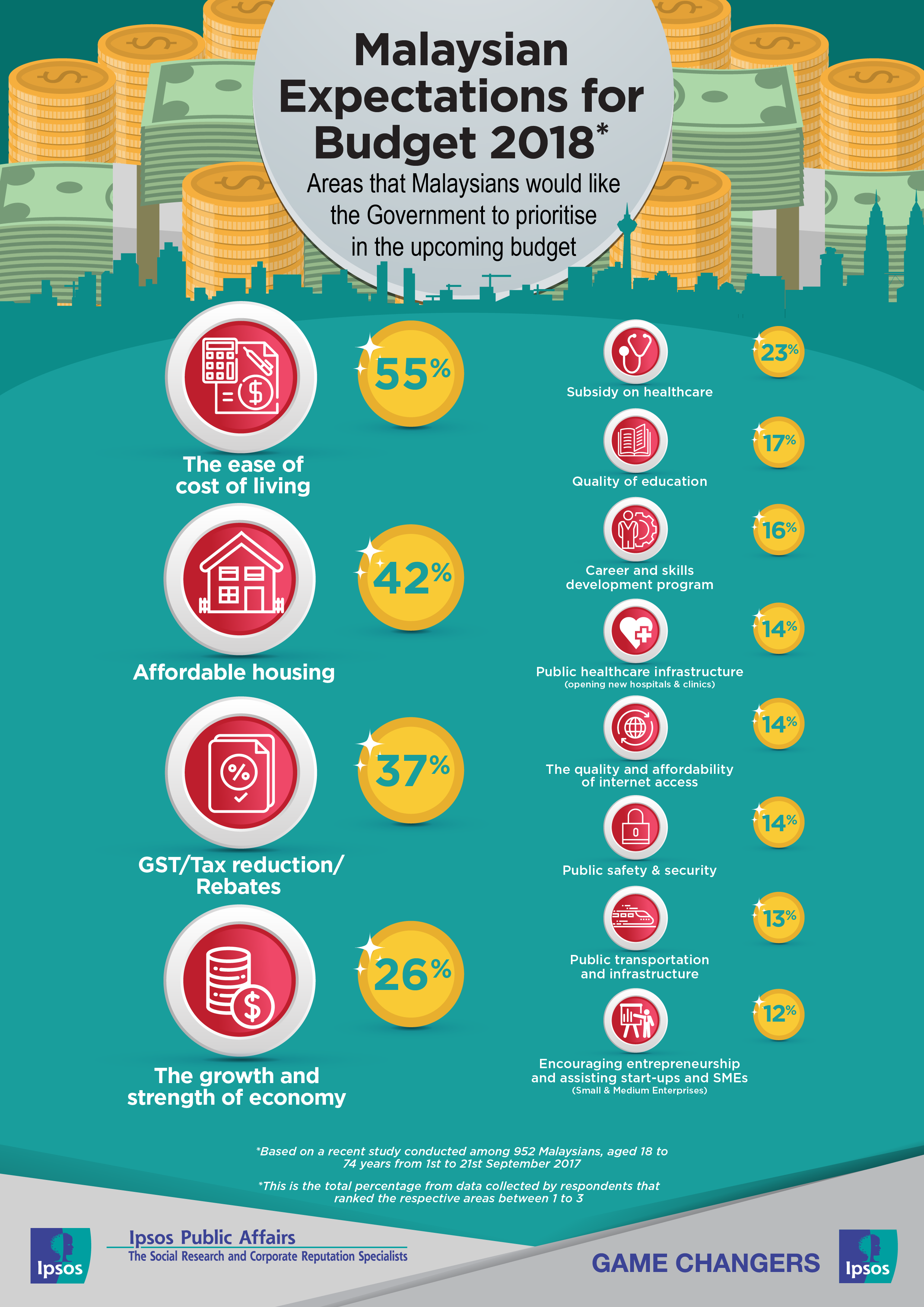 Malaysians ranked education (17%) at 6th place and career skills developments programmes (16%) at 7th place as areas for the Government to prioritise in the next Budget. Based on the Budget 2017 ³, public universities saw their combined operating budgets slashed by about 19%, or RM1.5 billion.  Out of the 20 public universities in Malaysia, 10 had a massive cut ranging from over 10% to over 31%― including many top-ranking institutions. 
---
Notes to editors
Sources:
1. Department of Statics Malaysia, Official Portal, Consumer Price Index 2017 for September 2017 and April 2015.
2. The Sun Daily, September 20th 2017, Rehda urges govt to cut GST on construction materials, stamp duty on residential units
3. The Malay Mail, October 22nd 2017, Budget 2017: Public universities suffer almost 20pc spending cut
About the study
* We interviewed a total of 952 consumers aged 18 to 74 years old across Malaysia, covering both Peninsular and East Malaysia by using tablets (CAPI – Computer Assisted Personal Interview). Methodology adapted was 70% door-to-door recruitment and 30% street intercept (for gated communicates/condominiums).
Fieldwork was conducted from 1st to 21st September 2017.