Social Behaviours that Malaysians Regard as Unacceptable
Ipsos study reveals that drug abuse is the number one social behaviour that is unacceptable among Malaysians.
IPSOS STUDY REVEALS THAT DRUG ABUSE IS THE NUMBER ONE SOCIAL BEHAVIOUR THAT IS UNACCEPTABLE AMONG MALAYSIANS
Malaysians found these social behaviours most unacceptable: drug abuse (70%), bribery (53%), domestic violence (35%) and extra marital affairs (35%)

More Chinese (49%) ranked domestic violence as most unacceptable, while extra marital affairs are ranked as most unacceptable by Malays (42%).

More higher household income group with RM8,000 and above (45%) ranked domestic violence most unacceptable.
The top four unacceptable social behaviours among Malaysians are drug abuse (70%), bribery (53%), domestic violence (35%) and extra marital affair (35%), according to an Ipsos study involving 968 Malaysians aged 18 to 74 years. Drug abuse was the most unacceptable among Malaysians. According to a report¹ released by the National Drug Information System, National Anti-Drug Agency (AADK), a total of 131,841 drug addicts were registered in Malaysia between January 2010 and February 2016. People living in the East Coast (90%) and East Malaysia (79%) had drug abuse ranked as the number one unacceptable social behaviour.
Bribery was the 2nd most unacceptable social behaviours with the central region viewing it as more unacceptable compared to the other regions. At present, only individuals involved in corruption will be prosecuted if they are found guilty, while the organizations they belong to are not held accountable. This is set to change when the proposed amendments to the MACC Act 2009 on the corporate liability bill is approved in Parliament², giving more power to the Malaysian Anti-corruption Malaysia in fighting corruption as it would allow firms to be held liable when an employee takes a bribe.
Domestic violence and extra marital affairs tied in at 3rd most unacceptable social behaviouor by Malaysians. More Chinese (49%) ranked domestic violence as most unacceptable social behaviour by Malaysians, while extra marital affair was ranked most unacceptable by the Malays (42%). Domestic violence was ranked more unacceptable among the higher household income group with RM8,000 and above (45%).
Police statistics show that domestic violence is on the increase, with 15,617 reported cases between 2014 and 2016³. Domestic Violence (Amendment) Bill 2017 which was passed by Parliament in August 2017 saw the Emergency Protection Orders (EPO) come into effect. Under the new amendment, it allows social welfare officers to grant victims of domestic violence immediate protection, without the need to make a police report or receive a court order.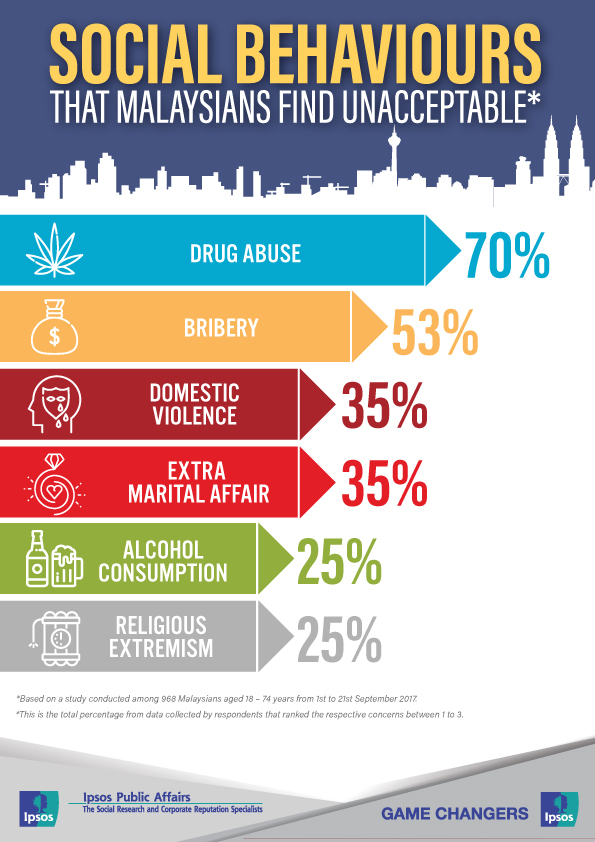 In addition, the court is empowered to grant the right of exclusive occupation over the whole property as opposed to certain parts of the house, hence moving the abuser out of the house and protecting the victim. The new amendments also state that offenders who do not comply with the EPO will face fines up to RM5,000 or jail of not less than 72 hours and not more than two years.
Commenting on the findings, Katharine Davis, Managing Director of Ipsos in Malaysia, said: "The survey results revealed that Malaysians are aware and concerned about the social behaviours around them. New law amendments have recently taken effect that indicates we are moving from awareness to action, the Government bodies are tackling the root causes of these social behaviours and progressively eradicating them."
Sources:
1. New Straits Times, April 19th 2017, More than 130,000 drug addicts in Malaysia to date, figures show
2. Borneo Bulletin, October 29th 2017, Malaysia launches anti-bribery management system to help curb corruption
3. New Straits Times, August 14th 2017, Dewan Negara passes Domestic Violence (Amendment) Bill 2017 and Private Employment Agencies (Amendment) Bill 2017
About the study
* We interviewed a total of 968 consumers aged 18 to 74 years old across Malaysia, covering both Peninsular and East Malaysia by using tablets (CAPI – Computer Assisted Personal Interview). Methodology adapted was 70% door-to-door recruitment and 30% street intercept (for gated communicates/condominiums). Fieldwork was conducted from 1st to 21st September 2017.