World Refugee Day 2019: A Malaysian Perspective
Are Asylum-Seekers Genuine? Malaysians Question
Key points:-
Only 24% of Malaysians believe that people claiming to be refugees are really genuine
44% of Malaysian are concerned about the ability of refugees to successfully integrate into the Malaysian society
---
The United Nation's World Refugee Day is observed on June 20 every year. This global observance is celebrated to honour all refugees worldwide who have been displaced from their home country due to war on persecution and to spread awareness among people to come forward to help and support them.
Just like other countries in the world, Malaysia is not too oblivious or indifferent to the plight of refugees. AS of April 2019, 170,460 refugees and asylum-seekers were registered with United Nations High Commission for Refugees (UNHCR) in Malaysia*. The vast majority  are from Myanmar, and those 90,200 are Rohingya. Despite opening its doors to refugees, Malaysia is yet to ratify the 1951 United Nations convention on the status of refugees and its 1967 protocol. Not ratifying implies that refugees in Malaysia are seen as 'illegal immigrants' and are deprived of basic human rights like healthcare, education etc.
To mark World Refugee Day, Ipsos conducted a new global study to understand the "Global attitudes towards refugee". The study reveals that merely 24% of Malaysians are of the belief that the asylum-seekers that are coming to their country claiming to be refugees are genuine. There is a growing scepticism among Malaysians concerning the refugees as 61% of Malasyians believe that they are coming to their country for economic reasons or to take advantage of the welfare services.
*Refer: https://www.unhcr.org/en-my/figures-at-a-glance-in-malaysia.html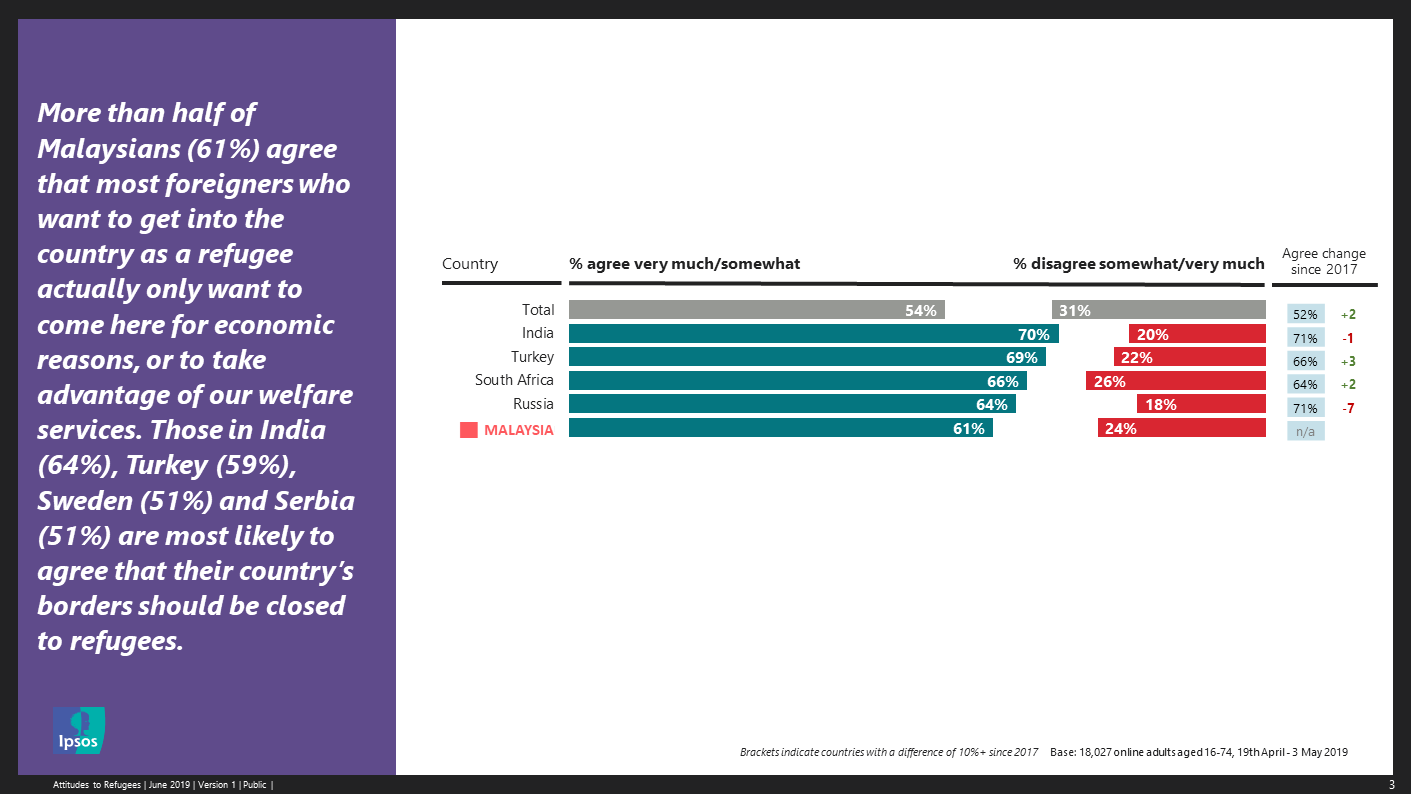 Similar sentiments are being echoed globally with over half the people polled (54%) are doubtful that people coming to their country claiming to be refugees are authentic asylum-seekers. Those most likely to doubt the authenticity of refugees coming into their country are in India (70%), Turkey (69%), and South Africa (66%). In Great Britain, around half of people (51%) agree that refugees coming to the country are not genuine compared with 37% who disagree. Scepticism has grown in Great Britain with agreement levels increasing by four points from 47% in 2017.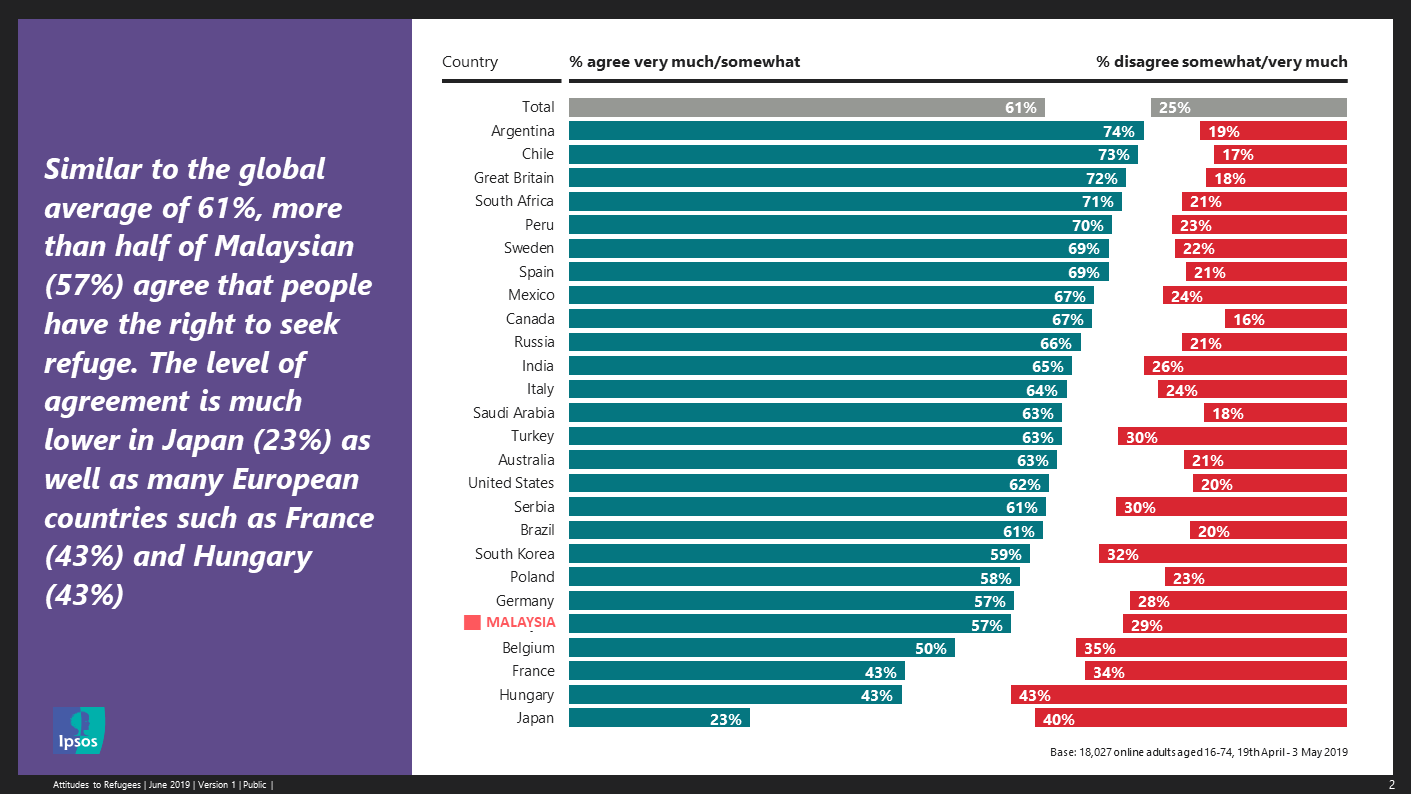 Keeping suspicion aside, what is heartening to see is that more than half of the Malaysians (57%) polled support the right of genuine asylum-seekers to seek refuge in other countries to escape war and persecution. Globally too, six in then (61%) believe in the fundamental right of refugees to seek refuge, although a quarter (25%) disagree. In most countries, there is majority support in favour of the right for people to seek refuge with the exception of France, Hungary and Belgium where people are less likely to agree (43%, 43% and 50% respectively). However, respondents in Great Britain tend to be more supportive than many of their European neighbors with seven in ten (72%) agreeing that people should have the right to seek refuge.
While Malaysians might agree to the right of refugees to seek refuge, but then it comes to accepting any refugees at this time the response is split. 43% of Malaysians agree and another 43% disagree when it comes to opening the borders to genuine asylum-seekers.
Globally four in ten (40%) of people say their country's borders should be closed to refugees entirely compared to 46% who disagree. While there has been little change in the proportion agreeing that their borders should be closed to refugees since 2017 (39%), the proportion disagreeing (i.e keeping the borders open) has fallen five points from 51% to 46%. This clearly shows that broader opinions towards refugees have hardened compared to two years ago.
People in Great Britain are more positive about welcoming in refugees than the global average with over half (54%) disagreeing that the country's borders should be closed to refugees compared with a third (33%) who think the borders should be closed to refugees at this time.
As the refugee crisis continues, the findings show there are widespread concerns throughout the world about integration of refugees. Globally, two in five (38%) agree that refugees will integrate successfully into their new society - a fall of five points since 2017.
Similar to global sentiments, 38% of Malaysians think that most refugees coming here will successfully integrate. However, views on the matter remain fairly mixed as 44% of Malaysians are less convinced about the ability of the refugees to successfully integrate into their new society. Countries that are most optimistic about refugees successfully integrating into their society are India (68%), Argentina (58%) and Saudi Arabia (55%).
Be that as it may, the global Ipsos research shows that as the refugee crisis continues, perception about asylum-seekers is downbeat in many countries with broader opinion towards refugees still include some negative attitudes.
Arun Menon, Managing Director of Ipsos in Malaysia:
"The refugee crisis has escalated sharply in the last decade. As a host country, Malaysia has maintained a humanitarian approach to refugees, especially towards the Rohingya community. The refugee crisis is one that is unlikely to abate in the near future and thus ominous implications both politically and economically for Malaysia. Protection of genuine asylum seekers is a step towards getting basic human rights like healthcare and education accessible to them. This will also help in assuaging the negative perception that many Malaysians have towards refugees."
About the study
This survey is an international sample of 18,027 adults aged 18-64 in the US, South Africa, Turkey and Canada, and aged 16-64 in all other countries were interviewed. The Fieldwork was conducted from 19th April - 3rd May 2019. Approximately 1000+ individuals participated on a country by country basis via the Ipsos Online Panel with the exception of Argentina, Belgium, Chile, Hungary, India, Malaysia, Mexico, Peru, Poland, Russia, South Africa, South Korea, Serbia, Sweden and Turkey, where each have a sample approximately 500+.
15 of the 26 countries surveyed online generated nationally representative samples in their countries (Argentina, Australia, Belgium, Canada, France, Germany, Great Britain, Hungary, Italy, Japan, Poland, South Korea, Spain, Sweden, and United States). Brazil, China, Chile, Malaysia, Mexico, Peru, Russia, Serbia, South Africa and Turkey produce a national sample that is more urban & educated, and with higher incomes than their fellow citizens. We refer to these respondents as "Upper Deck Consumer Citizens". They are not nationally representative of their country.
Where results do not sum to 100 or the 'difference' appears to be+-1 more/less than the actual, this may be due to rounding, multiple responses or the exclusion pf don't knows or not stated responses.
The precision of Ipsos online polls are calculated using a credibility interval with a poll of 1,000 accurate to +/- 3.1 percentage points and of 500 accurate to +/- 4.5 percentage points. For more information on the Ipsos use of credibility intervals, please visit the Ipsos website.
Data are weighed to match the profile of the population.
Download