Europe's Biggest Spenders
With Christmas around the corner, European retailers are getting ready for Europe's biggest spenders*.
The most important indicator for luxury purchasing is NOT, as you might expect, 'intention to purchase a luxury item', but actual ownership of a luxury item, i.e. the owner of a Rolex or Lamborghini is much more likely to purchase a Tag Heuer, than a similarly wealthy person, who says they are planning to purchase a luxury watch.
But what do big spenders like and how do you engage them?
Luxury buying is habit forming!
Owning one luxury watch is not enough for a big spender. Luxury owners spent on average €5,725 on their main watch and intend to spend €6,626 on their next one. Top of their shopping list are brands like Rolex (43%) and Jaeger-LeCoultre (28%). 
Big spenders are also very fond of cars. For their next car they intend to spend €31,000 more than their Affluent counterparts (€58,180), and 15% have Aston Martin on their Christmas lists!
For marketers there is an easy way to engage these big spenders, because they are 140% more likely to buy or consider brands that are advertised in international media, than the average Affluent.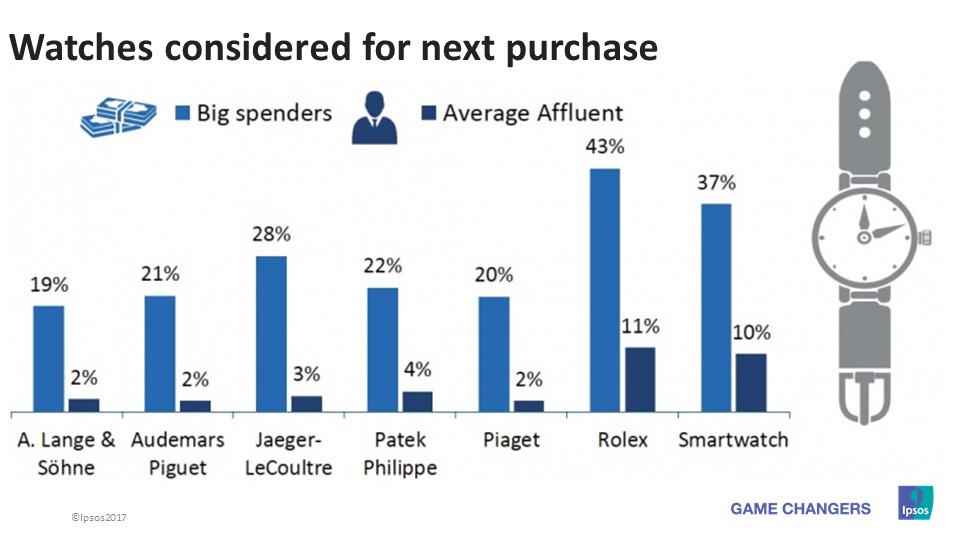 Great shoppers, great advisers
Engaging the greatest luxury owners has a halo effect - they are twice as likely to say that people often ask their advice when they are looking to buy technology or electronic products (than the average Affluent).
The key question remains, what brands do the greatest luxury shoppers intend to buy this Christmas: do they intend to buy for others or for themselves?
*European's biggest spenders: People who own at least 3 items of the following brands: Audi, BMW, Ferrari, Lamborghini, Breguet watch, Chopard watch, Ebel watch, Patek Philippe watch, Rolex watch, TAG Heuer watch.
ABOUT AFFLUENT EUROPE
The Affluent database represents 52.3 million Affluent Europeans. The universe accounts for the Top 13% of all adults, within the 18+ age group. The European top 13% are defined as main income earners within the top 20% households in each of the 21 survey countries, measured by household income.