The future of offline fieldwork: iField
Ipsos' best-in-class offline fieldwork management system is designed to ensure consistent, quality market research data.
Ipsos provides access to citizens and consumers anywhere, anytime and anyplace in large part thanks its investments in offline data collection, including face-to-face and telephone.

Given the breadth and depth of its data collection capabilities, Ipsos can conduct market research fieldwork in around 150 markets and conducts more than 6 million face-to-face interviews annually. To deliver safe, efficient, and flexible offline research that ensures quality and consistent data, Ipsos has invested in iField.

iField is a fully integrated fieldwork management system that improves fieldwork control, promotes a more motivated and skilled interviewer force, and enhances answer quality via improved respondent engagement. A fully digital solution, iField works anywhere as it does not need a permanent internet signal.

iField is unique to Ipsos and was developed specifically to support Ipsos' clients and programmes.  As such, it can be used for a wide range of project types including tracking, media measurement, quota, random probability, retail audits and exit surveys/ polls, just to name a few.  

Four platforms comprise the integrated system of iField:
A holistic offline data collection platform which can be deployed for face-to-face, telephonic, SMS and email data capture.
A fieldwork and interviewer management platform which allocates surveys based on interviewer skillset and experience, while manages interviewer performance and payment.
A quality management platform which tracks fieldwork quality through a variety of mechanisms in real-time, including GPS location tracking, voice recording, and multi-point validations.
A sample and quota management platform to support various types of research projects.
In order to adapt to the realities of the Covid-19 pandemic, protocols were established so that iField can be used as part of a contactless mixed mode study that may include telephonic, email or SMS surveys for respondents' completion. Safe contactless principles are embedded within the system to enable interviewing without the need for close contact or sharing of any materials or devices.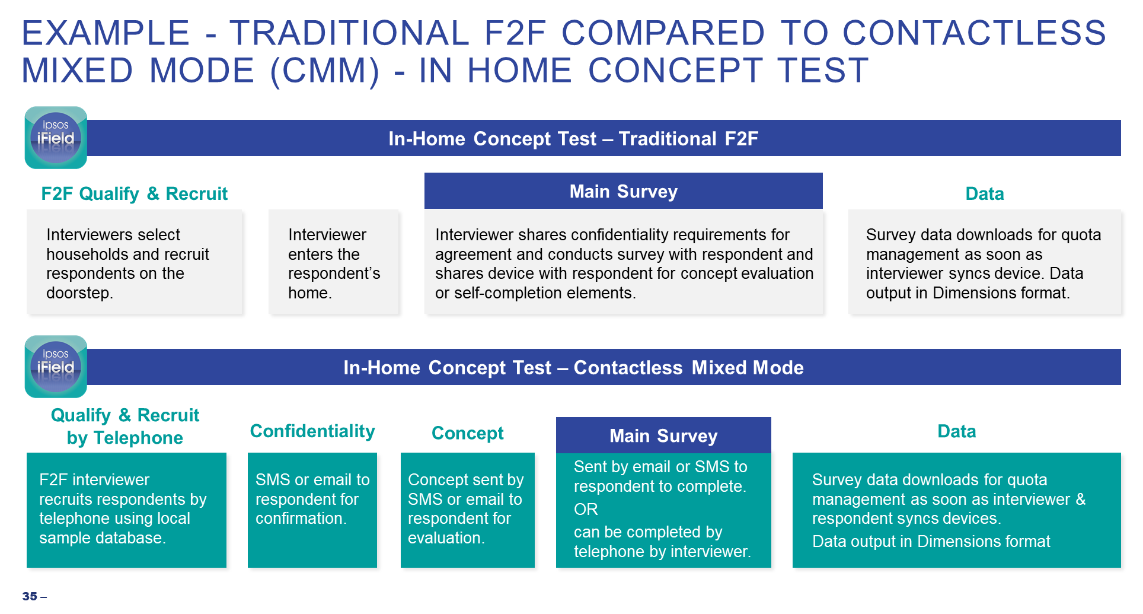 Listen to Ipsos experts discuss iField in more detail in the fourth episode of Ipsos' Operational Angle podcast.
Download