High food prices are taking a bite out of budgets
And amid global economic 'uncertainty' most people predict their grocery bills will continue to climb.
Shopping for food is an eye-popping, jaw-dropping experience these days.
The cost of apples and, well, pretty much everything else at the shops seems to have soared into the stratosphere. And consumers don't expect prices to come back down to Earth any time soon.
Feeling burned by sizzling costs
The vast majority (76%) of those surveyed in late May and early June for the Ipsos Global Inflation Monitor, on average, across 28 countries anticipated the cost of their food shopping will increase a little/a lot in the second half of 2022. Only 7% thought food prices will decrease a little/a lot from July-December.
"What that data is really showing us is just how much people [have been] feeling the pinch," said Chris Jackson, Senior Vice President of Public Affairs in the U.S. for Ipsos.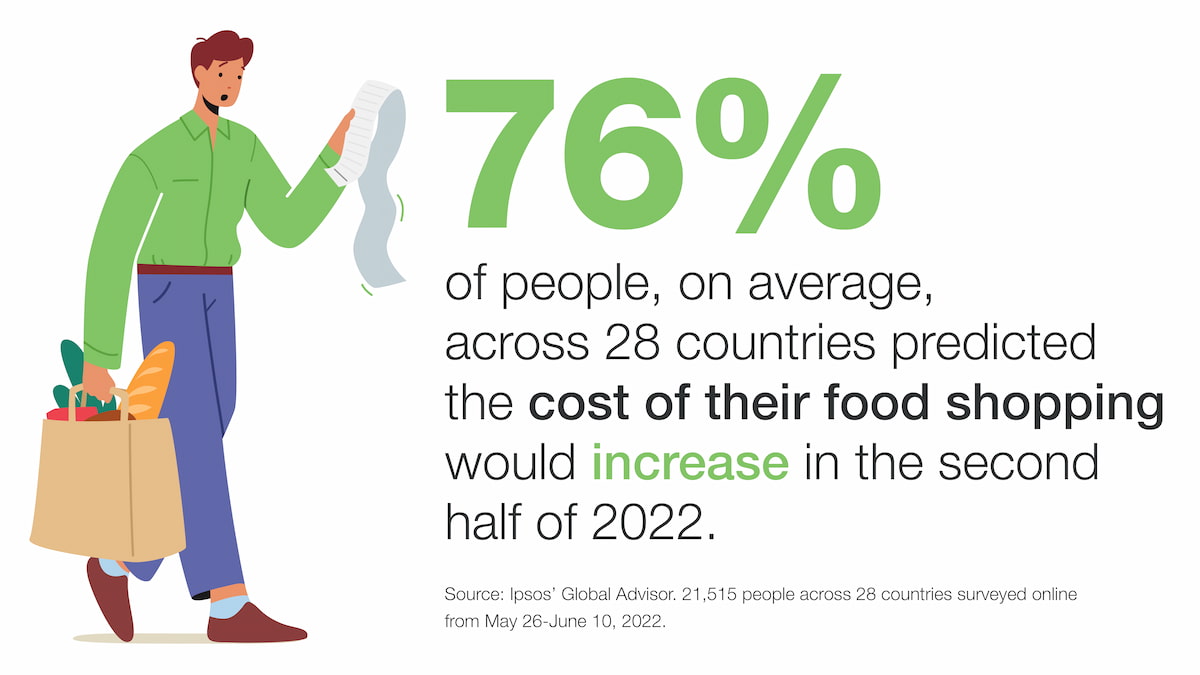 There's been little relief lately.
In the U.S., inflation dipped a bit to 8.5% in July, according to the U.S. Bureau of Labor Statistics, but food prices climbed 10.9% year-over-year.
"For most Americans, money coming in does not change nearly as fast as the money that's going out in these inflationary periods," noted Jackson. "So, they're having to take the same number of dollars but stretch them further."
To stretch those dollars further, working Americans are likely already doing things such as opting to skip take-out coffees and other impulse purchases, said Jackson.
"We've been dealing with inflationary pressures for [many] months. It really starts to increasingly take bites out of sort of more quality-of-life things, such as the type of food you eat or the sort of lifestyle you can live."
Cooking up a lower standard of living
Food shopping costing even more in the second half of 2022 was the No. 1 thing people in 21 out of 28 countries said would negatively impact their quality of life.
This isn't surprising to Mike Colledge, President of Public Affairs for Ipsos in Canada, who noted Canadians, and many others, "treat food as a fashion item and … a statement about who we are."
But viewing food as more than just fuel is becoming increasingly tough as even though the inflation rate fell slightly to 7.6% in July, according to Statistics Canada, it was still near historic highs as the food inflation rate in the Great White North grew to 9.2% year-over-year.
While many upper- and middle-income people can likely digest persistently higher grocery costs, lower-income households will continue to really struggle if food prices don't moderate, noted Colledge.
Jackson agreed and pointed out there's lower-income people who "just never really recovered during the pandemic period, so they're not losing as much ground now because they didn't have any ground to lose.
"They've been living hand-to-mouth, day-to-day for years now and I think it's important to just remember that those are the people who are really suffering the most."
A recipe for pessimism
There's been a lot of suffering in the 2.5 years since a global pandemic was first declared, yet there was the hope the global economy would bounce back stronger than ever once lockdowns ended and vaccines became widespread, said Colledge.
Instead, global consumer confidence is down and almost 1 in 3 (29%) said they were finding it quite/very difficult to get by recently.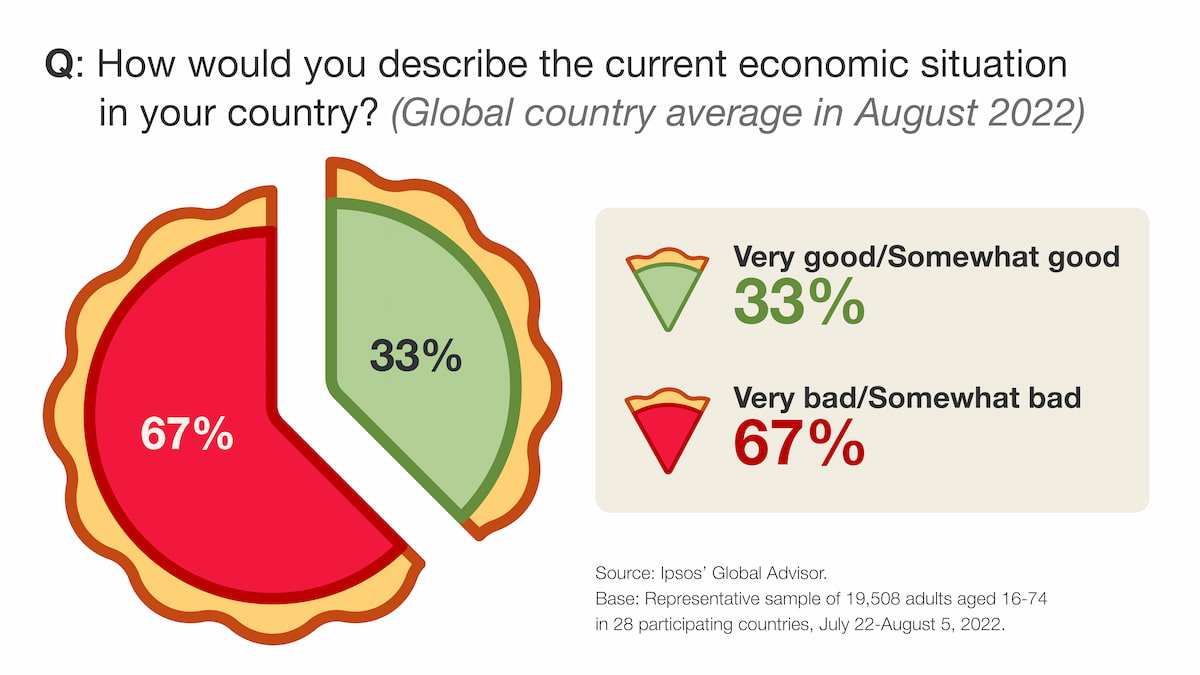 The uneven economy seems to be unnerving people.
Just over 2 in 3 (67%) of those polled, on average, across 28 countries said the economic situation was very/somewhat bad in their country in August. In Argentina, a whopping 95% said their economy was bad and in Italy a full 80% weren't feeling optimistic about the country's economy last month.
"The gloomy outlook" is likely due to a mix of factors, including the knock-on effects of the coronavirus crisis, inflation and the invasion of Ukraine, said Chiara Ferrari, Service Line Leader of Public Affairs for Ipsos in Italy.
Like America and Canada, the inflation rate dipped ever so slightly in Italy (to 8.4% in July, according to its national statistics office), but the prices of groceries and unprocessed food rose slightly (to 9.1% on annual basis).
When, and how, the pain will end has yet to be seen.
A big dash of uncertainty
"If I had to chose a word for the country, I would say that uncertainty is the best to describe the current status," said Ferrari.
The ground beneath consumers' feet feels shaky well beyond Italy as there's fears the cost of living could continue to skyrocket, but there's also worry prices could crater due to a recession, pointed out Colledge.  
If eye-popping, jaw-dropping prices do indeed continue, Ipsos' Inflation Monitor polling found people plan to slash spending on a wide range of things, including socializing, holidays and food.
As the world stares down yet another pandemic-era fall, Colledge expects high prices on everything from apples to zucchinis could lead consumers to "do more value shopping, whether it's buying in bulk and planning more, or even skipping over some food items."