Soaring food prices: People say they're paying more amid COVID - here's why
Almost two-thirds say cost of groceries has increased even as economies face deflationary pressures.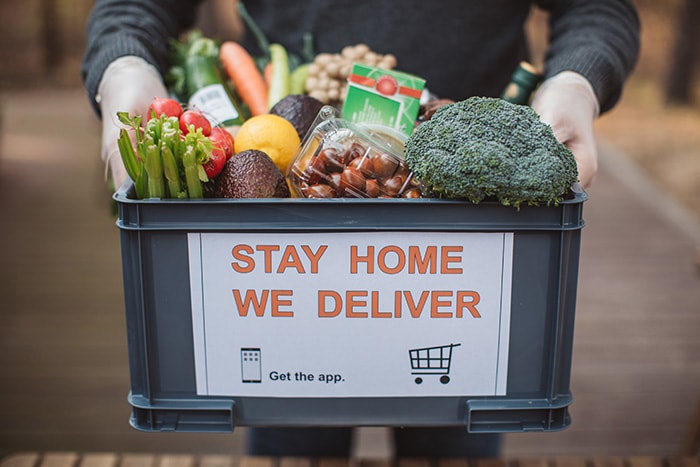 The weekly grocery bill for 38-year-old mother of two – Uppi Shah – has gone up some 30% since she started shopping exclusively online, because of the coronavirus pandemic months ago.
"I feel like as soon as we started doing online shopping, there was a spike in the grocery cost," says the Toronto-area product manager at a telecom company, who is currently on maternity leave.
While Shah says it can be easier to order groceries online and pick it up from the store with minimal contact from workers, she's found one of the items costing her more is vegetables.
"Many times, we've ordered produce, and it's already gone bad," says Shah. "I think one time we got something that was already expired or expiring that day, and then we've had to throw it out."
Still, Shah says she will continue to order groceries online, because she'd rather do that and pay more than go inside a store during the pandemic. It's also more convenient with two small children at home.
Shah is one of many people around the world who say they're paying more for food since COVID-19 began. In a recent survey of nearly 18,000 people across 26 countries, almost two-thirds (63%) said the cost of food, groceries and household supplies has increased since COVID-19 – the highest of all the 11 cost categories presented.
People in emerging markets are mostly likely to agree with this with those in Argentina and Turkey (86%), Chile, Mexico and South Africa (80%) at the top of the list.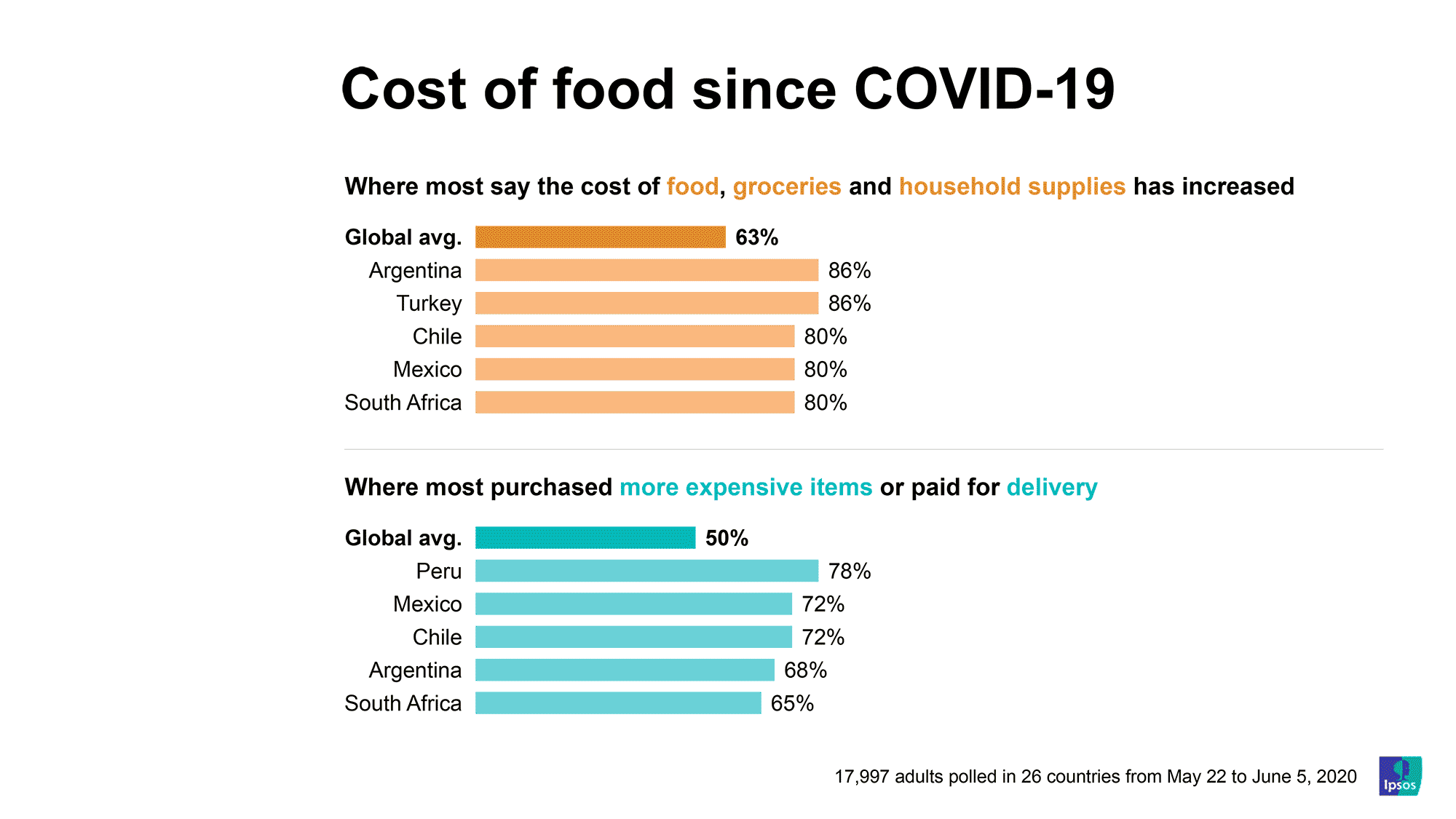 Experts say a combination of higher costs to produce, process and distribute food, an increase in automation and other measures such as physical distancing and the use of protective gear and training, along with reduced capacity during COVID-19 are factors contributing to higher food prices.
Sylvain Charlebois, Professor and Senior Director of Agri-Food Analytics Lab at Dalhousie University in Nova Scotia, Canada, said higher costs are here to stay until next year.
"To get food to market, companies across the supply chain will need to charge more," said Prof. Charlebois. "To prevent sticker shock, the industry will incrementally increase prices over an extended period of time, which may end well into 2021."
The tale of two inflation rates
He adds that the decoupling of two inflation rates – core and food – will make a 4% food inflation rate feel more like a 10-12% increase for the average consumer buying food.
"The macroeconomic backdrop of this are deflationary pressures that are affecting many other aspects of our economy, mainly in the West," said Prof. Charlebois. "To offset the effects of a higher-than-usual food inflation rate in a deflationary environment will be our grocers most significant challenge."
The food inflation index hit 4.5% in the world's largest economy – the U.S. – over the last 12 months to June, according to the Bureau of Labor Statistics. While food prices surged, the U.S. inflation rate, excluding volatile components of food and energy, rose just 0.2% in June – it's first monthly increase since February.
It's a similar story in other major economies. Food prices rose 11.1% in China in June from a year ago, while unprocessed food prices in the 19-bloc euro zone rose 5.6%, according to Eurostat. Annual inflation in the euro zone was up just 0.3% in the same month.
Jane Kolodinsky, Professor and Chair of the Department of Community Development and Applied Economics at University of Vermont, said different sectors have had different experiences, and in some cases supply chains have not been able to keep up with the hoarding behaviour of consumers.
"Some sellers may have taken advantage and increased prices of these goods. These include cleaning supplies," said Kolodinsky. "In some cases, in the U.S., supply chains have increased production and consumers are 'hoarding' less."
But in other cases, larger food supply chains have experienced difficulties due to labour shortages as people become sick and are unable to work including those in processing facilities where people are in close contact, according to Carolyn Dimitri, Associate Professor of Nutrition and Food Studies at New York University.
"Places to expect problems are harvesting of berries, fruits, and vegetables; packing of fruits, vegetables or meats; processing facilities that have close human contact," said Prof. Dimitri.
"The problems will be more acute for perishable products that can't be stored. I believe this is going to continue periodically, as long as the pandemic is out of control, for both domestic and imported foods."
COVID-19 hits food supply chains
The beef index in the U.S. increased 20.4% in last three months to June – as processing facilities shut down or slowed operations, because workers were getting sick with COVID-19.
Half of people (50%) surveyed globally said they've had to purchase more expensive food, goods and services since the outbreak began or pay for delivery charges due to store closures and a shortage of supplies.
Trey Malone, Assistant Professor at the Department of Agricultural, Food and Resource Economics at Michigan State University, said production capacity for meat may have returned to reasonable levels, but that doesn't mean the supply chain has entirely rebounded.
"The limited production capacity of the larger pork and beef processing plants can only be resolved by time, if for no other reason that it takes some time to raise animals," said Prof. Malone. "I would anticipate COVID-19 playing a role in U.S. meat prices for some time to come."
In terms of harvest for fruits and vegetables, he said keeping an eye on case numbers in critical specialty crop states such as Michigan, California and Washington are also key.
"If those numbers [COVID-19 cases] rise too dramatically, we might also see some constraints on access to fresh fruits and vegetables," said Prof. Malone.
Industry's biggest competitor is your kitchen
Another big factor behind why people say the cost of food and groceries have increased is because they're cooking and eating more at home due to COVID-19 lockdowns and restrictions.
The food at home index in the U.S. rose 5.6% over the past year to June ̶ it's largest 12-month increase in nine and a half years. Experts say this will have lasting impact on the food industry, even when the pandemic is over.
Prof. Charlebois said confinement has created a new benchmark for food spending for most households, making the food service industry's most fierce competitor our own kitchens.
"Most of us have been cooking at home for months, which makes it impossible to spend less. But, the food industry has contracted, and total sales have dropped significantly, because we're not spending as much eating at home as we did at restaurants," said Charlebois. "It will be difficult to get us out and about and spend money at the restaurant since it does cost more."
With food prices going up, compounded by a weaker demand base, Charlebois expects more people cooking at home, at least for a while - especially if deflationary pressures continue.
Prof. Malone adds consumers were already exploring last-mile delivery options prior to the pandemic and he thinks it will be "hard to put that genie back in the bottle."
"We've seen an incredible shift toward restaurant and grocery delivery services, which I would expect will stay around for a long time," said Prof. Malone, but he also adds that with much of the world now in a recession – shifting from restaurant food to grocery store food is one of the defining changes of how consumers eat during an economic downturn.
Prof. Kolodinsky agreed saying households are facing layoffs and unemployment and preparing food at home is less expensive.
"It seems that the trend is leaning toward people continuing to eat at home, with food away from home as a luxury," she said.
Meanwhile for Shah, she thinks the pandemic has given her family a chance to reset how they eat versus going down a "very slippery slope" of going out to eat and getting takeout more often.
"I think we will still continue to go out when this is all over, but we will just be more mindful of why we're spending more," she said.