Back to school - in person vs. remote learning: Challenges facing parents, teachers and governments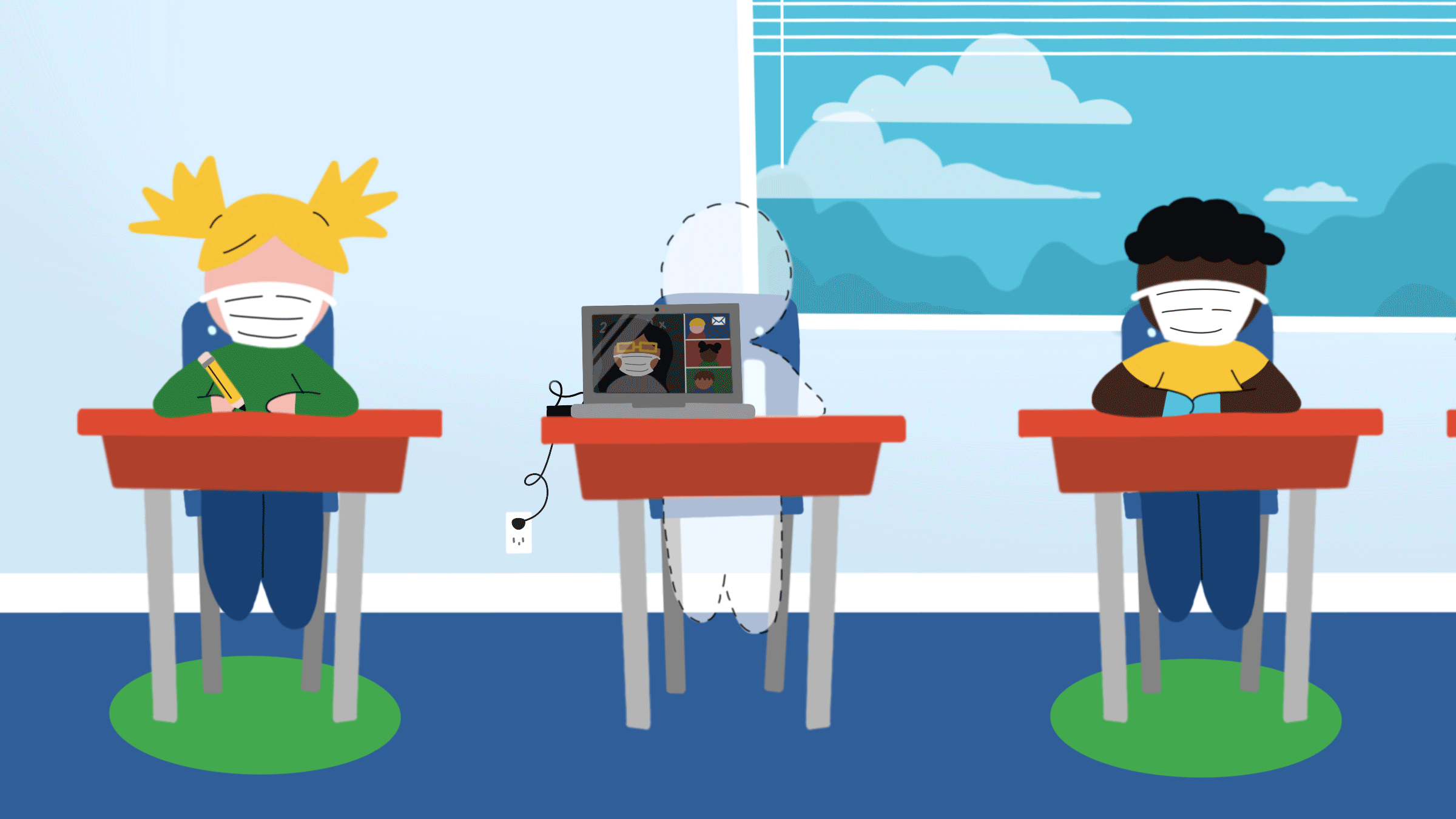 Third grade teacher Melissa Edwards says she's set to return to the classroom at her Orlando area elementary school in Florida in about two weeks after the start of the new school year was pushed back by one week.
"I don't know if I would call it a luxury, but I don't have the luxury of staying at home," said Edwards, who is also the mother of two boys in elementary and high school.
"I am by no means an alarmist and we're fine following protocol within the guidelines, but I do think we're starting too early. I do think we can wait a little bit longer, but I don't make those decisions."
Edwards, who has been teaching for 15 years, says her school is offering the option of face to face learning where children can attend school in person or remote learning via video streaming. So far, about two out of three parents have opted to send their child in person, but that might change.
"I am preparing for it [the classroom make-up of in person versus online] to change at least once or even maybe twice before school starts," said Edwards. "Where I live, we have a large cluster of cases and I think that it's a possibility for it to change."
Florida had close to 10.000 new cases of COVID-19 as of July 30 and overtook New York last weekend as the state with the second-most coronavirus cases in the United States.
Edwards, 40, says it doesn't make sense to send the kids back to school in a couple of weeks with cases rising and mandates to wear masks as people still meet virtually for business and pleasure.
"All these kids are basically going to be your guinea pigs. That does concern me a little bit," said Edwards. "I just try to separate from it, and not let it really consume all my thoughts."
Edwards is one of many parents and educators around the world with serious doubts about how starting the new school year amid the coronavirus pandemic will turn out.
In a recent global poll of 16 major countries, almost two in three people (65%) support restricting the number of days children can attend school in person with this sentiment highest in emerging markets of South Korea (83%), India (81%), Mexico (80%), South Africa (77%), Brazil (74%) and China (73%), followed by the U.S. (71%).
Added to this, almost half (48%) of the parents polled said they would feel comfortable in sending their child back to school or daycare within six months. The lowest global average for a timeframe is within a month at 7%, but about one in five (19%) parents said they were already doing this.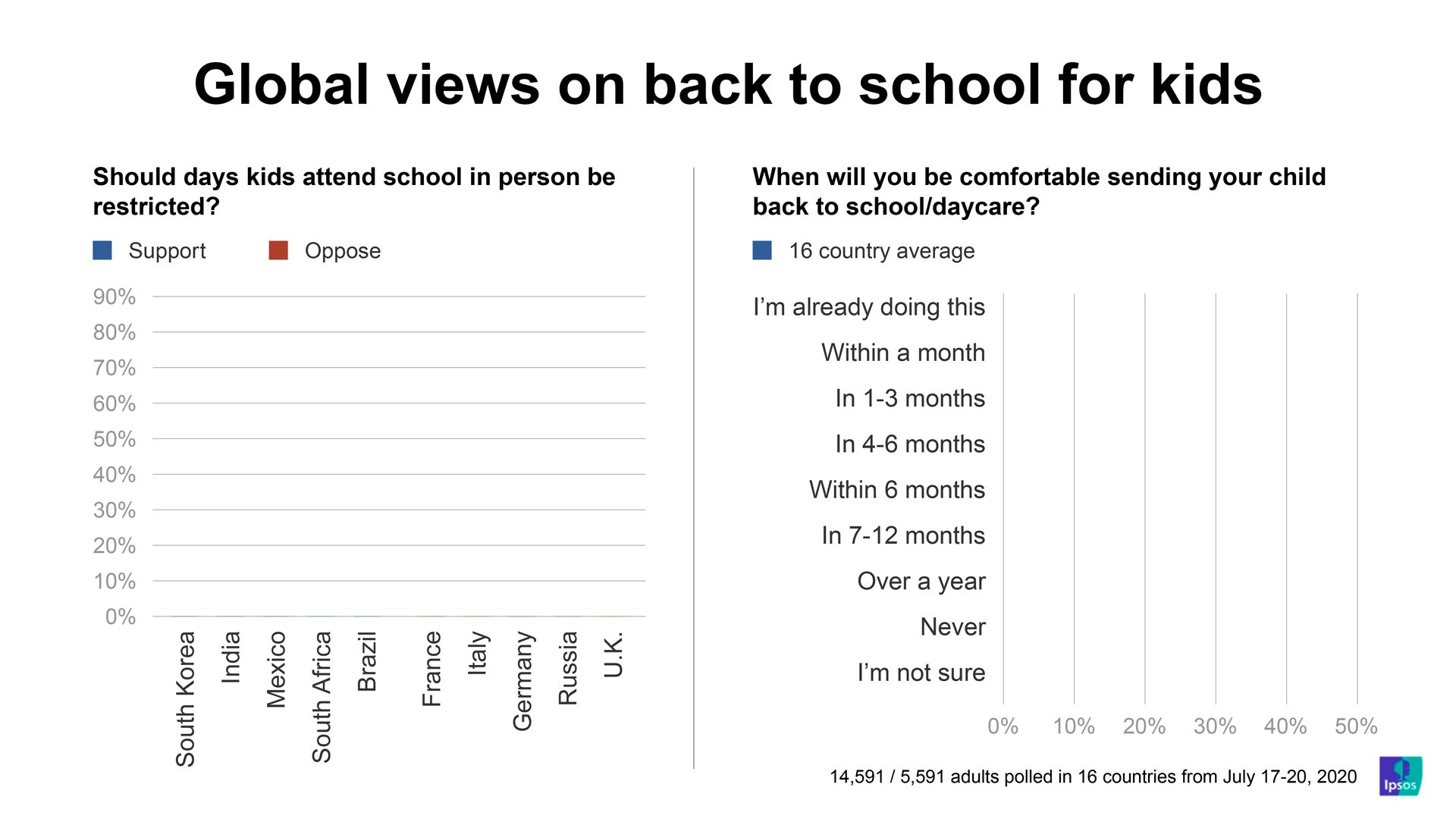 Going back to school while cases are low
While parents may want to wait longer for kids to return to school, medical experts say going back to school when cases are lower is a better option to test out preparedness for when cases do spike.
Dr. Susy Hota, Medical Director of Infection Prevention and Control and an Infectious Diseases Specialist at University Health Network in Toronto, said kids going back in person in Canada, where school starts in September, is a better time than going back to school six months from now.
"In six months, we will be at the height of respiratory virus season with winter upon us and more time spent indoors. I would rather work through the kinks of restarting school now, while we are in the valley of the COVID-19 epidemic curve in my region ̶ and through much of Canada," said Dr. Hota, who is also an Associate Professor at the University of Toronto.
"This may put us in a better place of preparedness through the winter."
Dr. Zain Chagla, Associate Professor in the department of Medicine at McMaster University and Infectious Disease Physician outside of Toronto, agreed, adding we need to leverage times when things are good to have kids in schools, and then consider taking them out when things are bad.
"Sooner is better as rates are their lowest," said Dr. Chagla. "We know that the rates of community transmission influence what may happen in the school in terms of spread."
Concerns of teachers and remote learning
However, in Atlanta, Georgia in the U.S., elementary school teacher Rachel Bruckwicki, who teaches gifted students from kindergarten to the fifth grade will be returning to school on Tuesday to prepare for teaching students virtually through video streaming from August 17.
Bruckwicki, 37, said she would be comfortable if classes were changed to be in person, because she knows students and teachers miss each other, but she also knows how difficult it will be to manage student interactions with each other.
"They share snacks, rarely wash hands, and they are constantly putting things in their mouths," said Bruckwicki, who has been teaching for eight years.
"That part worries me, because I don't think there is any way we can control how many times kids put their fingers in their mouths. Especially, not without recourse."
Bruckwicki, who is a mother of two boys – aged 4 and 5, is also worried about her own health and what measures will be put in place to protect teachers, who's health she says is often not considered.
"How many of them [teachers] are asymptomatic or have had COVID-19? And what if we get COVID-19? Are we supposed to get a substitute?" said Bruckwicki. "If I don't die from getting COVID-19, what if I get it again? Do I get sick leave for both? Does my district help with preparing wills?"
But even with all the questions that still need to be answered by the school board, Bruckwicki said she understands parents' concerns over remote learning as well.
"Their [her children's] Montessori school will continue to give lessons, but I'm skeptical of remote learning with little ones considering our experience in the spring," said Bruckwicki. "They did Zoom meetings, but it was like watching little kids just sit there."
"I know children are regressing academically, but they will be okay in the end."
Measures to prevent an outbreak
Whatever approach schools decide to take, experts agree that while restricting the number of days a child attends school could potentially reduce individual exposure risk, it does not entirely eliminate it. It's also not clear whether such a model would prevent outbreaks at schools compared to measures such as physical distancing.
Dr. Chagla said it's much more of an all or none approach, especially as parents struggle to provide childcare and work at the same time, because there is a theoretical risk of creating more infections.
"If children have to go to daycares or stay with other family members on the days of the week they are not in the classroom, they paradoxically are exposed to more people, therefore bringing a higher risk back," said Dr. Chagla.
Dr. Hota adds that there will also be challenges such as establishing childcare on homeschooling days, along with the issue that complex schedules are not good for young children and those with specialized or high needs.
"The strategy of restricting days of in-person attendance at schools may be more important to consider when or if a region is facing higher or escalating community transmission of COVID-19," said Dr. Hota.
In terms of measures that educators could take to prevent the spread of the virus, Dr. Chagla said the following strategies should be implemented:
Strategic/staggered open and close school times
Bundling students to interact as a single unit and keeping them away from others - such that if there's transmission then only a single unit needs to be isolated
Masks for teachers and all students who can tolerate them
Teaching hand hygiene to children aggressively
Symptom screening for all students before entering school
individualized supplies for students to promote non-sharing
Considerations for using the outdoors as much as possible for activities during good weather
Meanwhile, Dr. Hota adds that these measures, including frequently disinfecting commonly touched surfaces, does not mean all schools will remain COVID-19 free throughout the school year.
"We need to be prepared to respond rapidly to cases of COVID-19 if they arise in a school to prevent widespread transmission," said Hota.