[EVENT 25/11] Portfolio Management and Optimisation
25 November 2021 09:00 (CET)
On-site & Online
Store Kongensgade 1, 1., 1264-Copenhagen K
This event has been held. Watch the presentation below.
Is your portfolio structures aligned with the market and competition in the most efficient way?
Understanding your market position and your customers are both crucial to success. As markets grow and change, your market position, as well as the way you are perceived by customers, will change as well. To stay successful, you need to understand these changes and be able to plan your strategy and product portfolio to match these changes and capitalize on new opportunities.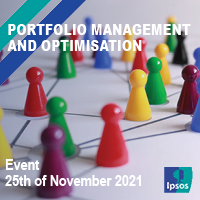 Therefore, we invite you to a FREE session where you will learn how companies like yours can address such challenges and work with market insights to build a portfolio roadmap for the future.
By attending this Ipsos Insights event, you will get to know:
How to create a portfolio roadmap by mapping your products vs. competitor products in the market
How to uncover gaps and potentials in the market structure for your products to exploit
How to identify business growth opportunities to guide your portfolio development
How to use market insights to understand what your brand is and what it is not in the eyes of the customer, and provide guidance on the footprint your brand leaves behind
How to prioritize products within your own portfolio, including how they substitute or differentiate from each other.
How competitor products interlink with your products, and how they substitute or differentiate.
To learn more and be inspired to future-proof your portfolio, come join our webinar with
Speakers:
 
Jesper Christensen, Associate Insight Director, Ipsos 
Practical information:
The event will be held from 9.00 – 10.00 AM (CET), including a 15 minutes Q&A session.
The event will take place in the Ipsos Denmark office at Store Kongensgade 1, 1., 1264 Copenhagen-K.
It is also possible to participate online.
Please indicate in the sign-up how you will be participating. Participation is free.
You register for the session through the sign-up button below: