Embedding ESG in Experience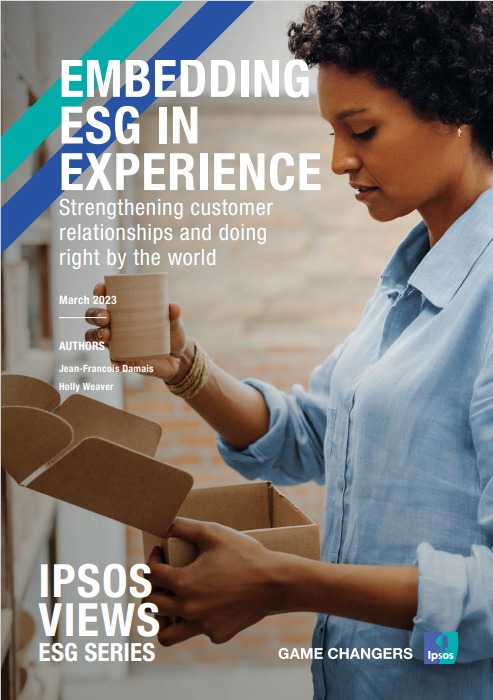 Organisations are coming under an increasing amount of pressure to do business more sustainably. As a result, ESG (environmental, social, governance) considerations are now a key part of companies' strategic plans and roadmaps.
But our CX Global Voices survey finds that only 36% of CX professionals strongly agree that their company uses and maintains environmentally sustainable practices and 56% strongly agree that their company delivers inclusive and equitable Customer Experience to all customers, regardless of gender, ethnicity, sexual orientation or disability.
ESG shouldn't simply be thought of as a necessary cost or requirement for business. In this paper, we argue that it is possible to do right by the planet, people and society in a way that adds value and drives business benefits.
By embedding ESG commitments into the Customer Experience, organisation can create value, drive stronger relationships and, so, desired customer behaviour outcomes, such as increased retention, share of spend, advocacy and – all while doing the right thing, from an operational efficiency standpoint, and by people and our planet, to drive a more prosperous future for us all.
Brands can reap these relationship rewards by:
Going beyond the ESG fundamentals like reducing waste or paying their fair share of taxes, else they risk getting lost in a sea of sustainability sameness.
Delivering on promises and expectations that ESG commitments create. When the Customer Experience consistently reinforces the brand promise, customers are more likely to grow closer to the brand and use it more in the future.  
Grounding ESG in Experience. Commitments that are related to the brand's core offering and that can be demonstrated via the experience are most likely to be impactful.
Key takeaways
ESG engagements need to be tangible and relevant to your offer and your customers. The ability to demonstrate engagements via the experience is key to fostering stronger relationships.
Quantifying the Return on CX Investment for ESG (ROCXI: ESG) is a powerful way to measure the success of ESG initiatives and build a business case for further investment.
CX Service Design principles and solutions such as CX Journey Mapping are required to truly embed sustainability in the Customer Experience.
Ipsos' CX Maturity Assessment can help organisations measure their level of CX maturity, including when it comes to embedding ESG in experience, to benchmark against best-in-class and create action plans for improvement.
Read 'Embedding ESG in Experience' to find out more about how organisations can derive more value from ESG.
For a monthly digest of Ipsos' latest data and perspectives relating to environment, social, and governance, sign up to our 'People, Planet, Prosperity' newsletter. Also tune in to the podcast to discover how our partners across various different sectors are addressing the environmental, social, and governance challenges of the 2020s.
Head here to access more Ipsos CX thought leadership.