Press Release - Ipsos 4th wave: SEA Ahead
Southeast Asia sentiment and consumption tracking, through the pandemic and beyond.
Ipsos in Indonesia officially released the SEA 4th wave study that conducted on June 2021 among 3,000 adults in Singapore, Malaysia, Indonesia, Thailand, the Philippines and Vietnam.
The release featured findings on regional sections: national and personal economy situation, citizen's optimism and expectation of government, consumer consumption patterns, and mental health in a pandemic, also local section about citizen satisfaction of Indonesia Government assistance programs. 
While economic conditions are improving, not all equally optimistic. In particular for Indonesia that in 4th wave 41% of respondents saying that current national economic are good and 75% said that their current personal financial situation is good or fair.
53% Indonesian satisfied with the Government Support during pandemic
Pandemic continues to sway consumer decisions
82% SEA consumers still being mindful on how much they spend for shopping
Shopper journey stages continues to migrate online.
39% of adults in SEA feel that their mental health has been impacted by the pandemic.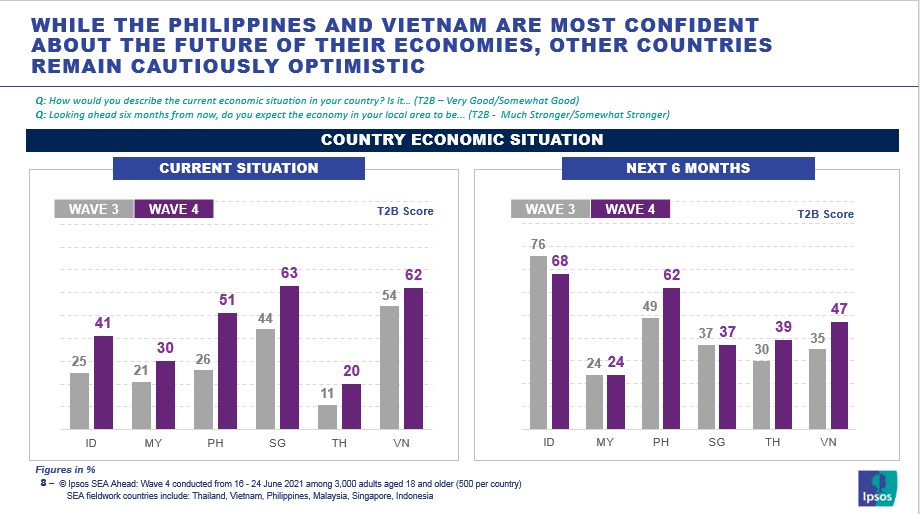 Moreover in particular of Indonesia section, 53% of respondents admitted that they were satisfy with Indonesia Goverment Assistance program during the pandemic and 60% of them said felt the messaging was the clear.