How Brands Can Connect With The Kenyan Woman
Who is the Kenyan woman? What are her goals and aspirations? What are her fears? What products and services does she need? What is she buying? What is on her shopping list? Why does she buy? What feedback does she have on brands she uses? Do brands and businesses know her? Are they paying attention to her?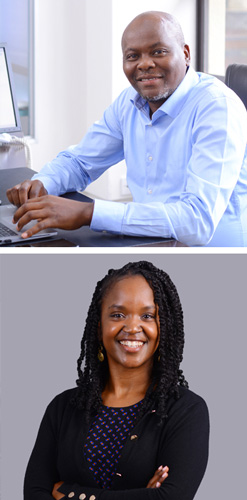 By Chris Githaiga/ Kui Kariuki
Who is the Kenyan woman? What are her goals and aspirations? What are her fears? What products and services does she need? What is she buying? What is on her shopping list? Why does she buy? What feedback does she have on brands she uses? Do brands and businesses know her? Are they paying attention to her?
Brands exist in our minds as a network of associations. They exist as feelings, thoughts, images, memories, stories, experiences, sounds, symbols, and colors. Brands grow when they are chosen by more people, more easily, more often. These decisions are very much influenced by the context in which we make decisions. External influences include one's socio-cultural context, physical context, incidental communication, and planned communication.
Internal influences include personal memories, beliefs, experiences, goals and motivation, adaptive processing, emotions, mood, and sensation. People choose brands that come positively to the mind now of choice. We are more likely to choose brands that are salient, which form relationships, and which are easy to access and that come to mind first at the time of choice.  
There has been a knowledge gap in understanding the female consumer demographic, yet recent research shows that seven out of 10 women play a critical role in the purchase of products or services used in their households. On average, 59 per cent of their income goes to this. Women control the fast-moving consumer goods (FMCG) market through their influence and purchasing power and and 51% of women play a critical role in the health services of their family.
In addition, in Kenya, the percentage of female-headed households is bigger than other nearby markets. Close to 40% of households are female headed. Meanwhile, 58% of women are working and 80 per cent have an income.
Yet, this female consumer is yet to be fully understood by those targeting them - both in social and commercial marketing angles. There is need to understand them demographically and psychographically to connect with them in a way that yields growth for businesses. Women have the power to accelerate growth of new markets and open new frontiers for existing brands.
Ipsos in Kenya and BSD Group carried out a unique study to truly understand Kenyan women. This is the only national brand ranking study with insights that inform, empower, and enrich understanding of women markets. The study leverages and highlights the potential opportunities that brands, businesses, or other noncommercial organizations may lose by not understanding female consumers.
The study is hinged on a robust, nationally representative sample of 1,000 women covering all regions from Coast, Northeastern, Eastern, Central, Rift Valley, Western, Nyanza and Nairobi and covered women across age groups and socio-economic backgrounds.
The survey used various methodologies to bring the Kenyan woman to life, among them photos and videos and interviews conducted in the respondents' homes over a period of 90 minutes, allowing the researchers to get a feel for the participants' lifestyles and at home routines
By going beyond numbers to add a human dimension to impersonal data, the study delved deeper into the Kenyan woman's psyche to examine her values, opinions, and underlying motivations.
For the survey itself, the respondent was guided through a series of questions to establish the product and service categories she uses. This was used to determine her favorite brands and eventually one most loved brand. All brands defined as their most loved were tallied and the data weighted to reflect the total female population. The most loved brands were ranked based on popularity of mentions.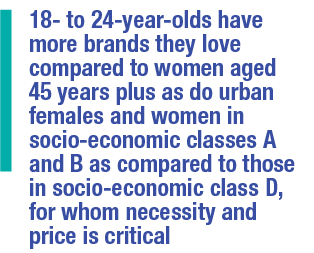 Across the board, brand preferences become more refined with age as women establish loyalty to brands that work for them. 18- to 24-year-olds have more brands they love compared to women aged 45 years plus as do urban females and women in socio-economic classes A and B as compared to those in socio-economic class D, for whom necessity and price is critical.
Aspirational brands tend to be in the vehicle, video on demand, insurance, banking, and household appliance categories, amongst users of those categories.
According to the study a great need for Kenyan women is economic empowerment. Eleven per cent of women in Kenya are unemployed and looking for work. Up to 40% of women cited barriers to ease of doing work. The Kenyan woman is highly entrepreneurial, with 42% of women in business, and one out of four women wanting to start a business but needing the right nudge (financial and through encouragement) to explore new ventures.
Entrepreneurship was seen to be correlated with a sense of personal fulfilment, feeling powerful and respected.
The Kenyan woman is greatly defined by her family which makes her feel powerful, respected, accepted, safe and in control as does religion.
 The Kenyan woman finds joy in spending time with her family and having good relationships with friends, family and peers. However, domestic violence was cited as a key issue by 41 per cent of women. On average, 59 per cent of Kenyan women are mothers, of which 47% are single mothers. The burden of the single mother is pronounced with slightly more people living in their household, compared to the households of other women who are not mothers, and they are more likely to live with differently abled household members. More than half of single mothers' dreams in life are related to finances. They value hard work and most want to be in business. Apart from their role in FMCG, single mothers / women-headed households are key drivers of education, banking, insurance, real estate, media hardware and subscriptions and even groceries. Furthermore, they are more likely to be employed or in business and can provide a ready business market if targeted, appropriately. Are policy makers and organizations connecting with the specific needs of women-headed households?
Do brands, businesses and even employers understand a woman's needs regarding family and are they connecting with her, for example through family-friendly benefits?
To connect with the Kenyan woman, businesses need to support her agenda. Studies such as these give us a front seat to the needs and motivations of women consumers. By understanding and addressing these, brands can capitalize on the incredible growth potential in women markets.
Chris Githaiga
Managing Director, Ipsos Kenya.
Kui Kariuki
Senior Research Manager, Ipsos Kenya