Are Mega Events Still Delivering ROI for Brands?
"Samsung has earned around $2million of dollar value equivalent coverage on social media."
With the Olympic Torch Relay starting on March 25th, it is important to reflect on upcoming mega events, and the level of ROI that brands can expect from sponsorships, in the context of uncertainty about in-person attendance. Two key questions should be addressed; Should brands rethink their investment decisions? Should investment decisions be put on hold until some of these uncertainties are clarified?
In order to address these, we undertook a data-driven approach using Ipsos' advanced Synthesio tool to extract conversations on social media worldwide about the Tokyo Olympics 2020 (now 2021), looking at the extent to which brands actually feature in the data corpus.
To help understand the ROI for brands, using the Ipsos Synthesio tool, we can estimate the earned media value that brands are receiving from their coverage across social and main stream digital media. Providing a dollar value equivalent for this coverage. That is an estimate of what they would have spent for the same coverage if this had been paid advertising.
Synthesio Social Media Measurement
The chart below examines the ROI brands sponsoring the Olympics have received year to date, and the earned media value from their coverage on social media. In number one spot we have Samsung that has earned around $2million of dollar value equivalent coverage on social media. Followed by Coca Cola and AirBnB.
While brands may be nervous about committing to sponsorships for sporting and entertainment events, empty fields and stadiums have created new opportunities and more compelling ways for marketing digitally. In the case of AirBnB, the accommodation provider's initial plan to launch a new suite of "Airbnb Olympian in-person Experiences" was dashed. Airbnb shifted these experiences to a virtual world helping them achieve a number 3 position for the ROI on their media investment versus the other brands that are sponsoring this year.
Expo 2020 With Expo 2020 on the horizon in the UAE, we also took a look to see how the volume of conversation compared with the other mega event happening this year, the Olympics. Interest remains consistently high for Expo 2020 and exceeds interest in the Olympics, which puts the event in a good position versus alternatives from a sponsorship perspective.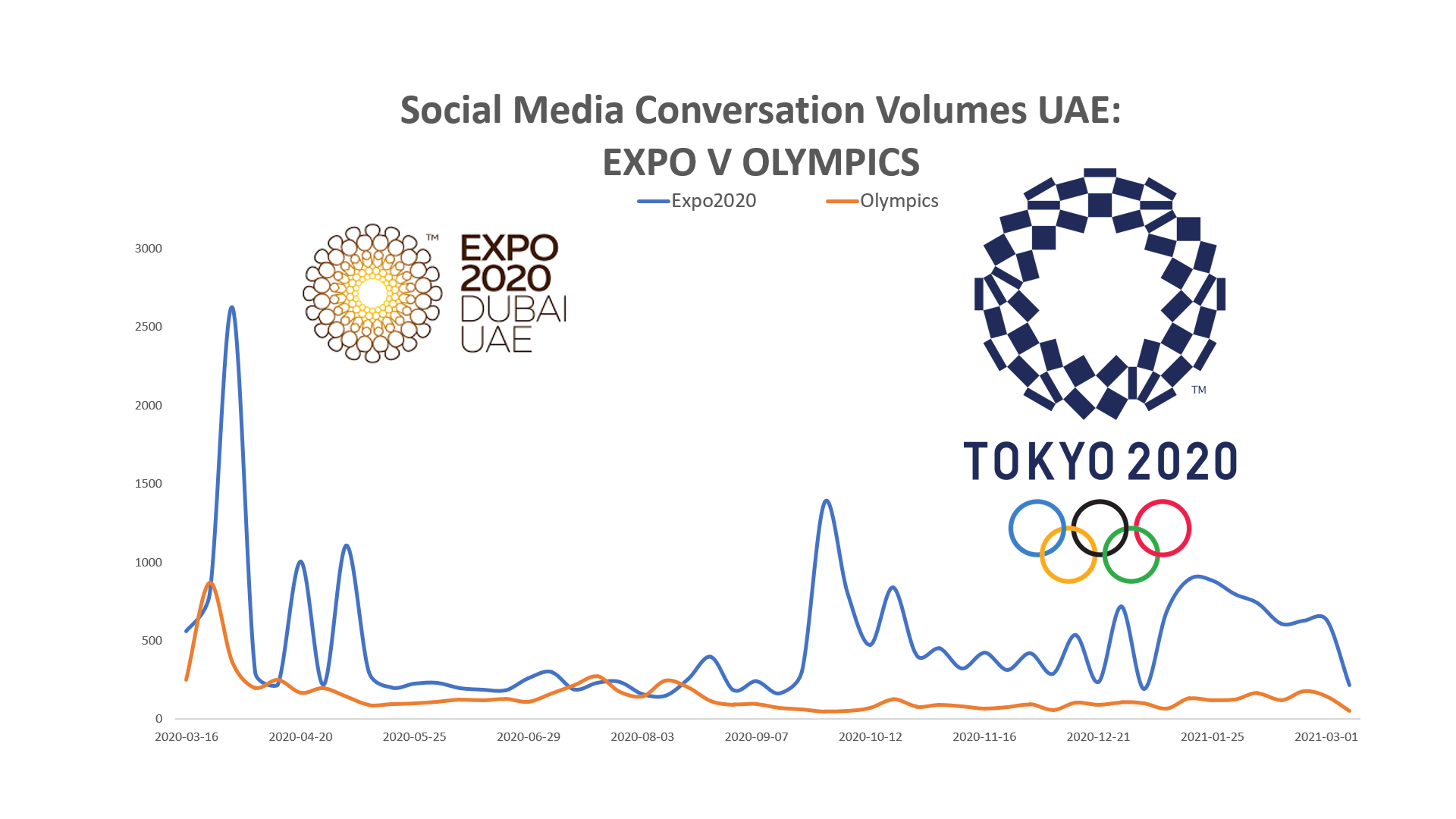 Certainly, while these times are challenging for brands and organizers of mega events, by thinking creatively and adjusting, brands seem to be able to leverage ROI from sponsorships and marketing activities.