Features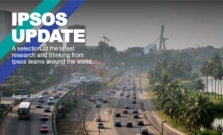 Discover Ipsos Update
A selection of the latest research and thinking from Ipsos teams around the world.
BE SURE. GO FURTHER. Pushing the boundaries doesn't have to be risky. We uncover new opportunities and show you how… https://t.co/7DDCXg1jGR
4:49 PM - 19 August 2019
At Ipsos, we are passionately curious about Society, Markets and People.
"Game Changers" – our tagline – summarises our ambition:
we provide true understanding and make our changing world easier to navigate,
so that our clients can make faster, smarter and bolder decisions.