What Worries Malaysia 2019 - Are we Moving in the Right Direction
Close to one year after the 14th General Election, Malaysians believe the country is moving in the wrong direction, as their main worries shift from Corruption to day-to-day issues like Crime and Inflation & Cost of Living. The latest 'What Worries The World' survey, found that from June to July last year, Malaysians who believe that the country was heading in the wrong direction was at 25%. Three months later, the figure rose to 36% and it currently has risen to 43% as of March this year.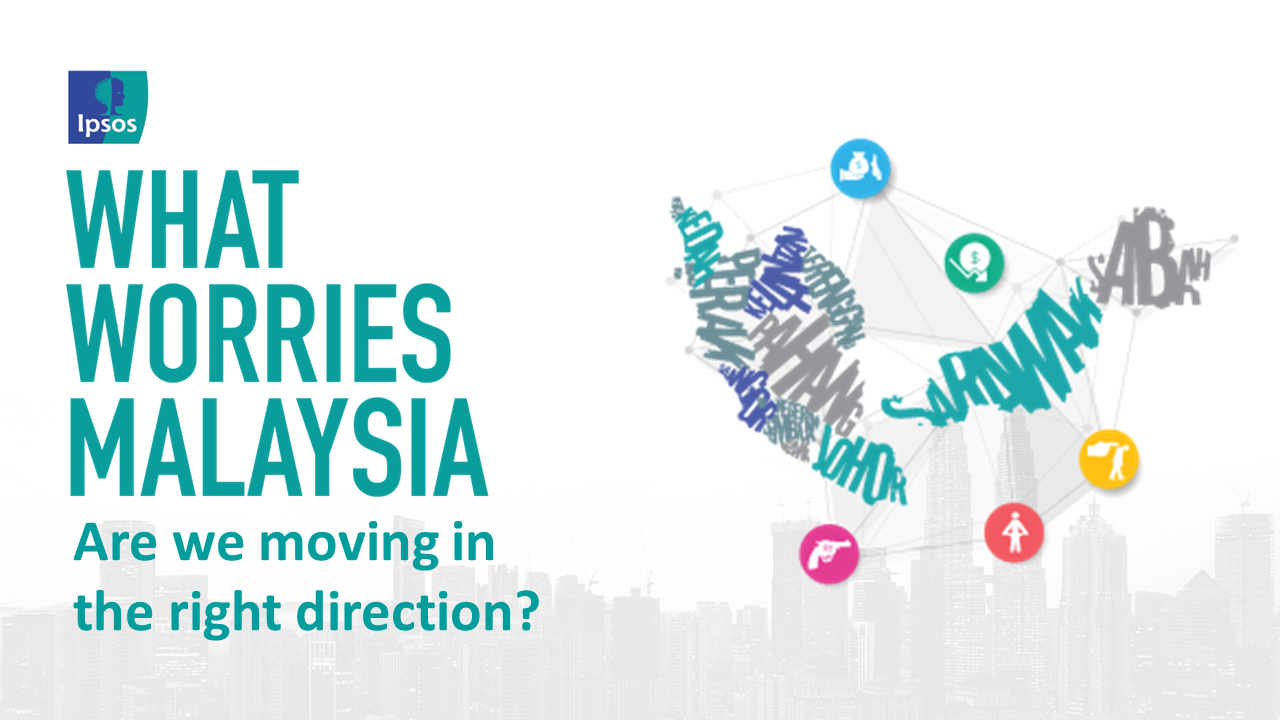 Link to What Worries Malaysia 2021 study update:- 
https://www.ipsos.com/en-my/press-release-what-worries-malaysia-nov-2021
--
Key points:-
More than half of Malaysians still believe the country is on the right track, however the shift towards the wrong direction perception is gaining momentum
Malaysians are less confident of the economy today in comparison to their confidence level immediately after GE14
Crime and Violence ranks highest as compared to Corruption 1 year ago & latest study by Ipsos finds top 3 concerns amongst Malaysians are: Crime & Violence, Inflation/Cost of Living & Corruption  
The Malaysian public's excitement following the election of the new government have subsided after a year, but Malaysians still remain positive on the country's direction under the current government leadership. Looking at the key concerns, Malaysians expect the government to come up with more measures to address the perception of crime & violence in the country and significantly lessen the financial burden to improve the quality of the life for its citizens.
Corruption was the biggest concern for Malaysians pre & post GE14, 1 year after the new ruling government has been in power, main worries has shifted to Crime and Violence (39%) followed by Inflation and Cost of Living (34%).
As positivity gradually adjusts to everyday reality, more than half of Malaysians (57%) remain confident and believe the country is moving in the right direction, compared to three quarters of the population (75%) immediately after GE14.  At the current rate, perception of wrong direction is gaining momentum and Malaysia is getting closer to the global average.
Pre GE14, the educated and youth was the one that was primarily concerned about where the country is heading. A paradigm shift to positive sentiment emerged across all demographic segments immediately post GE14. An year on, youth and lower income segments are becoming more concerned about the national direction.
Malaysian perception on the strength of current and future local economy, has reached a full circle.  One year from GE 14, Malaysians are less confident to make any major purchase (House, Car, etc).
Confidence levels of the Mar-Apr 19 period are significantly similar to that right before GE14. Confidence in the local economy has eroded primarily among young, urban, middle and lower income households.
Crime and Violence (39%).  Though it has moved up in ranking, % of those concerned remain stagnant. Despite actual statistics, relentless news coverages and reports are contributing to the public perception of this concern. The coverage of abuse, bullying, street crime, racial & sexual discrimination on top of reported crime like burglary & murder are the key topics of discussion among Malaysians on social media. 
Inflation/Cost of Living (34%) has risen to become the second biggest concern for Malaysians today. At individual and family level, financial concerns and how to sustain a way of life is becoming more rampant in daily conversations.
Corruption (32%) still remains to be a major worry amongst Malaysian even though it has now dropped significantly to the third biggest concern compared to it being a big concern of almost half of Malaysian last year (47%).
Poverty (31%) and Unemployment and Jobs (28%) remains as key concern for the Malaysian public similar to last year.
Previously it ranked as the top concern of Malaysians living in the Central region and Non-Bumiputeras in particular, it has currently dropped the 4th main concern. Significant measures from the government to address this should have contributed to the change in rank.
Malaysians with a high household income of RM5,000 and above are also less worried with the issue of corruption as the ranking has fallen to 3rd place this year.
Inflation has become the biggest worry for Urban Malaysians. Youth (between 18 and 24 years old) and the low household income earners (below RM3,000) are most affected, where inflation and cost of living is ranked 3rd and 2nd respectively, as opposed to 5th place last year. Fresh graduates, young Malaysians starting their careers/families are the few groups that needs government attention.
What worries the World
New global poll finds four concerns top the world's worry list: Financial/political corruption, poverty/social inequality, unemployment, crime/violence.
Meanwhile, in most countries surveyed (22 of 28) the majority think that their nation is on the wrong track.
The Ipsos What Worries the World study finds the majority of people across the participating 28 nations feel their country is on the wrong track (58% on average), with South Africa (77%), France (77%), Spain (76%), Turkey (74%) and Belgium (74%) recording the greatest levels of apprehension.
"What Worries the World" is a monthly online survey of adults aged under 65 in Argentina, Australia, Belgium, Brazil, Canada, Chile, China, France, Britain, Germany, Hungary, India, Israel, Italy, Japan, Malaysia, Mexico, Poland, Peru, Russia, Saudi Arabia, Serbia, South Africa, South Korea, Spain, Sweden, Turkey and the United States.
The study finds that most people across the 28 countries surveyed say that their country is on the wrong track (58% on average). There are, however, wide-ranging disparities in scores across the globe:
Right Direction
China (94%) inspires the most confidence about its national direction. More than 9 in 10 Chinese citizens say that China is moving in the right direction.
Saudi Arabia (84%) is once more in second place followed by India (73%) and Malaysia (57%).
India and Sweden are the are nations with the greatest month on month increase in positive sentiment of all 28 countries, with both reporting an 8-point increase in those seeing the nations as heading in the right direction.
Notable rises in citizens considering their country as headed in the right direction are also seen in China (94%) and Hungary (28%) - both reporting a 6-point increase.
Wrong Track
At the other end of the spectrum, South African, French, Spanish, Turkish and Belgian nationals have the greatest apprehension about the direction taken by their country. Just 23% of South African and French citizens consider their nations to be heading in the right direction, followed by 24% in Spain and 26% in both Turkey and Belgium.
Mexico (56%) has seen the biggest fall in optimism— with a reduction of 12%from a positive sentiment spike reported last month (68%). There are also 6-point falls in both Italy and Canada.
The four major worries for global citizens are:
Financial/ Political corruption (34%). South Africa (69%) has the most citizens apprehensive about this issue, followed by on Peru 63% and Hungary on 60%. Canadians (30%) have the greatest month on month increase in this concern, with a rise of 11 percentage points. Germans (9%) are the least worried citizens along with Great Britain (14%) and Sweden (15%).
Poverty/Social Inequality (34%). The greatest levels of anxiety are held in Russia (58%), Hungary (56%) and Serbia (54%). Sweden (19%) and Saudi Arabia (20%) are the least concerned nations in this area followed by the US (21%). In terms of trend, we observe a strong 8-point increase in concern in this area in Hungary.
Unemployment (33%). The highest levels of worry are seen in Italy (69%), South Korea (66%) and Spain (61%). Turkish citizens (+7%) and Argentinians (+6%) are the nations which have recorded the greatest month on month increase in this issue. The US public and Germans (11%) are the least concerned, followed by citizens in Great Britain (14%) Sweden (15%) and Poland (15).
Crime & Violence (31%), The highest levels of worry in this issue are seen in Mexico (64%) – closely followed by Peru (62%) and Chile (59%). China (22%)records the largest increase in anxiety with an increase of 11 percentage points from the previous month. There are other increases in Chile (+9), Malaysia (+9)and Turkey (+7). Concerns around crime are lowest in Russia and Hungary (8%), and Poland (11%). The greatest falls in this issue come from Poland (-10) and Serbia (-9)
Technical note:
The survey was conducted in 28 countries around the world via the Ipsos Online Panel system. The 28 countries included are Argentina, Australia, Belgium, Brazil, Canada, Chile, China, France, Great Britain, Germany, Hungary, India, Israel, Italy, Japan, Malaysia, Mexico, Peru, Poland, Russia, Saudi Arabia, Serbia, South Africa, South Korea, Spain, Sweden, Turkey and the United States of America.
20,019 interviews were conducted between February 22nd, 2018 – March 8th, 2019 among adults aged18-64 in Canada, Israel and the US, and adults aged 16-64 in all other countries. Data are weighted to match the profile of the population.

In 17 of the 28 countries surveyed internet penetration is sufficiently high to think of the samples as representative of the wider population within the age ranges covered: Argentina, Australia, Belgium, Canada, France, Germany, Hungary, Israel, Italy, Japan, Poland, Serbia, South Korea, Spain, Sweden, Great Britain and United States. The remaining 11 countries surveyed: Brazil, Chile, China, India, Malaysia, Mexico, Russia, Peru, Saudi Arabia, South Africa and Turkey have lower levels of internet penetration and so these samples should instead be considered to represent a more affluent, connected population.  These are still a vital social group to understand in these countries, representing an important and emerging middle class.