Ipsos Update - February 2020
This month's edition of Ipsos Update features the latest research and thinking from Ipsos around the world on gender, shopper behaviour, entertainment in India and young people.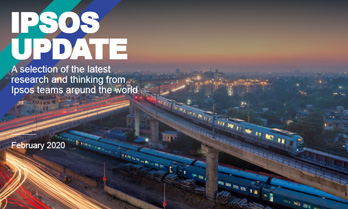 This month's Ipsos Update opens with a look at our predictions survey for 2020 revealing what people across 33 countries believe the year ahead has in store. Among the findings, 77% think average global temperatures will rise and 56% expect large-scale public unrest to take place in their country. Despite these negative predictions, three-quarters of people worldwide expect 2020 to be a better year than the last – on a personal level, at least.
The results from our latest What Worries the World survey show a 4-point increase in the number of people who say that things in their country are heading in the wrong direction since this time last year. Our analysis looks further at how this sentiment and the top global issues have changed over a decade.
Will the future be more or less "gendered"? A new Ipsos survey finds out how much people associate certain characteristics, tasks and professions with a particular gender and how these attitudes vary across 29 countries. It shows that people around the world generally see 'strength' to be a male characteristic and associate 'childcare tasks' with women. Meanwhile, people think doctors are more likely to be male and teachers female. New analysis from the latest What the Future report builds on these survey results.
Our latest study on climate change finds seven in 10 consumers worldwide reporting they have changed their behaviour due to concern about climate change. Efforts to save the planet begin at home, as the most popular actions include reducing the amount of water they use (reported by 60% of those who have made changes), recycling more (57%), and reducing their energy usage (55%).
Three key pieces of research published this month provide new perspectives on young people. Our Global Education Barometer finds high levels of satisfaction among young people in 20 countries with the education they have received and its ability to prepare them for the future. But many want more diverse learning experiences and greater focus on new technologies.
Meanwhile, our study with the International Committee of the Red Cross looks at the attitudes of millennials in 16 countries towards war and conflict. It finds that three-quarters think that most wars and armed conflicts are avoidable, but only two in five think that there will be fewer in the future. However, those with personal experience of conflict are more optimistic.
Finally, our global survey on social mobility tackles the question of whether young people will enjoy a better life than their parents. Answers vary by geography and criteria – more than eight in 10 worldwide think access to information and ability to travel will be better. But there is less certainty about financial wellbeing and job security, with advanced economies especially pessimistic about this.
Also see our new global survey with the World Economic Forum on attitudes towards jobs and automation which finds one-third worldwide think it is likely their job will be automated in the next 10 years.
Our new briefing on entertainment in India tracks how online streaming services are changing the traditional models of content consumption in a country with over 500 million internet users. Analysis of social data reveals what is driving the popularity of certain types of content, and how this compares to offline, TV entertainment.
Finally, turning to shopper trends, our paper on the Evolution of Shopper Behaviour has been updated to reflect the latest in eCommerce, omnichannel retailing and more. In this changing world, fluidity is the new currency, so retailers need to offer seamless solutions and ultimate convenience to remain competitive.
Download