Exporting healthcare: a new phase for the 'lucky country'
Australia's economy is in transition. The nation is actively trying to set course for an economy where the relative GDP footprint earned from being the world's quarry is smaller, replaced all manner of services, knowledge and experiences; mostly exported into emerging Asian countries. We are plotting a plan to be less brawn, more brains. Less soil, more skills.
Australia prides itself on delivering high quality public services. Our citizens have come to demand it, and for the most part we deliver. Exporting high quality services – in the areas of tourism, education and health-care – can assist the nation in working towards achieving its new economic goals.
The lucky country
In 1964, journalist and academic Donald Horne labeled Australia the lucky country. Horne's phrase – intended to jibe the nation that random good fortune, not governance, innovation, nor effort, had informed our prosperity – was, perhaps ironically, accepted by Australians as something to be proud of; a phrase to be printed on badges, recited at citizenship ceremonies and spoken aloud during adverse times.
Blessed with a favourable climate, abundant minerals, export markets for those minerals, and comfortably isolated from some of the world's more defining worries – such as disease and war – Australia has historically been lucky. Australia has made the most of this good fortune, for most of its people. Australia ranks second only to Norway on the United Nations Human Development Index1, our cities appear on the world's most livable lists2 and our citizens are more likely to be satisfied with their lives as a whole than the average human3.
While Australia may well be the lucky country – and this luck has been fashioned into a higher quality of life – those base elements that informed our prosperity to this point have shifted. In recent years, export demand for our minerals has contracted. Drought, fire and flood are more common, severe and impactful. Those benefits of isolation are ever less relevant in a global, unpredictable, connected and yet atomised world.
Australia is facing other challenges too. Our growing population is concentrated on the urban fringes of our major cities – where houses spread like a well-humidified moss – placing pressure on infrastructure, services and hurting productivity, wellbeing. Conversely, as the population grows, the relative (and absolute) share of Australians living and working in rural areas is in decline. People – mainly young people – leave regional and rural Australia because they cannot find work, education, meaning. Relatedly, our adolescent suicide rates are some of the worst in the world.
Like a lot of developed countries and as discussed in other articles in this journal, we have an obesity problem. One out-of-every four adult Australians is obese. We also have an ageing population. Just 30 years ago, you could almost fit every Australian aged over 100 into the same bus. By mid-century, we will have around 40,000 centurions4 – enough to fill a football stadium.
These few examples of the macro geo-demographic challenges facing Australia, coupled with the contraction in our traditional export markets, mean that we have to start finding our luck from elsewhere if we are going to even maintain our living standard, let alone improve upon it.
Making our own luck
Government and business have recognised this need for a step-change, and have identified a range of new opportunities that exist beyond our shores. We are well positioned to capitalise on the delivery of high-quality services to the likes of China, Korea and Japan. To this end, smartly, an acknowledgement of such was central to the design of our free trade agreements with those nations.
Looking now at China in a bit more detail. China's economy will (like Australia's has done) transition away from a manufacturing base to one that is more focused on consumption, and services. Already we are observing that the relative share of Australian services exported to China has and will continue to increase.  
The rapid, and unprecedented ascent of China's middle-class initially created opportunities for Australia in the primary resources sector. This next wave opportunity was (and is) demand for education and tourism services. Beyond education and tourism, a new wave exists in the provision of high quality health services and health related education.
In the 2016 Ipsos Life in Australia report5, Australians selected the provision of high quality health services as the third most important attribute that makes somewhere a good place to live. Given its importance, and long-term reign as a top issue facing our nation as reported through the Ipsos Issues Monitor6, the availability and performance of health services is always in the societal and political lens.
Perhaps because of this, Australia excels in the delivery of these services. Despite our relatively complex government structures and vast geography we offer one of the most efficient and equitable health systems in the world; ranking eighth of 55 nations on the 2015 Bloomberg global health efficiency ranking7. Beyond efficiency, the 2015 edition of our biennial Ipsos Healthcare and Insurance Australia report showed that Australians have never had more confidence in their local public hospitals. In addition, the Ipsos administered New South Wales Patient Survey8 found that two out-of-every three patients from Australia's most populous state reported that the overall care they received from public hospitals was 'very good'.
Australia not only provides high quality health services, it places a value on – and is a leader in – effectively measuring the experiences of patients who engage with services.
Patient experience rather than patient satisfaction
Patient experience research is a growing global movement that acknowledges that a person's health outcomes and perceptions are not only influenced by the nature and quality of the clinical care provided, but how that care is delivered9. This type of research recognises that while consumers themselves may not have the medical nous to assess the quality of the clinical treatment provided, they are certainly best placed to comment on the care that they received. Ipsos in Australia is at the forefront in the provision of this type of research.
Patient experience surveys utilise an 'experience' survey model, rather than a traditional 'satisfaction' model. In short, this means the majority of questions focus on whether or not best practice aspects of care occurred, as perceived by the patient. In a satisfaction model patients are asked how they felt about – or would rate – their experience. Evidence suggests that experience healthcare surveys are more robust, objective and actionable than satisfaction surveys10.
Beyond measuring experiences, there is a growing acceptance of the utility of the information derived from patient experience research, and the role it can play in identifying and remedying cultural and/or clinical deficiencies. Further, there is an emerging movement towards making the results of such research fully available for public consumption.
While Australians' are feeling more positive about the public hospital system than ever before, the ageing, obesity, other lifestyle and population distribution issues will continue to drive demand for services delivered through this system. In addition, that positive sentiment and high-quality experiences will also push Australians who have private hospital insurance to make an economic decision as to whether they should receive care through a public hospital as opposed to a private facility.
One out-of-every two Australians has private hospital insurance, and the government imposes financial disincentives for dropping the cover. Despite paying this insurance, Australians still have to co-pay for most procedures delivered in the private setting. Given the high-quality of clinical care in the public system – and increasingly high standard of public hospitals themselves – the service-quality gap between public and private hospitals is narrowing.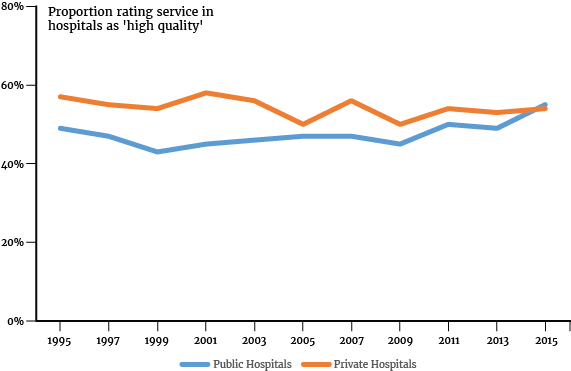 While this view of the future is certainly no dystopia, it raises two clear questions. How can Australia continue to deliver such high quality services in an environment where demand is increasing and national revenues are projected to be relatively stable, and what can private hospitals do to adjust to a market where the perceived quality of care is similar in the public setting?
In practice, the China-Australia free trade agreement has provision for Australian private hospital providers to establish and operate profit generating hospitals in China. While this will certainly create opportunities for Australian providers on-the-ground in China – and some large operators have already exercised this opportunity – it also opens the door for those same providers to explore delivering services to Chinese citizens in existing Australian private facilities, coupling the experience with other unique export opportunities that are in high demand – such as tourism.
Further to this, a recent report by the China Studies Centre at the University of Sydney cited several areas11 where Australia could leverage its expertise to meet the ever-growing demand for high quality health services.  Like Australia, China has an ageing population. However, unlike Australia, China does not have the infrastructure, experience or necessarily the skills to deliver against their massive demand. China will need assistance, and, given the provision of aged-care services is also included in the FTA, we are well positioned to provide it.
With regard to health education, China consumes one-third of the world's cigarettes. Australia has one of the lowest tobacco consumption rates in the world. Working with the Chinese government to assist in reducing smoking rates – through education and treatment – is another area where we can leverage our skills to meet their need.
Australia is, has and will hopefully continue to be lucky. But luck is fickle, a head-start and potentially useless without intervention. If Horne were around to coin his famous phrase today, one would hope it would be because we have made the most of our random good fortune, through strong governance, innovation, and effort. And that is something to be proud of, to print on a badge, to recite at citizenship ceremonies and speak aloud during adverse times.
1 http://hdr.undp.org/sites/default/files/hdr_2015_statistical_annex.pdf
2 http://www.eiu.com/public/topical_report.aspx?campaignid=Liveability2015
3 http://www.oecdbetterlifeindex.org/countries/australia/
4 http://www.treasury.gov.au/PublicationsAndMedia/Publications/2015/2015-Intergenerational-Report/HTML/Executive-Summary
5 Ipsos Life in Australia 2016
6 Ipsos Issues Monitor Oct to Dec 2016 - National
7 http://www.bloombergbriefs.com/content/uploads/sites/2/2015/11/health-care.pdf 8 http://www.bhi.nsw.gov.au/media/2015/snapshot_report_adult_admitted_patient_survey_results_2014
9 Doyle C, Lennox L, Bell D, 2013, A systematic review of evidence on the links between patient experience and clinical safety and effectiveness. BMJ Open.
10 Bleich, SN, Özaltinb E, & Murray, CJL 2009, 'How does satisfaction with the health-care system relate to patient experience?' Bulletin of the World Health Organisation; vol.87, pp. 271–278.
11 http://www.georgeinstitute.org/sites/default/files/australia-china-healthcare-opportunities-en.pdf