Online webforms: surprisingly, not the most effective way to communicate with Car Insurance Companies in Switzerland?
In 2020, during the spreading pandemic, online channels became even more important tool for effective communication with the existing or new customers due to the limited access to brick & mortar offices. Throughout September and October 2020, Ipsos has carried out a Mystery Shopping research, amongst twelve major Car Insurance companies in Switzerland, to evaluate how reactive those companies are when it comes to online leads, submitted through their online webforms.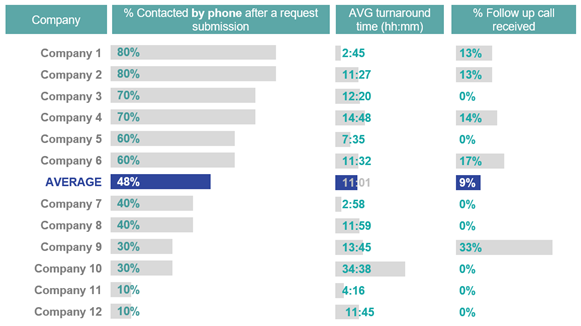 Only 48% of the potential customers were contacted by phone after submitting an online lead through the company's webform.
Out of 120 online leads (10 per each company), where Mystery Shoppers submitted a request for information, while clearly demonstrating an interest in buying a car insurance in a near future, only 58 of them (48%) got a proactive phone call from a company. For some companies, phone response rate reached acceptable 80% (8 out of 10 leads answered), but in two cases, only 1 out of 10 Mystery Shoppers were contacted.
Since it's safe to assume that the potential customer would rather opt for a company that has proactively contacted him/her, potential lost of the business opportunity is staggering. Especially, considering the size of the market and about 240'000 of new cars sold every year in Switzerland.
While it's happening only in the half of the cases, responding to the online lead is considered as a must. However, quick turnaround time could play a crucial role for a successful deal, especially in case, when the potential customer approached several companies at the same time. Our Mystery Shopping research shows, that it takes 11h in average to get a call from Insurance Company, while the difference between top and bottom performer is being surprisingly high, almost 32 business hours.
Another key differentiators between good and outstanding "closing-the-deal" effort is a follow-up call after the first telephone interaction, where potential customer takes some time to think about the offer. Our research shows, that it's happening very rarely, when only 5 out of 58 Mystery Shoppers (9%) received a follow-up call and were asked for their decision.
What have we learnt? There are clear needs for improvement at the Swiss car insurance market: every customer interaction should be perceived as an opportunity.
Despite clear importance of functional online channels, it seems that the poor leads handling process of Car Insurance companies might have a big impact on the lost opportunity. Implementing proper Leads Qualifying Processes, simple CEM tools such as Closed Loop Feedback (to track the sales activity of Customer Support Centres) and regular Mystery Shopping programs (to measure its actual performance) might significantly improve sales efforts of those companies.
You are interested in our Mystery Shopping and Customer Experience capabilities - do not hesitate to reach out to us!
---
Companies in scope of the research: Allianz, Baloise, Dextra, Generali, Helvetia, Mobiliar, PostFinance, Swiss Life, TCS, Vaudoise, Winthertur / AXA, Zurich
Download