War on plastic heats up as beverage giants push water in a can
One in five say it's the company that produces goods' responsibility to reduce packaging.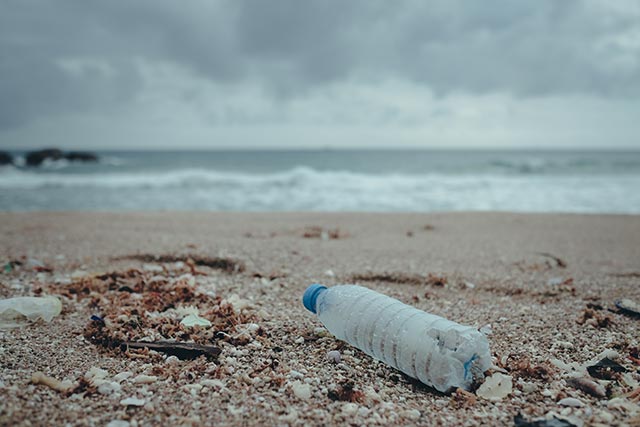 The world's biggest beverage makers are about to take the war on plastic to the next level with the introduction of water in an aluminum can.
Coca-Cola Co. announced this week that it will start selling its Dasani bottled water in aluminum cans in the northeast U.S. in September with plans to expand the product to other parts of the country next year.
The move follows a similar one by rival PepsiCo Inc., in June when the company said it will test selling Aquafina bottled water in cans starting next year.
The two companies are among the world's biggest producers of bottled water. In general, aluminum cans are known to contain more recycled material than plastic bottles.
From water in a can to paper straws, food and beverage companies have been trying to up come with innovative ways to reduce plastic packaging as they face growing backlash over the environmental damage it's causing.
It's the company's responsibility
In a recent Ipsos survey of nearly 20,000 people taken in February to March this year, one in five people (20%) across 28 countries said it is the company that produce packaged goods' responsibility to reduce unnecessary packaging.
Added to that, more than a third (34%) said dealing with the amount of waste we generate is one of the top three environmental issues facing their country – after global warming and air pollution.
Chris Jackson and Nicolas Boyon, authors of the report, said the world agrees that disposable, non-recyclable products are a concern with four out of five people (81%) citing this, and now more are also willing to take action to reduce problems created by such packaging.
"A majority now is willing to buy products from recycled materials (51%, up from 47% in 2018)," the authors said. "More people are also more willing to re-use disposable items (56%, up from 53%)."
Countries where most are willing to buy recycled products:
Colombia (70%)
South Africa (69%)
Mexico (63%)
Argentina, Brazil, Peru (58%)
But despite this growing call for action, overall people are not willing to pay more for products that are more environmentally friendly.
Only 12% of the respondents said they would pay more tax for recycling facilities to be improved, while just 14% said they'd pay extra for goods without non-recyclable packaging.
When asked if Dasani's new aluminum can packaging will cost consumers more, Austin Roebuck, a spokesperson for Coca-Cola Co., told Ipsos the new products would be priced similarly to existing bottled water packaged in plastic.
Companies forced to innovate
Sylvain Charlebois, Senior Director of Agri-Food Analytics Lab at Canada's Dalhousie University, said consumers ultimately feel companies should bear the brunt of any rising costs.
"This is happening more and more in the food industry," said Charlebois. "The minute you sell the product, if that package has a certain brand, the company is held responsible for whatever happens to that package at the end of the day."
Long gone are the days when many companies took their entire supply chain including consumers for granted, added Charlebois.
"Interest groups are doing their jobs and they're keeping companies on their toes which often leads to innovation and that's essentially what we're seeing now," said Charlebois.
Meanwhile, Coca-Cola's namesake drink brand is still driving the company's sales with the latest fiscal earnings showing net income above expectations at US$2.6 billion and revenue at US$10 billion. PepisCo also reported earnings of more than US$2 billion in its latest quarter.
Whether this move by the beverage giants will lead more people to drink their branded water remains to be seen, but Charlebois thinks any methods deployed by them to become more profitable will always be scrutinized by different lobby groups.
"I don't expect any measures to buy peace automatically [with environmental groups]," he said. "There's no silver bullet for anything for these companies."