A more dangerous world: People fear hackings over attacks to their personal safety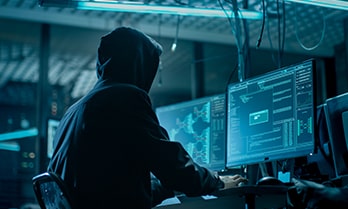 An increasing number of people feel the world became a more dangerous place over the past year after two consecutive years of declines on the measure.
A new Global Advisor survey done on behalf of the Halifax International Security Forum finds four in five people (80%) across 28 countries think the world has become a more dangerous place in the last 12 months.
That's an increase of six percentage points from last year  ̶  following a 10-percentage point fall since 2016.
This sentiment is highest among Latin American countries, while emerging markets account for nine of the top 10 countries that feel the world has become more dangerous.
Where most think the world is more dangerous
Peru (93%)
Colombia (91%)
Mexico (89%)
Chile (88%)
South Africa, Turkey (87%)
Added to that, less than half of the 18,500 people (46%) surveyed said things are getting better, not worse, in the world.
Darrell Bricker, CEO of Public Affairs, said recent political turbulence in Latin America has had a notable impact on the feelings of safety and security among their citizens.
"This has also contributed to an overall increase in insecurity in the world," said Bricker.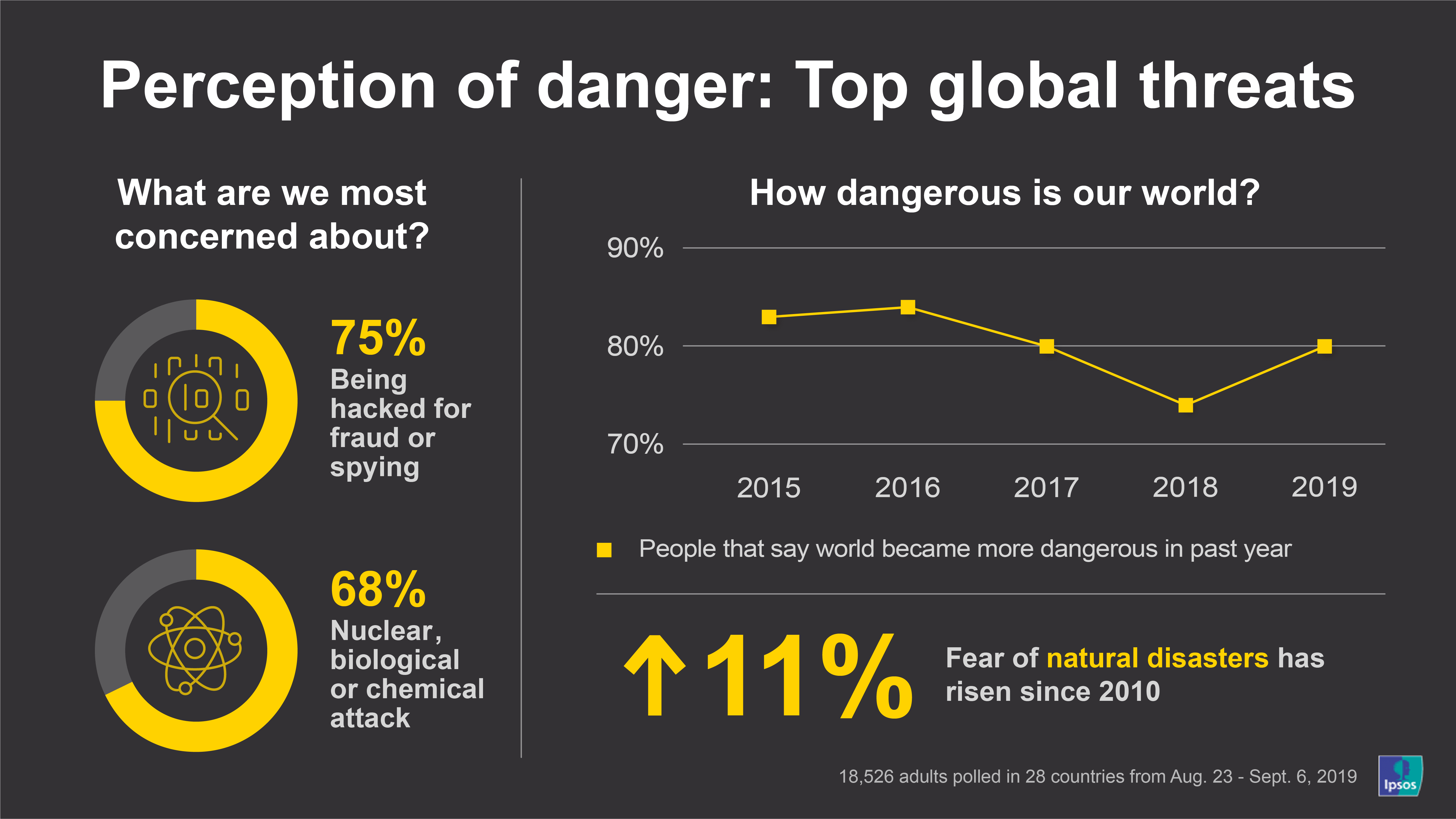 What are the biggest threats?
The No. 1 threat that people globally are facing is a fear of being hacked for fraudulent or espionage purposes in the next year. Three in four people (75%) cited this as a threat and the number has increased five percentage points from 2018.
The fear of a nuclear or chemical attack in the world has also increased by the same amount from last year – with more than two-thirds (68%) of people citing this as a threat – ranking it the second highest on the list.
Fears of terrorist attack in your country rose marginally globally – up one percentage point from 2018 to 65%. But this number has fallen substantially from a high of 72% in 2017.
Notably, people in Great Britain were most likely (90%) to feel threatened about a terrorist attack in the next year – similar to 2018 – followed by India (87%), Russia (87%), Turkey (86%), France and Spain (85%).
The perception of threats to personal and family safety, a violent conflict between ethnic or minority groups, a major health epidemic and an armed conflict with another country all increased from one to 3 percentage points from last year.
Confidence in governments
Aside from dealing with natural disasters, people were most confident (52%) their governments could provide security and protection from a major health epidemic in the next 12 months.
This confidence was most prominent in developed countries, which accounted for seven of the top 10 countries in this category.
Globally, just half or less of the respondents were confident their governments could protect them from a terrorist attack, a violent conflict between ethnic or minority groups, armed conflict with another country, a nuclear or biological attack, or a hacking of their personal information.
More than half (51%) said their government needs to spend more on the military, given the dangers in the world.
Where most want more defense spending
India (81%)
Poland (72%)
Turkey (69%)
Sweden (65%)
Malaysia (64%)
Concerns over climate change
Out of all the dangerous situations facing countries, people globally were most confident that their governments could protect them and provide security if there was a major natural disaster in the next 12 months.
This sentiment was widespread across developing and emerging markets with the top 10 countries divided evenly by economic standing.
At the same time, people cited the threat of a major natural disaster in their country in the next year as the third highest concern (66%). The fear of this environmental threat has jumped by 11% since 2010.
More than two in five people (45%) also felt their country is doing what is appropriate and reasonable to fight climate change. This sentiment was highest in emerging markets – with China (84%), India (75%), Malaysia (65%), Saudi Arabia (65%), Peru and Russia (60%) rounding out the top five.
The entire results of the study can be found here.
These are the findings of an Ipsos survey conducted between August 23rd and September 6th, 2019. The survey instrument is conducted monthly in 28 countries around the world via the Ipsos Online Panel system.