Singapore's Awareness of UN's Sustainable Development Goals: Ipsos Report
Awareness of the United Nations' Sustainable Development Goals high in Singapore with access to Quality Education ranked most important
Highlights
Two-thirds of adults globally have at least some awareness of the Sustainable Development Goals.
In Singapore, 77% of adults have at least heard about them, though only 35% say they are familiar with the goals.
Nearly 9 in 10 adult Singaporeans deem the first 16 UN Sustainable Development Goals as important.
The goal of most perceived importance being ensuring access to quality education. Climate Action ranked #8 for Singaporeans.
[Singapore, October 1, 2019] – In the lead up to the Sustainable Development Impact Summit held in New York on 23 - 24 September 2019, an Ipsos survey finds that at a global level, three out of four adults (74%) have at least some awareness of the United Nations' Sustainable Development Goals (SDGs).
These goals, laid out by world leaders in 2015, were 17 benchmarks set in order to end poverty, fight inequality, and stop climate change around the world. This survey asked more than 19,000 adults from 28 countries about their awareness and opinions of 16 of the 17 SDGs.
Awareness and familiarity with the SDGs tend to be significantly higher in emerging countries than they are in economically advanced countries. Awareness, i.e., the incidence of adults who have at least heard about them, in Singapore is slightly above global average at 77%. Awareness is highest in Turkey (92%), mainland China (90%), followed by India (89%) along with Brazil, Malaysia and Sweden (87% in all three). However, it is the case of about half of all adults in Japan (49%), Great Britain (49%), the United States (50%)and Canada (51%).
While those who say they are somewhat or very familiar with the UN SDGs make up one quarter of all adults globally (26%), they are a majority in India (55%), and China (52%). In Singapore, about 35% say they are familiar with the goals. In contrast, only about one in ten people surveyed in Japan (8%), France (11%), and Great Britain (13%) report being familiar with the SDGs.
Each one of the first 16 SDGs is deemed very or somewhat important by at least three quarters of all adults surveyed across the 18 countries. The proportion is higher in Singapore, with nearly 9 in 10 of all adults saying these SDGs are very or somewhat important. The goal of highest perceived importance among Singaporeans is ensuring inclusive and equitable quality education and promoting lifelong learning opportunities for all. Climate Action ranked #8 for Singaporeans in importance.
This is how the first 16 SDGs rank for Singaporeans in perceived importance: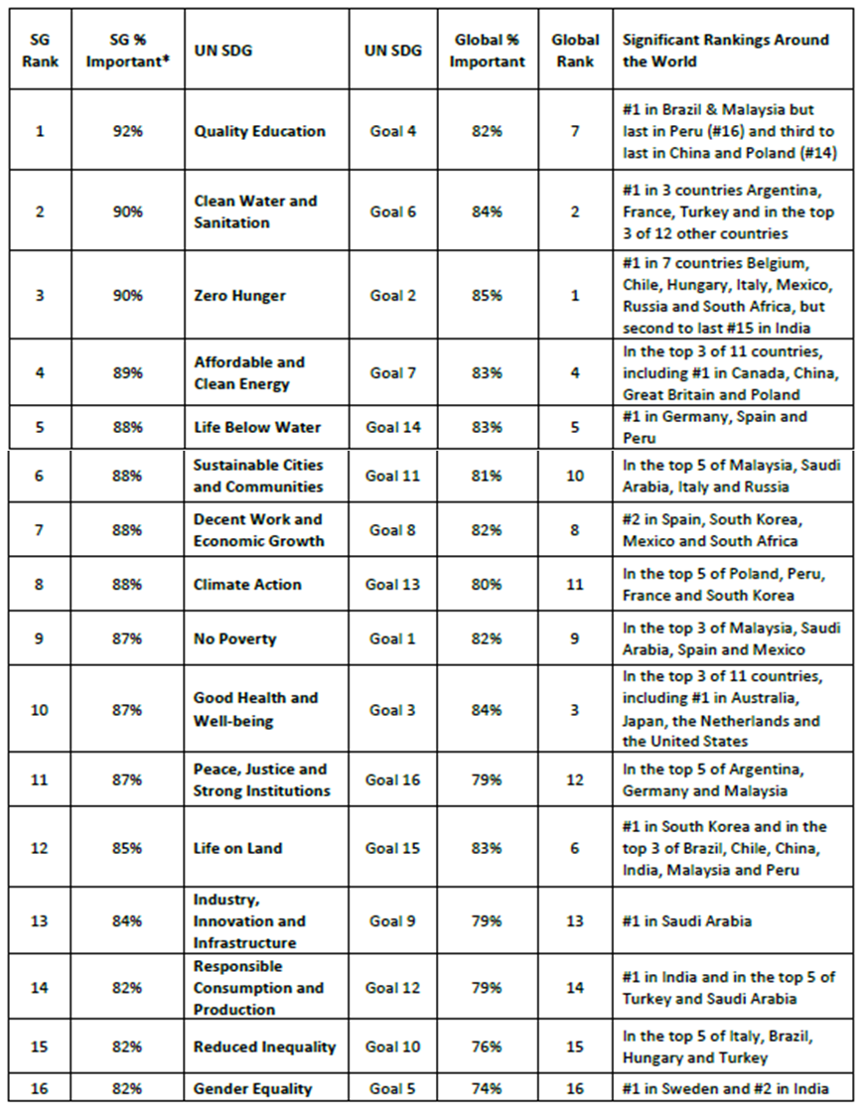 *Refers to the proportion of adult Singaporeans who indicate this goal as somewhat or very important.
Hui-Ching Tan, Director of Public Affairs at Ipsos in Singapore, comments, "While there is recent increased discussion on the effects and potential impact of climate change to Singapore, it is still a relatively distant concern for Singaporeans. Our research has shown that there is significant expectation on the Government to act on climate change. PM Lee also pointed out at the recent UN Climate Action Summit in New York, that it will need the combined effort from all countries to stop climate change. Naturally, areas of more immediate impact like quality education and access to clean water continue to be areas of most concern for Singaporeans."
Download