[EVENT] Commercial Drones In Agribusiness – Opportunities and Challenges in Asia
AmCham China Conference Center The Office Park
Tower AB, 6th Floor No. 10 Jintongxi Road, Beijing, China
Advancing technology in chips, sensors, data analytics, automation, and remote access has greatly increased the affordability and range of application for commercial drones. The industry's push towards automation and precision agriculture has been a main driver for the adoption of drones in agriculture. Yet, for Asian markets most ripe for adopting this technology, there are still several challenges and barriers to consider when considering the penetration rate of commercial drones in the agriculture industry.
This presentation will highlight the key trends for drones in crop management as well as major drivers affecting potential adoption and growth for agriculture drones.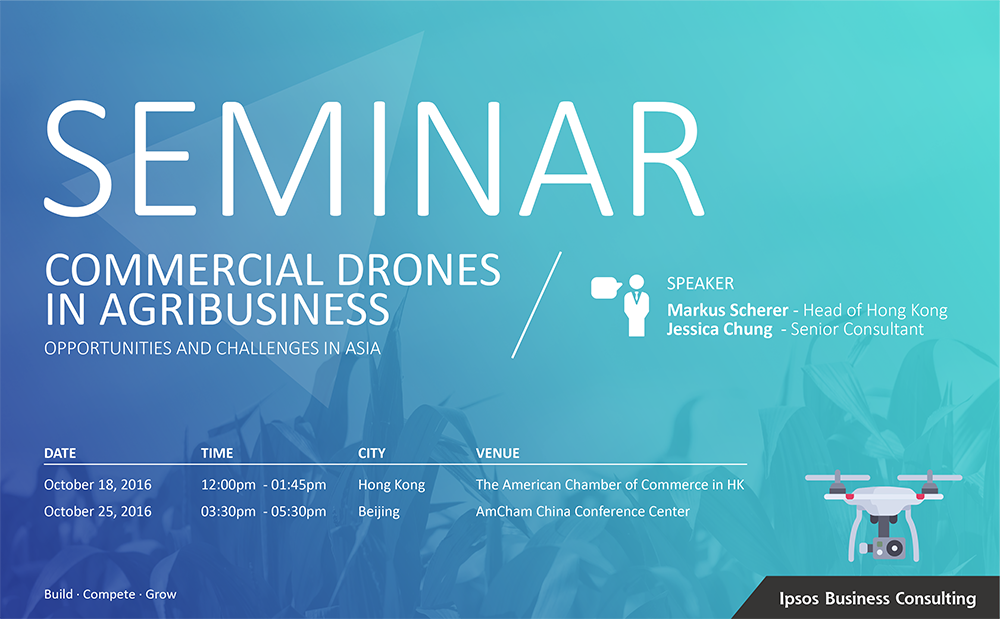 Welcome all business leaders from UAV manufactures/investors/operators, agriculture and chemical industry to join our event, we look forward to Build, Compete and Grow business with you in the market.
Date: Oct 25, 2016 (Tuesday)
Time: 3:30pm-5:30pm (with Cocktail reception)
Venue: AmCham China Conference Center - The Office Park, Tower AB, 6th Floor, No. 10 Jintongxi Road, Beijing, China
Attendance is free for all AmCham China members, employees of member companies, and non-members (if space permits).