Study shows increased support for refugees worldwide
A new global Ipsos study shows increasing support for the principle of people seeking refuge from war or persecution but concerns about Coronavirus mean that half want their country to be less welcoming to refugees.
A new Ipsos global study conducted to mark tomorrow's World Refugee Day 2020 finds that the majority of citizens across 26 countries increasingly believe that people should have the right to seek refuge from war or persecution. However, concerns over the Coronavirus outbreak mean that people think their country should accept fewer refugees.
There is evidence that some attitudes have hardened, for example, there is increasing scepticism about whether those coming into the country as refugees are genuine refugees. On the other hand, the online survey conducted among adults aged under 74 in 26 countries shows that people have become more positive about the ability of refugees to successfully integrate into their new societies.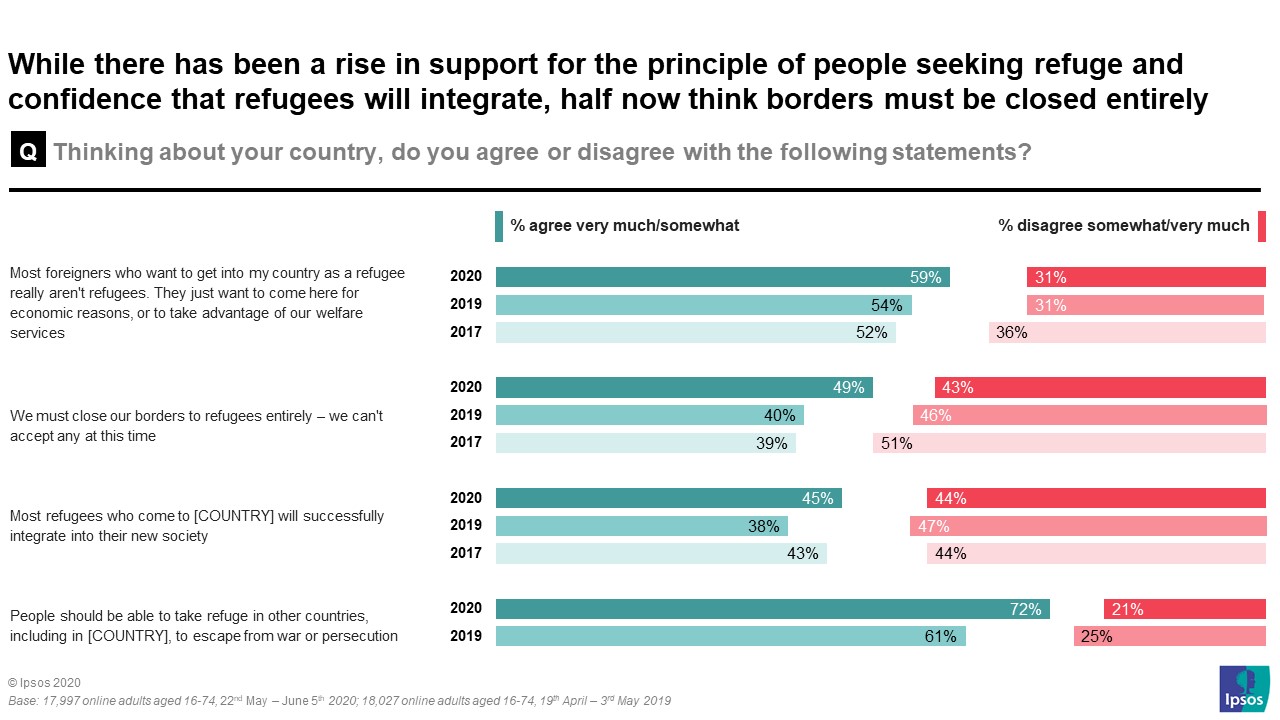 The detail of the study shows that:
Seven in ten (72%) believe in the fundamental right of refugees to seek refuge – including in their own country - to escape war or persecution, which is up 11 percentage points from 61% in 2019. One in five (21%) disagree.

There is majority support in favour of the right of people to seek refuge across all countries, which is a noticeable change from last year when opinion was much more divided.
Those most likely to agree with the principle of the right to seek refuge are in Sweden (81%), the Netherlands (80%) and Spain (79%). Levels of agreement have markedly increased in France, Belgium and Germany. Respondents in South Korea (55%), Hungary (57%) and Malaysia (60%) are less likely to agree than the global average.
Online South Africans also expressed more support for refugees' right to seek refuge, and currently three-quarters (76%, up five percentage points from 2019) support the right of refugees to leave a hostile or hopeless environment.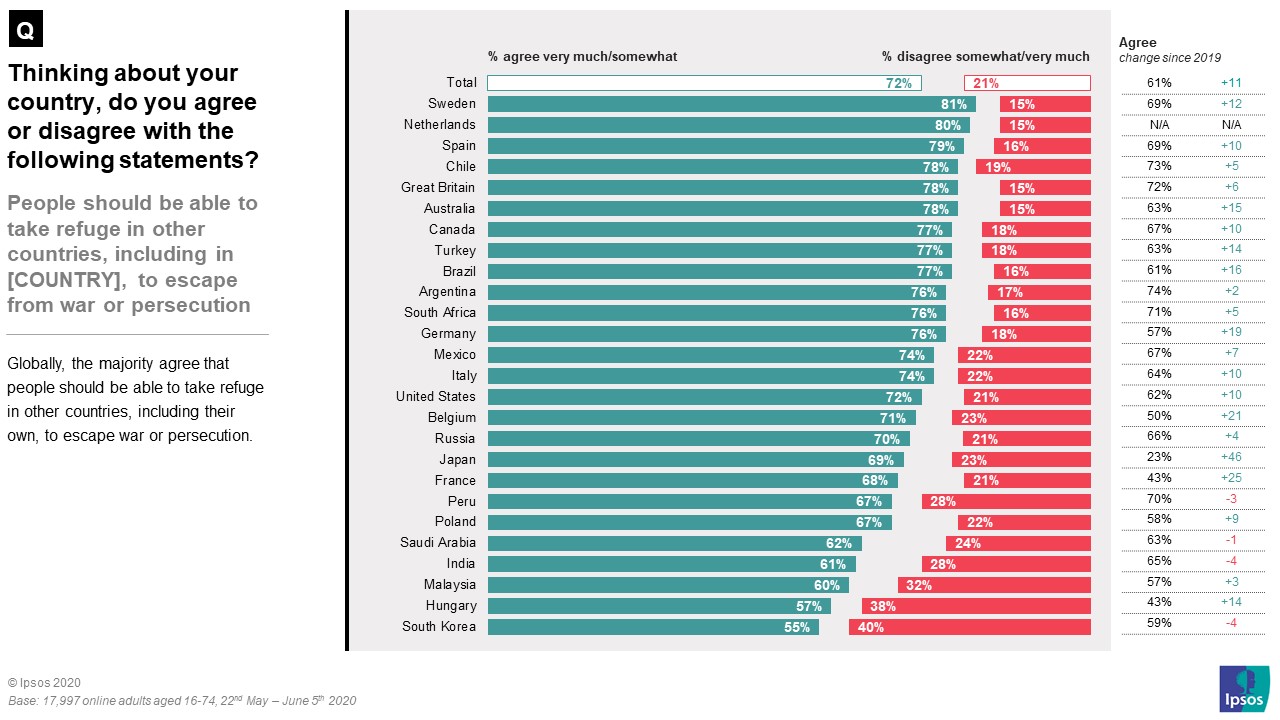 When asked specifically about the Coronavirus outbreak, half (49%) say that their country should be less open to accepting more refugees compared with only one in ten (10%) who say it should be more open. Three in ten say that it should remain the same as before the outbreak.

There is majority support for being more open to refugees at this time, in any of the countries included. Countries where there is greatest support for being less open are Turkey (67%), Russia (66%), Peru (65%) and Malaysia (64%).
The Coronavirus outbreak also influenced 57% of online South Africans to say that the country should currently be less open to accepting refugees. A quarter (25%) wants things to stay the same and 11% feel that South Africa should be more open. South African views are very much in line with those expressed in the rest of the world on this issue.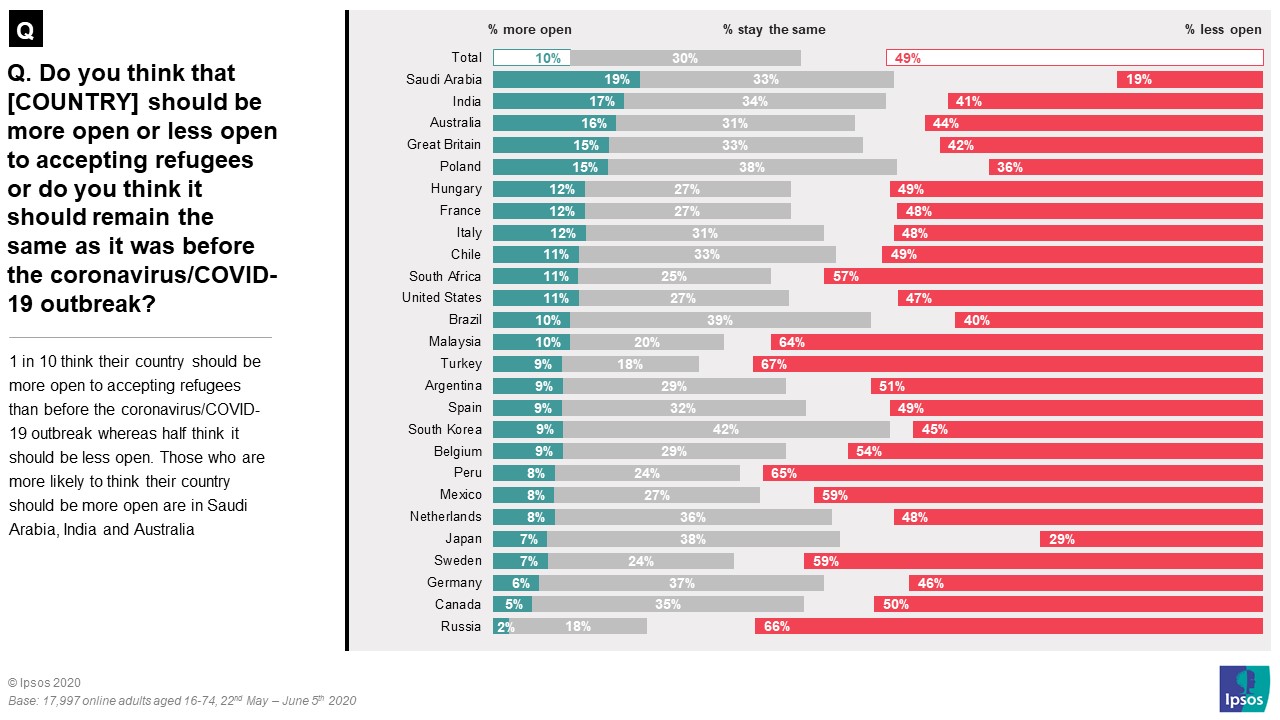 Globally, close to six in ten (59%) are doubtful that people coming to their country claiming to be refugees really are genuine, instead believing that they are coming for economic reasons or to take advantage of welfare services – an increase of five percentage points on 2019. Three in ten people disagree – showing no change since last year and suggesting that overall opinion has become more sceptical about people's motives for trying to enter their country.

Those most likely to doubt the authenticity of refugees coming into their country are in Malaysia (75%), India and Russia (both 74%) and Turkey (72%), while those least likely to question whether refugees are genuine are in Britain, Sweden, the US (all 51%), Brazil (47%) and Canada (44%).
Scepticism has grown significantly (by 10 percentage points or more) since 2019, in Malaysia, Russia, Chile and Japan.
South Africans, at 68% are more doubtful than the rest of the world about the authenticity of refugees coming to the country and believe that the economic reasons for coming to this country are more important to refugees.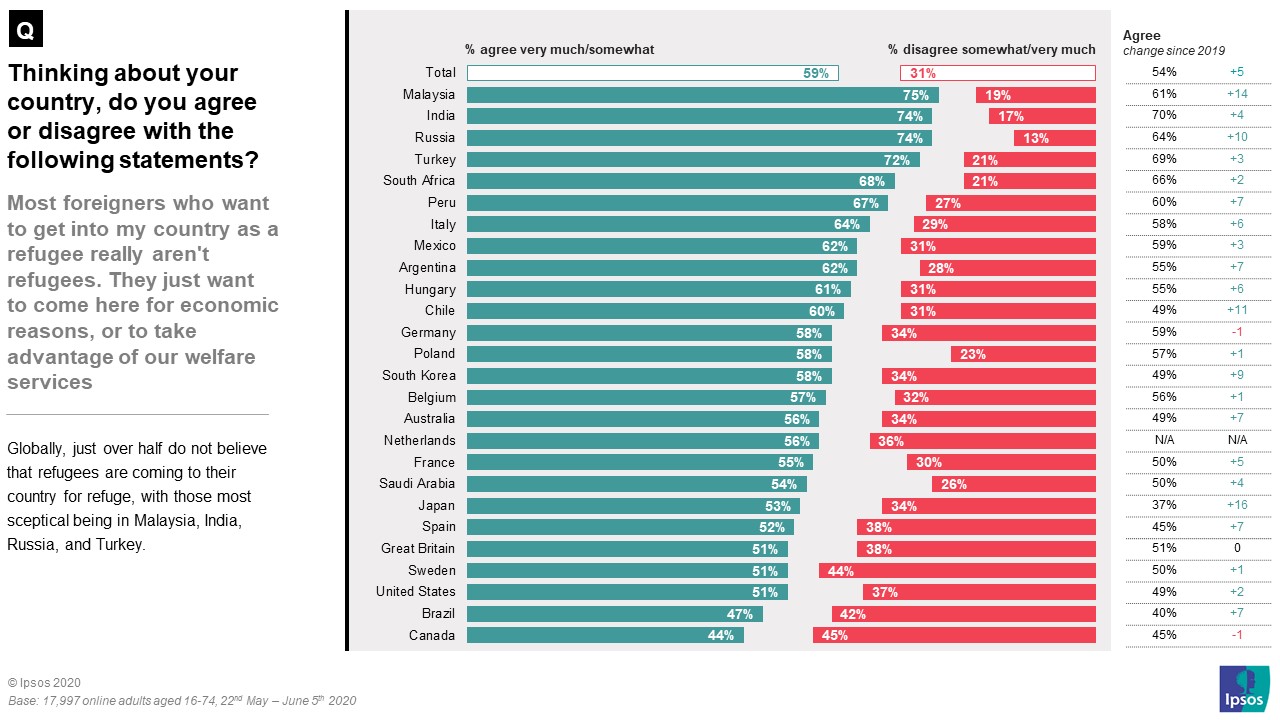 People have, however, become more positive about the ability of refugees to successfully integrate into their new society than last year. Globally, close to half (45%) agree that refugees will integrate successfully into their new society – an increase of seven percentage points from 38% in 2019. Overall, views on the matter remain fairly split, with 44% disagreeing (a fall of four percentage points from 47% in 2019).

Countries that are most optimistic about refugees successfully integrating into their new society are Saudi Arabia (65%), India (64%) and Argentina (61%).
Countries that are least likely to agree that refugees will successfully integrate are South Korea (26%), Hungary and Belgium (both 28%).
Views on this measure have shifted significantly (by at least 10 percentage points) in a positive direction in the United States, Australia, Japan, Brazil and Saudi Arabia, as well as a number of European countries including France, Italy and Poland. On the other hand, people in Peru have become less convinced since 2019 that refugees can successfully integrate into their new society.
Just over half of South Africa's online citizens (52%) think that refugees will be able to integrate seamlessly into their new chosen society.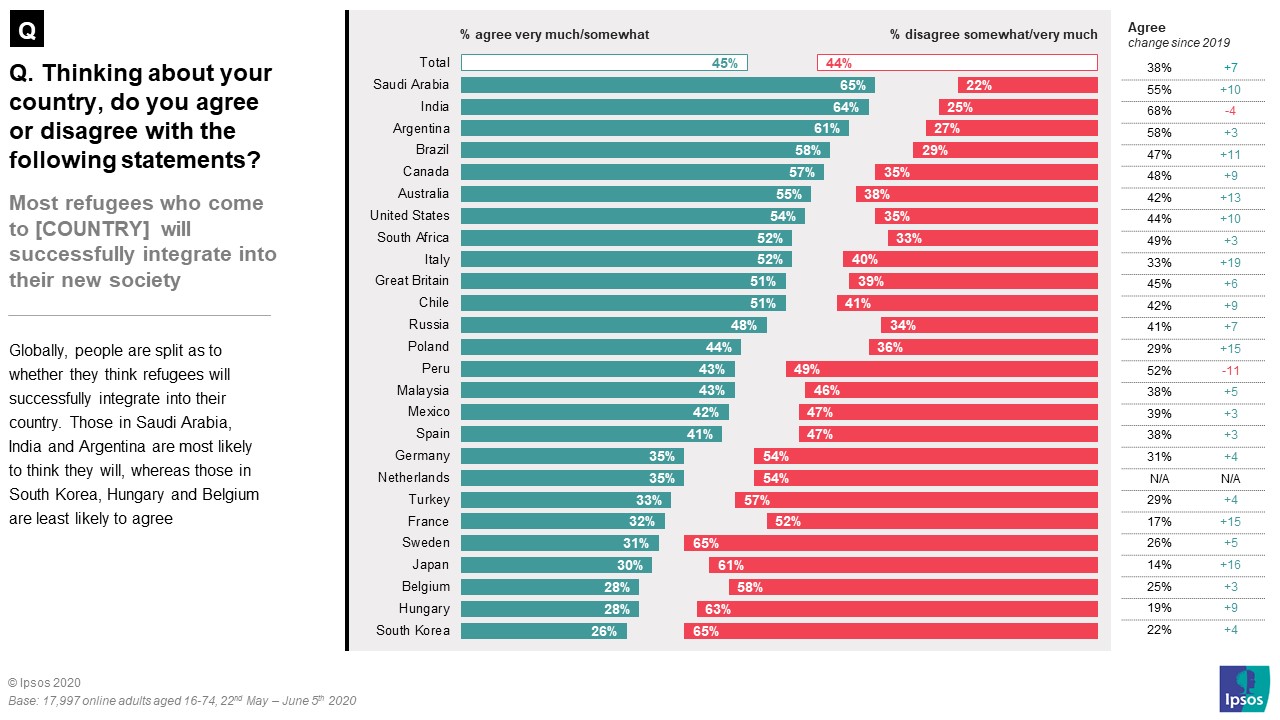 Mari Harris, Director at Ipsos South Africa says:
"In spite of the acceptances of the Global Compact on Refugees and the Comprehensive Refugee Response Framework by the UN in 2016, which called for the integration of refugees into their new chosen societies and the enablement of refugees to secure their own futures, these were, like most UN resolutions, not binding on the member states.
Today, refugees - also those in South Africa - live mainly at the fringes of society, cut off from education, health and employment possibilities. Unless conditions in the countries of origin of refugees are improved so that people no longer experience it as hostile or hopeless and therefore decide to leave, and populations in host countries start seeing the contribution refugees can make to society in a more positive light, this unfortunate situation is bound to be with us for many years to come."
Technical detail:
17,997 online adults were interviewed in total and fieldwork was conducted from 22 May - 5 June 2020
In the US, South Africa, Turkey and Canada adults aged 18-74 were interviewed and aged 16-64 in all other countries.
15 of the 26 countries surveyed online generate nationally representative samples in their countries (Argentina, Australia, Belgium, Canada, France, Germany, Great Britain, Hungary, Italy, Japan, Netherlands, Poland, South Korea, Spain, Sweden, and United States).
Brazil, China, Chile, Malaysia, Mexico, Peru, Russia, Serbia, South Africa and Turkey produce a national sample that is more urban & educated, and with higher incomes than their fellow citizens. We refer to these respondents as "Upper Deck Consumer Citizens". They are not nationally representative of their country.
Where results do not sum to 100 or the 'difference' appears to be +/-1 more/less than the actual, this may be due to rounding, multiple responses or the exclusion of don't knows or not stated responses.
The precision of Ipsos online polls are calculated using a credibility interval with a poll of 1,000 accurate to +/- 3.1 percentage points and of 500 accurate to +/- 4.5 percentage points. For more information on the Ipsos use of credibility intervals, please visit the Ipsos website.
Data are weighted to match the profile of the specific populations covered.