Three in four adults globally say they would get a vaccine for COVID -19
Most do not expect that one will be available before the end of year; meanwhile fear of side effects is the top reason for not wanting to take the vaccine
Johannesburg, September 17, 2020 — In a new Ipsos survey of nearly 20,000 adults with online access from 27 countries on behalf of the World Economic Forum, 74% say they would get a vaccine for COVID-19 if it were available.
South Africans are more reluctant to express their support for a possible vaccine and just less than two-thirds (64%) say that they will get the vaccine if it were available.
Globally, almost six in every ten (59%) do not expect this will be an option before the end of this year. Again, almost two-thirds of South Africans (63%) agree that the speculation on the early success of a vaccine is overly optimistic.
The reason most commonly given by those who would not get a vaccine is worry about side effects (56%) followed by doubt about its effectiveness (29%).
Intentions to get vaccinated against COVID-19
Of those (74%) of adults surveyed who agree that they will get a vaccine if it were available, only 37% strongly agree, while another 37% somewhat agree. Overall, 26% disagree (15% somewhat disagree and 12% strongly disagree).
In most countries, those who agree outnumber those who disagree by a significant margin (more than 50 percentage points in 12 out of 27 countries).
The countries where Covid-19 vaccination intent is highest and above 80% are: China (97%), Brazil and Australia (both at 88%), India (87%), Malaysia and Great Britain (both at 85%) and South Korea and Saudi Arabia (both at 84%).
The countries where the intent is lowest and below 70% are: Russia (54%), Poland (56%), Hungary (56%), France (59%), South Africa (64%) and Italy, Germany, the USA and Sweden (all at 67%).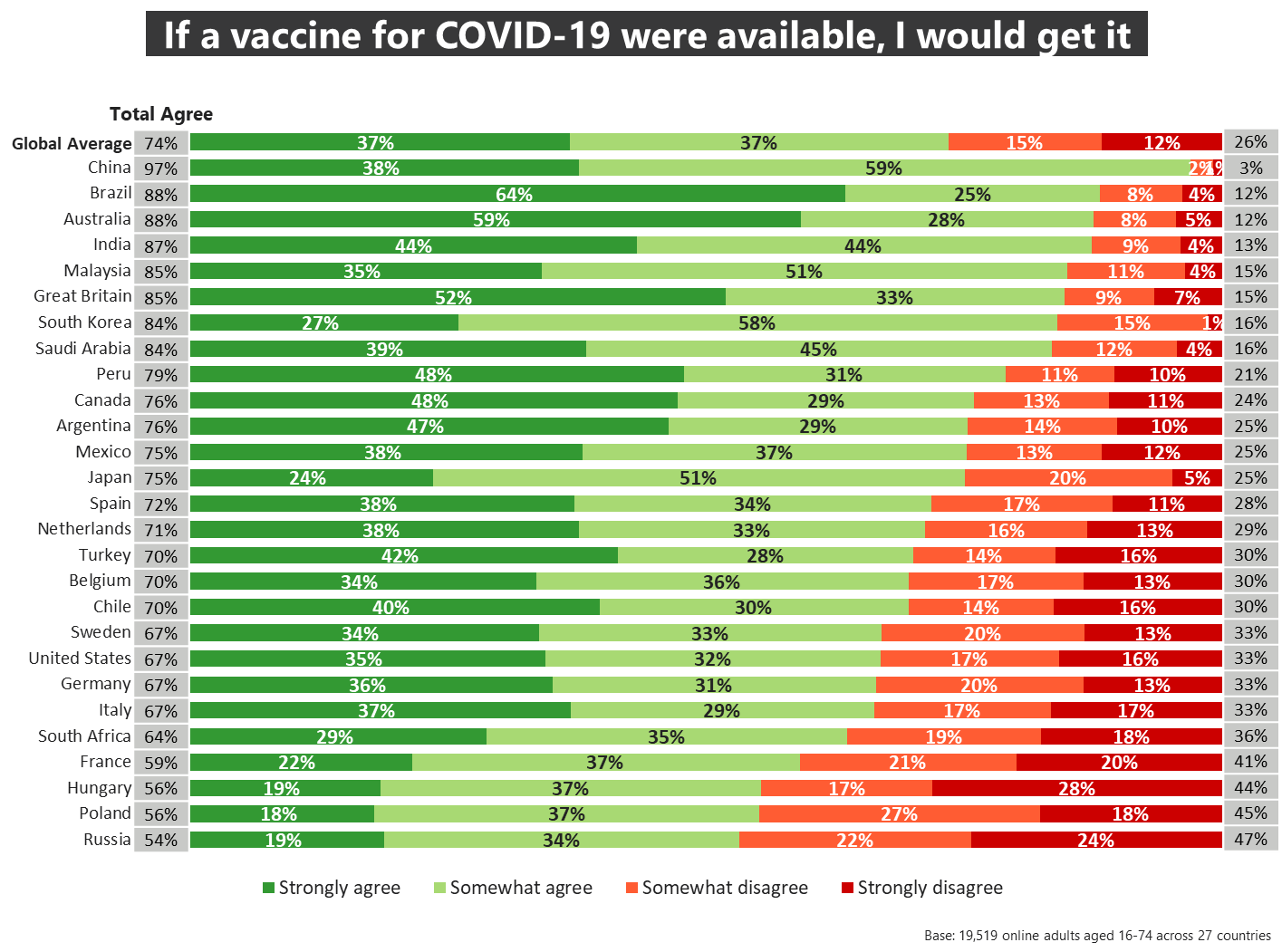 Expectation that a COVID-19 vaccine will be available this year
Across all 27 countries, 59% disagree that "a vaccine for COVID-19 will be available to me before the end of 2020" (23% strongly and 36% somewhat) while the other 41% agree ( around 9% strongly and 31% somewhat).
Again, as with the intent to vaccinate, China stands out for its optimism, with 87% expecting that a vaccine will be ready this year. Agreement is also relatively high in Saudi Arabia (75%) and India (74%).  However, the rest of the world is much less optimistic, as in the next country on the list – Argentina – only 52% agree that a vaccine will be available in 2020.
By contrast, relatively strong skepticism prevails in Germany, Belgium, Japan, and Poland where fewer than one in four adults anticipate that a vaccine will be available at some point in the next four months.
In South Africa almost four in every ten (37%) place their hope on a 2020 vaccine; and in the United States, where president Trump regularly talks about the early availability of a vaccine, only a third (34%) share his optimism.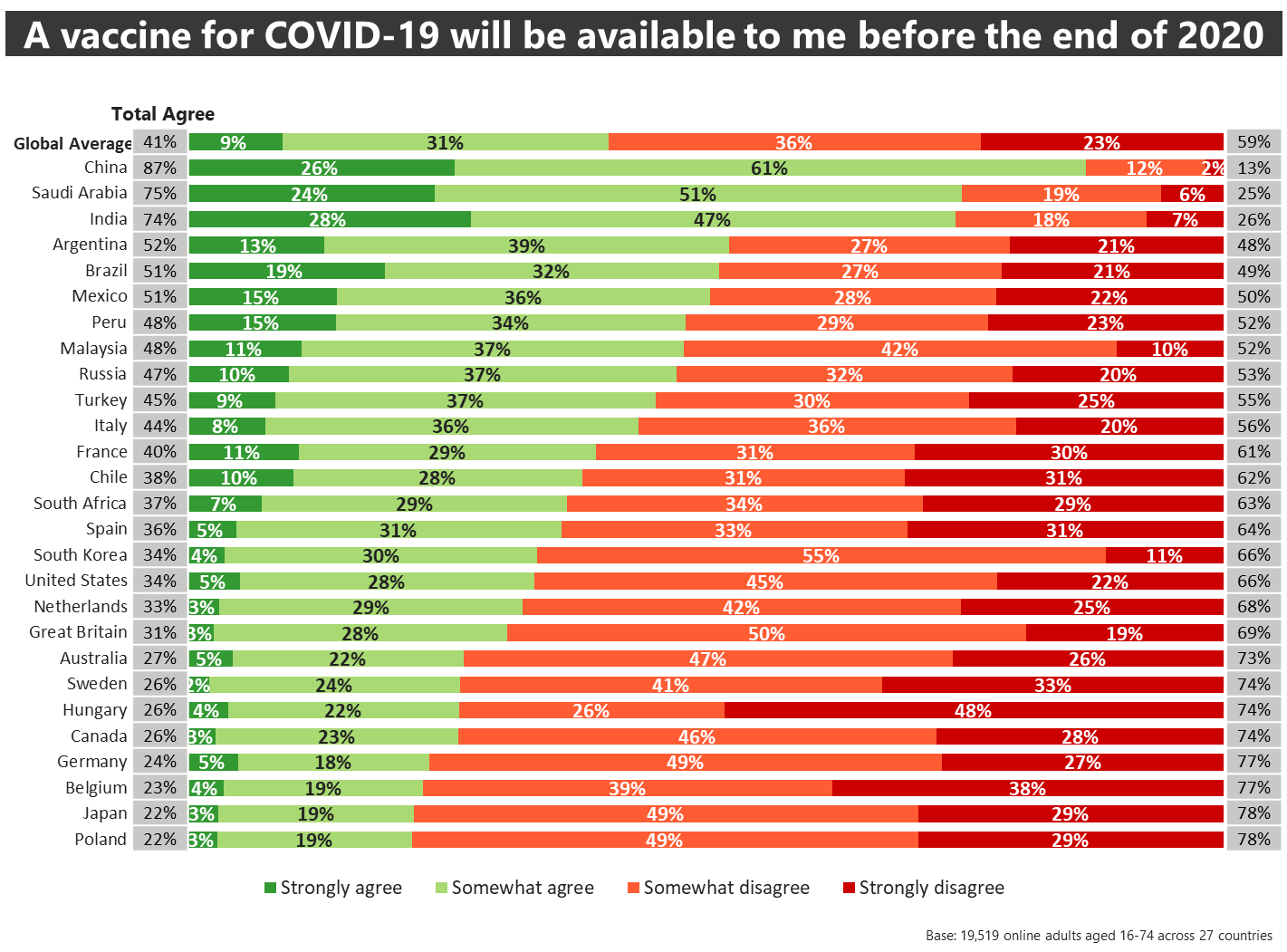 Reasons for not taking a vaccine
The nearly 5,000 adults surveyed who do not intend to take a vaccine for COVID-19 were asked why they would not do so. In every one of the 27 countries, the #1 reason is worry about the side effects, cited by 56% globally (from 70% in Spain and 68% in Sweden to 41% in Argentina and 40% in Saudi Arabia). More than half (53%) of South Africans who do not intend to be vaccinated, agree.
The second-most common reason for not wanting to take a COVID-19 vaccine is doubt about its effectiveness, cited by 29% globally (from as many as 44% in Russia and Poland to just 12% in China and 9% in Mexico).  A quarter (24%) of South Africans who do not intend to be vaccinated, cited this reason.
The third most common reason is the perception of not being enough at risk from COVID-19, cited by 19% globally. Among those who are reluctant to be vaccinated, this view is most prevalent in India (37%), Malaysia (36%) and Sweden (35%), while it is least so in Italy (7%) and Brazil (10%). 
In South Africa 16% of those who do not intend to be vaccinated thought that they are not "enough" at risk.
General opposition to vaccines is cited by 17% of those (globally) who would not get a COVID-19 vaccine, but as many as 30% in Russia and Italy.  Almost a quarter (23%) of South Africans who do not intend to take the vaccine when available, indicated that they are opposed to vaccines in general.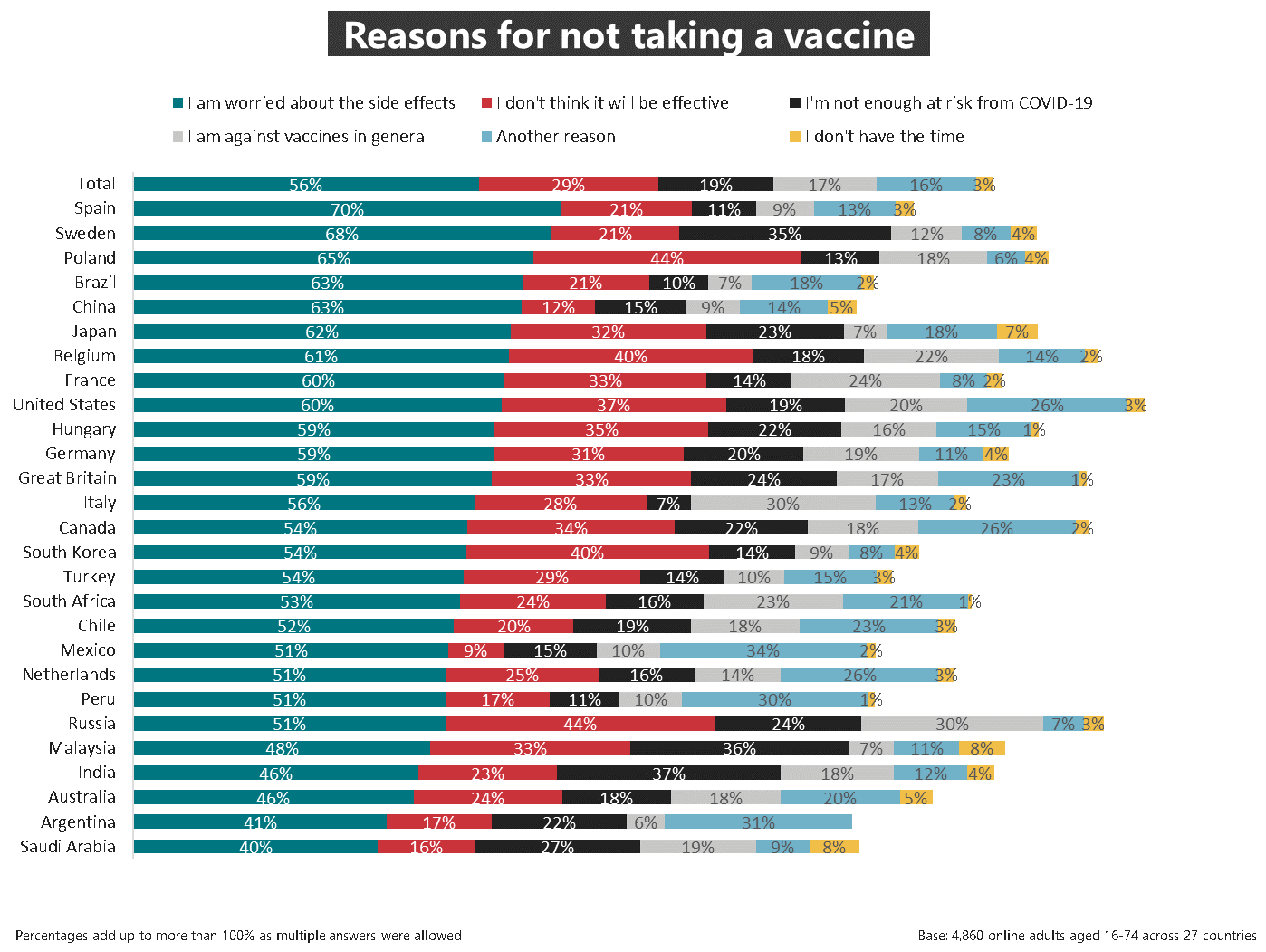 AlAlthough the majority of online citizens in the 27 countries surveyed agreed that they will take a vaccination, there are specific issues to be addressed before a vaccine will be universally accepted.  (Keep in mind that this majority is evenly split between those who "strongly agree" and those who "somewhat agree".)
The reasons given for not intending to be vaccinated focus on four major issues, but the importance of these issues differ from country to country.  The WHO, national governments and pharmaceutical companies distributing the vaccine/s should thus develop differentiated strategies to address these issues for different countries – as it will be important to achieve the so-called "herd immunity" before the threat of the SARS-Cov-2 virus will disappear.
About the Study
These are the results of a survey conducted by Ipsos between July 24 and August 7, 2020 on its Global Advisor online survey platform among a total of 19,519 adults, aged 18-74 in United States, Canada, Malaysia, South Africa, and Turkey, and aged 16-74 in 22 other countries.
The sample consists of approximately 1,000 individuals in each of Australia, Belgium, Brazil, Canada, China (mainland), France, Germany, Great Britain, Italy, Japan, Spain, and the U.S., and 500 individuals in each of Argentina, Chile, Hungary, India, Malaysia, Mexico, the Netherlands, Peru, Poland, Russia, Saudi Arabia, South Africa, South Korea, Sweden, and Turkey.
The samples in Argentina, Australia, Belgium, Canada, France, Germany, Great Britain, Hungary, Italy, Japan, the Netherlands, Poland, South Korea, Spain, Sweden, and the U.S. can be taken as representative of these countries' general adult population under the age of 75. The samples in Brazil, Chile, China (mainland), India, Malaysia, Mexico, Peru, Russia, Saudi Arabia, South Africa and Turkey are more urban, more educated, and/or more affluent than the general population. The survey results for these countries should be viewed as reflecting the views of the more "connected" segment of these population.
The data is weighted so that each country's sample composition best reflects the demographic profile of the adult population according to the most recent census data.
Where results do not sum to 100 or the 'difference' appears to be +/-1 more/less than the actual, this may be due to rounding, multiple responses or the exclusion of don't knows or not stated responses.
The precision of Ipsos online polls are calculated using a credibility interval with a poll of 1,000 accurate to +/- 3.5 percentage points and of 500 accurate to +/- 4.8 percentage points. For more information on the Ipsos use of credibility intervals, please visit the Ipsos website.
The publication of these findings abides by local rules and regulations.
For more information on this news release, please contact:
 

Mari Harris

Director and Political Analyst, Ipsos SA

Mobile: +27 (0)82 557 5058

 

 

Ezethu Mandlelize

Service Line Manager: Public Affairs, Ipsos SA

Mobile: +27 (0)74 617 8023