Ipsos Update - October 2019
This month's edition of Ipsos Update features recent Ipsos research and thinking on trust, customer experience, populism and nativism and our new edition of Flair South Korea.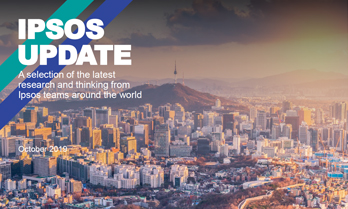 Today, it's hard to avoid the narrative that there is a crisis in trust. But is this true? Our new report on trust takes a detailed look at opinion data from around the world and uncovers a more complex reality. While trust isn't in terminal decline, we do need to have more nuanced and specific conversations about what it means to be 'trustworthy' in a particular context.
Distrust and dissatisfaction with the government and authorities is the focus of our 27-country survey on populism and nativism around the world: more than half agree that their country's society is broken. Compared to three years ago, we find the overall presence of populist and nativist opinions to be stable or growing, with some marked differences between countries.
Another global survey this month asked people in 28 countries about their knowledge of the UN Sustainable Development Goals and which ones – from zero hunger to clean energy or gender equality – are considered the most important in different countries and regions.
Turning to South Korea, the first of our in-depth Flair reports on the country, "Customized & Connected" provides a view from our local Ipsos team on the key trends shaping society today, including a growing environmental awareness, a booming beauty business, the sharing economy and the second "Korean Wave".
Two new white papers address how brands can succeed in today's changing consumer landscape.
Our Beyond Price Promotions paper encourages marketers to design new sales strategies that don't rely on cutting prices – which is not always effective. Instead, we look at how behavioural science concepts can influence decision-making at the vital point of sale.
To coincide with World Food Day on 16 October, we present some of our latest research and reports on the topic of food. These include an exploration of diets around the world, trends in meat consumption and 'natural' foods.
Finally, the latest in our Global Business Influencers survey gives a snapshot of the media, luxury and travel habits of the world's most senior business executives across 30 countries – a key audience for many sectors.
Descargar