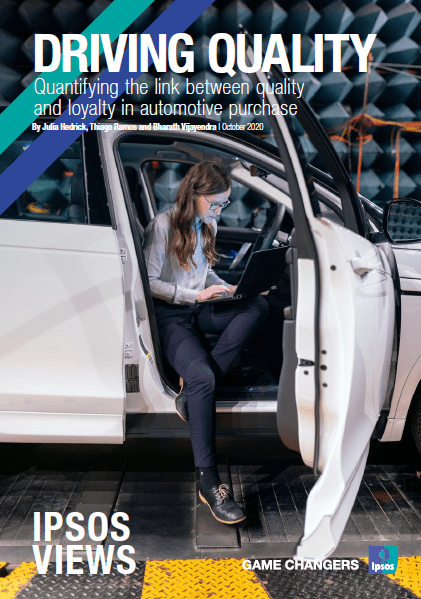 Most people intuitively recognize that delivering great quality vehicles is a top value priority for automotive manufacturers. Brands that deliver exceptional quality and reliability are the ones that customers are loyal to and recommend to their friends and family.
But there is still a need for hard evidence on the bottom-line impact of vehicle quality satisfaction. To make this connection, Ipsos has integrated data from quality tracking and customer loyalty, quantifying the contribution of quality satisfaction to long-term revenue and profitability.
Ipsos' Quality – Loyalty Framework demonstrates that improved quality ratings make good business sense because it results in a host of positive impacts from the perspective of the customer. Customers satisfied with vehicle quality are more likely to:
Be loyal
Incur lower costs
Spread their positive experience through word of mouth
Pay a premium for great quality vehicles
Reliability, quality, familiarity and reputation are all important considerations when purchasing a vehicle. And – even stronger than a desire to try something new – experiencing problems with a prior vehicle is the main reason people give for switching car brands (defection). Understanding these problems ("Things Gone Wrong") are vital critical for customer satisfaction and retention.
Our findings confirm that quality and loyalty move together. The more satisfied a customer is with vehicle quality, the more a brand will enjoy a host of positive business outcomes.
Download