Features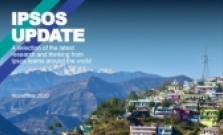 Discover Ipsos Update
Our new brand growth story, the future of money, fractures in French society and a special on the US election all feature in our latest monthly round-up of research and thinking from Ipsos around the world.
Do governments need to start planning today to make sure that Canada is prepared for the next pandemic by having co… https://t.co/5pR3rr2Cn3
11:20 PM - 4 December 2020
At Ipsos, we are passionately curious about Society, Markets and People.
"Game Changers" – our tagline – summarizes our ambition:
we provide true understanding and make our changing world easier to navigate,
so that our clients can make faster, smarter and bolder decisions.