Features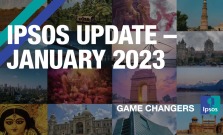 Discover Ipsos Update
Inclusivity, climate change, broken-system sentiment… Ipsos Update explores the latest and greatest research & thinking on key topics from Ipsos around the world.
Based on #inflation, the pandemic and ongoing wars, the world has been in a permacrisis. On average, 77% of people… https://t.co/DUZCuG8urj
1:02 PM - 31 January 2023
At Ipsos, we are passionately curious about Society, Markets and People.
"Game Changers" – our tagline – summarizes our ambition:
we provide true understanding and make our changing world easier to navigate,
so that our clients can make faster, smarter and bolder decisions.