Features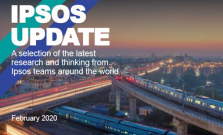 Discover Ipsos Update
This month includes a look at gender, shopper trends, entertainment in India, and young people's perspectives on education and war.
The latest Ipsos/ @RBC survey finds that 71% of Canadian women aged 45+ earning $60K+ are confident that they will… https://t.co/xv7xLEc6la
10:10 PM - 21 February 2020
At Ipsos, we are passionately curious about Society, Markets and People.
"Game Changers" – our tagline – summarizes our ambition:
we provide true understanding and make our changing world easier to navigate,
so that our clients can make faster, smarter and bolder decisions.