Features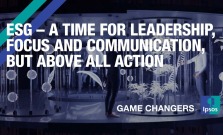 Discover ESG
To drive real change, strong leadership from the CEO down is needed to ensure ESG is embedded in every function, process, and role. Without this full and earnest commitment, any plan is likely to flounder.
At Ipsos, we are passionately curious about Society, Markets and People.
"Game Changers" – our tagline – summarizes our ambition:
we provide true understanding and make our changing world easier to navigate,
so that our clients can make faster, smarter and bolder decisions.