Features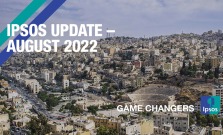 Discover Ipsos Update
With recent record-high temperatures in Europe in mind, Ben Page introduces this month's edition with reflections on whether the more urgent threat of inflation threatens to overshadow the global public's concern about climate change.
Ipsos colleagues go the extra mile. Check out highlights from the @MREF_mrx Race Around the World raising funds to… https://t.co/mBnrukarv0
7:02 PM - 12 August 2022
At Ipsos, we are passionately curious about Society, Markets and People.
"Game Changers" – our tagline – summarizes our ambition:
we provide true understanding and make our changing world easier to navigate,
so that our clients can make faster, smarter and bolder decisions.