Features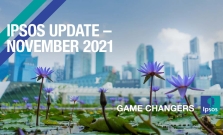 Discover Ipsos Update
Our monthly round-up of research and thinking from Ipsos around the world includes new global reports on the topics of health, trustworthiness, and infrastructure. Also discover the latest white papers on empathy, insights, and retail trends.
Is Canada's #healthcare system working? Check out the results of our recent #survey conducted for the Montreal Econ… https://t.co/zdoAYxji4l
10:15 PM - 3 December 2021
At Ipsos, we are passionately curious about Society, Markets and People.
"Game Changers" – our tagline – summarizes our ambition:
we provide true understanding and make our changing world easier to navigate,
so that our clients can make faster, smarter and bolder decisions.