Features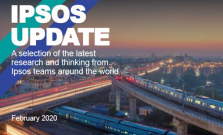 Discover Ipsos Update
This month includes a look at gender, shopper trends, entertainment in India, and young people's perspectives on education and war.
Are you maximizing the power of your brand's assets? In this paper, Ipsos explains that distinctive brand assets, &… https://t.co/3zbxkbIYzf
4:01 PM - 24 February 2020
At Ipsos, we are passionately curious about Society, Markets and People.
"Game Changers" – our tagline – summarizes our ambition:
we provide true understanding and make our changing world easier to navigate,
so that our clients can make faster, smarter and bolder decisions.