Features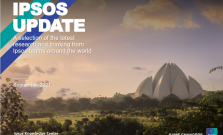 Discover Ipsos Update
This month we feature new research on women in advertising, wellbeing in India, alongside updates on world opinion on globalisation, economic recovery, exercise and sports, and more.
Welcome to the September edition of Ipsos Update – a round-up of new #research and thinking from Ipsos teams around… https://t.co/TaHq7N5yDt
12:10 PM - 24 September 2021
At Ipsos, we are passionately curious about Society, Markets and People.
"Game Changers" – our tagline – summarizes our ambition:
we provide true understanding and make our changing world easier to navigate,
so that our clients can make faster, smarter and bolder decisions.