Features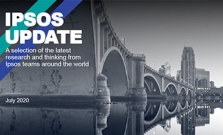 Discover Ipsos Update
Welcome to July's edition of Ipsos Update – our round-up of the latest research and thinking from Ipsos teams around the world. This month includes features on Black Lives Matter, attitudes towards refugees and the role of universities in the world today.
Are you prioritizing buying local during the #COVID-19 pandemic? Ipsos explores why #GenZ is blazing their own mor… https://t.co/f3Pjvir6dd
2:40 PM - 6 July 2020
At Ipsos, we are passionately curious about Society, Markets and People.
"Game Changers" – our tagline – summarizes our ambition:
we provide true understanding and make our changing world easier to navigate,
so that our clients can make faster, smarter and bolder decisions.