Features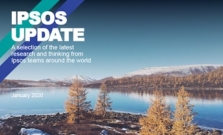 Discover Ipsos Update
This month's edition of Ipsos Update features the latest research and thinking from Ipsos around the world on creativity and innovation, NATO, Gen Z in MENA and in-depth reports from Australia, Brazil, Russia and the UK.
Qualifying for a #mortgage is increasingly seen as what's standing between Canadians & the keys to their new #home.… https://t.co/59Rn9BTBsB
1:01 PM - 13 January 2020
At Ipsos, we are passionately curious about Society, Markets and People.
"Game Changers" – our tagline – summarizes our ambition:
we provide true understanding and make our changing world easier to navigate,
so that our clients can make faster, smarter and bolder decisions.