Mapping Out The Ideal Experience
Recently, I hosted a webinar during which I shared a detailed case study where my client leveraged a mapping tool to help better understand their call centre performance and improve customer-agent experiences. Below are some key learnings, which included four compelling benefits to this customer mapping tool:
These techniques can holistically transform and influence a business from the top down through a series of targeted actions
They disrupt a corporate world, identifying gaps between predictive and normative customer behaviours, including `moments of truth' and `points of pain'
They re-design existing customer metrics to ensure the most predictive and actionable items are measured
A real-time feedback mechanism empowers companies to effectively measure and monitor newly designed / re-designed customer experiences
At any time, I invite you to view the recorded webinar for more perspective on this topic.
With ICE - The Ideal Customer Experience - Ipsos can holistically map the journey of the customer, identifying moments of truth and points of pain. It de-constructs the customer experience to identify moments in the experience when a customer forms their opinions and formulates their perceptions of the experience. By identifying `Moments of Truth', a brand then has the chance to re-create an experience that better reflects what customers are looking for, often thinking well outside the box.
ICE Maps are extremely detailed to help uncover insights relating to predictive and normative expectations. In other words, if a customer routinely predicts an experience to be less than ideal, they will rate the actual experience low and there is a point of pain in the experience. These pain points ultimately influence the attitudes of customer and indeed their behaviors, which drive business results for our clients. Eliminating important pain points is one critical step we help clients take to improve their customer experiences.
The ICE Purpose
To capture critical details in customer experiences, attitudes and behaviours in a way that promotes action and improvement.
The ICE Process
A series of interviews to uncover customer predictive and normative expectations, resulting in a journey map highlighting "moments of truth", pain points and opportunities to win.
ICE Case Study
In conventional call centre satisfaction research, programs tend to measure traditional business centric metrics. Best practice organizations have moved to metrics relating to the full customer experience. This view of the customer experience is vital to understanding and managing the key moments of surprise and delight from the consumers' perspective. And by full, we mean even the customer's mood prior to the call.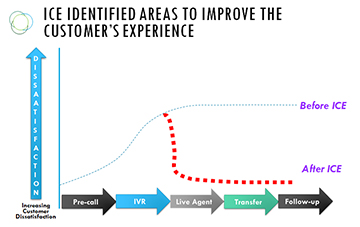 Our research found that for most customers, the contact centre was a last resort.
By simply changing the process flow and allowing the customer to state the reason for their call before starting the authentication process, this client has been able to significantly decrease customer anxiety and dissatisfaction scores.
For example, in one engagement, this broader approach was used to reveal that consumers were calling the client's call centre as an option of last resort - only after trying the other channels available to find a solution for their need. The client had a relatively long IVR queue and options to reach a live agent were not near the top. As a result, by the time customers reached a live agent, their anxiety (and their dissatisfaction scores) were at a peak. To make matters worse, the internally designed process of the call centre was to have the agent immediately authenticate the customers identity, which further increased anxiety (and dissatisfaction) as it was seen as a further delay in the problem solving process (see diagram). By simply changing the process flow and allowing the customer to state the reason for their call before starting the authentication process, this client has been able to significantly decrease customer anxiety and dissatisfaction scores. But without measuring the entire process, and understanding customer mindset across the entire experience, the organization would not have been able to isolate the root causes driving dissatisfaction.
Other changes were also implemented, including having HR review the skill sets they look for when hiring an agent - like identifying agents who can better engage and delight the customer. Plus focus was placed on "agent" level feedback, available in near real-time through a custom designed reporting portal. The new portal provided the opportunity to coach agents in a timely customer focused manner.
So as you can see, ICE had a significant impact on our client's business. Consider ICE to identify and fix broken customer experiences, replace them with emotional experiences that build the brand, and ultimately improve operational and financial results.
To view the recording of this presentation, simply click here.