Sizing Up Satisfaction with Financial Institutions
Between October 2013 and January 2014, Ipsos Reid conducted its third bi-annual survey of small and medium sized businesses (revenues

But as always, there is opportunity for improvement. The data suggests that there may be an element of `satisficing' within the marketplace, created by a lack of competitive differentiation and barriers to exit. If this is the case, then business banking providers need to guard against potential disruption from outside the traditional competitive sphere. Two ways that they can do this are to improve (i) the level of proactivity of business banking staff with business banking clients and (ii) the actuality or perception of their ability to help their customers conduct their affairs on the international stage. We will examine these issues in more detail in this article.
Lack of Competitive Differentiation
As illustrated below, there is very little meaningful differentiation in the market between business banking providers. This makes service providers potentially vulnerable to market disruption from outside the industry. For instance, crowd sourcing is becoming a wide spread practice in many sectors, including new venture financing and is revolutionizing the way organizations raise money. It is not hard to see how it will also test current traditional bank lending practices to small and medium sized business.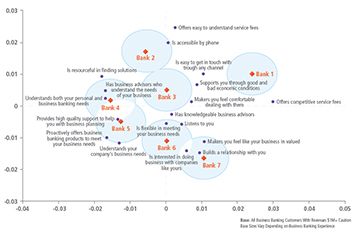 Neutral-Negative Emotional Loyalty
There is a short term inelastic relationship between ratings of `Likely to Stay' and `Value for Money', implying that customer retention is a function of barriers to exit and inertia rather than positive emotional loyalty. Ratings of `Value for Money' are consistently lower than ratings of `Likely To Continue' and an analysis of the data shows that only 18% of the variance in ratings of `Likely To Stay' are explained by `Value for Money' (see figure below). This is lower than the 29% explained by `Likely To Recommend' and the 28% explained by `Value for Money'. This means that respondents' intentions to continue with their business banking FI are relatively unrelated to the value for money they believe that they get from that FI. The intention to continue is related to other factors.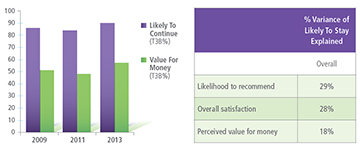 A valid point of view on this is: "because the nature of the relationship is sticky, and my customers are likely to stay with me regardless of the value that I provide to them, I don't need to invest in their satisfaction or their loyalty." It is plausible that positive emotional loyalty doesn't matter to the organization which is focused on short term financial measures. Positive emotional loyalty does matter, however, to organizations with longer time horizons, as positive emotional loyalty fuels advocacy, referrals and growth. But this is only over a period of years and with sustained effort.
Proactiveness
Across all channels, attributes related to proactiveness continue to be the lowest rated attributes:
Importance to Overall Satisfaction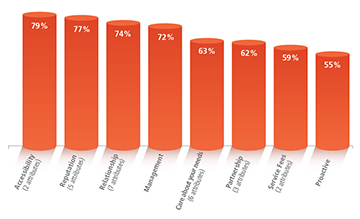 Small and medium sized business operators want their FIs to be thinking about their business as much as they do and be a partner in it. No financial institution has been able to create the structure which allows it to clearly distinguish itself from the others on this dimension.
International Capabilities
Based on a discriminant analysis of Promoters and Detractors, one of the key discriminating attributes between small and medium sized businesses which rated their financial institution highly and those which rated them lower is whether or not the company does business internationally. Companies which tended to rate their business financial institution higher did NOT have needs for international services. As the ability for Canadian small and medium sized businesses to do business internationally increases, Canadian FIs need to improve their international capabilities, or the perception of that capability. The results from the survey show that one in four (21%) small and medium sized business with dealings outside of Canada chooses to use an FI other than their main Canadian FI for their offshore activities.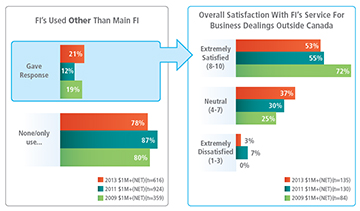 The percentage of small and medium sized business not relying on their main Canadian FI for offshore activities is on the rise, however overall satisfaction with FIs for business dealings outside of Canada is falling. Clearly a significant percentage of global operators either are not aware of their main FI's capabilities to meet their offshore needs or do not have confidence in their ability to do so. Either way, Canadian FIs are leaving a significant amount of outside of Canada business on the table and should consider enhancing perceptions of their offshore capabilities and facilities.
In Summary
Although Canadian financial institutions continue to serve their small and medium sized business customers well, there are some signs that the market is ripe for non-traditional competitors to take advantage of certain weaknesses and disrupt the market. Organizations like Walmart and Google, with new methods of fulfilling marketplace needs are not in the distant future; they are the reality today in several countries and business sectors around the world. The barriers to customer switching will only hold customers for so long in the face of functionally superior capabilities and value propositions more relevant in today's world.