Food & Beverage Trends: Discover Ipsos POV
In this podcast and report, we talk about global & Swiss food trends. In addition, we cover the effects of Covid-19 on eating and cooking at home and away from home.
Podcast: 10 minutes
Are Food Trends relevant for you and your business?
We are happy to support - just reach out to us if you want to learn more. We are also offering workshops, agile sprints, and presentations about these topics customised for you and your teams.
Food Trends Report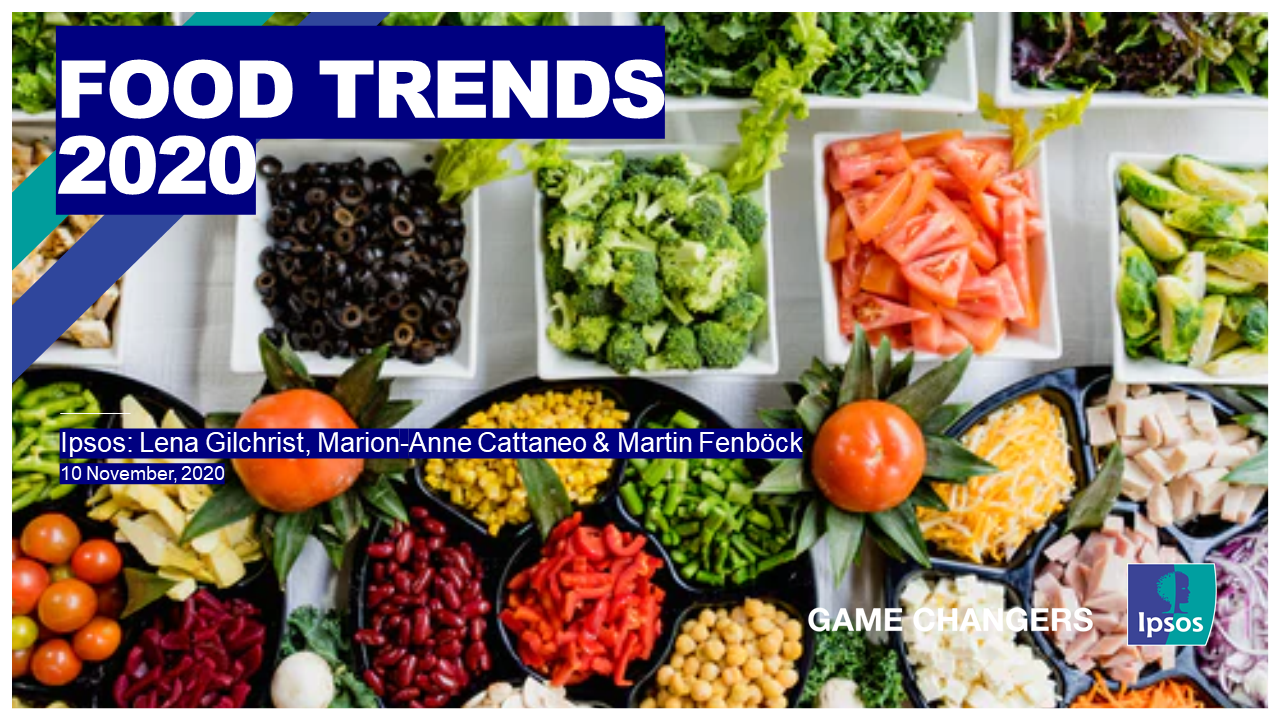 Please find attached our report about Food Trends. It includes our Ipsos thought leadership mixed with global and local (Swiss) cases and is based on key Ipsos research and reports on food trends. 
What is the impact of the current Covid-19 situation?
We can observe from recent Ipsos research (comparing pre-Covid with current situation) that values do remain stable over years, and were not impacted by the Covid-19 pandemic. On the other hand, quite some behaviours are affected, a lot which are positive to the Food industry: healthcare considerations, importance and role of brands, attitude towards climate and sustainability and reactions to inequality. You can find additional implications below and in our report.
Overall trends and values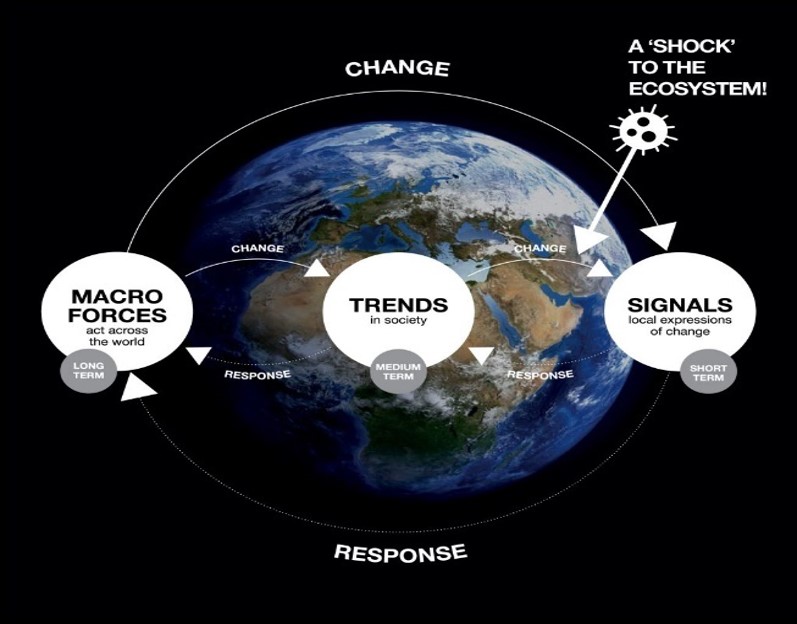 Macro forces usually impact slowly on human beliefs, trends and signals, and that groups of signals gradually influence trends and even macro forces over a longer time frame. Macro forces are the long-term shifts which act across all markets and societies. These form the context against which people and organisations act. At the other end of the scale, signals are localised and are short-term expressions of change. They can occur at a single country level, or a community. In the middle, we have trends. These are cultural attitudes and values which emerge from the interaction between people and the planet. Trends can emerge, enter into mainstream culture, and fall out of practice in response to macro forces and signals.
General Food Trends related to Health and Environment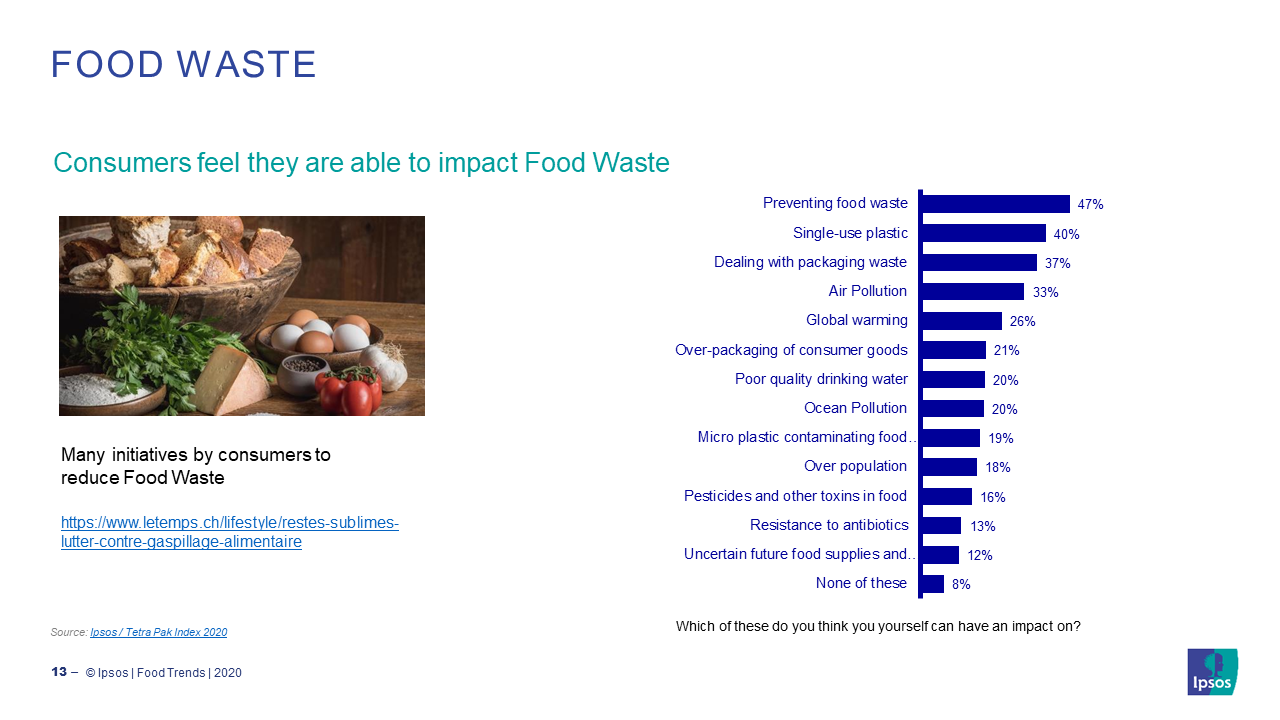 The majority of the global population has great concerns for the environment and our health. Health is believed to be mainly an individual responsibility. Changing food and drink habits is tangible and easier for consumers to act upon. Environmental issues are believed to be a shared responsibility between the individual, politicians and the community.
Sustainability & Environment
Initiatives to reduce food waste, e.g. food waste apps like Too Good to Go. You could also find more at our latest Ipsos publication: "What the Future: Waste".
Sustainable Packaging: The packaging industry could help (nudge) consumers (to) recycle more if policies and communications made recycling more intuitive and simple. It could even lead to no packaging (e.g. large retailers: "Carrefour - bring your own box" and small local retailers "Ganzohni") or the push for re-fill's.
Transparency is key: For consumers to trust and to believe all of the above claims, it is extremely important to be transparent about WHERE a product is made and WHO makes it, as well as full ingredient listing. Both the brands and retailers need to be connected to their community and honesty and authenticity still rule - e.g. Yuka - an App analyzing food items.
Health & Wellbeing
Meat Replacement - The rise of plant based products as substitutes for meat, like the Swiss start-up Planted.
Meat Free - Vegetarianism and Veganism - What used to be medically prescribed diets are increasingly self-adopted "wellbeing" regimes - like the new Emmi brand: Beleaf or Garden Gourmet from Nestlé.
Sugar Reductions & Labelling: Re-formulation is thus one of the food and drink industry's toughest challenges. E.g. Nestlé S.A. and Cereal Partners Worldwide (C.P.W.), the international breakfast venture between Nestlé and General Mills, have started to use Nutri-Score labeling. Nutri-Score is a color-coded, voluntary front-of-pack labeling system that classifies foods and beverages according to their nutritional profile. The system ranges from A (healthier choices) to E (less healthy choices). It first was introduced in 2017 by the French national public health agency (see article).
Functional Food: Ingredients have become the stars of many products, and is expected to increase even more due to consumers willingness to prevent diseases.
Natural: the word 'natural' can have many different meanings and overlaps many alternative recipes, from organic to unprocessed.
Implications from Covid-19 situation
Food as an immunity Booster: At the early stage of the pandemic: food-related posts tended to focus on eating to enhance health and boost the immune system. Fear during these early stages drove people to seek some form of control over the situation by feeling they were protecting themselves against the virus by taking measures they perceived as preventative.
Quarantine Snacking: Two groups of people have been observed: first were those who saw quarantine as an opportunity for a healthy cleanse of their bodies and were posting their healthy snacks and recipes to support this. The second were those who found that a sudden influx of extra time drove an increase in boredom-induced unhealthy snacking, fuelled by an excess of food at home due to stockpiling.
Stockpiling and Panic Buying: Uncertainty drove people to stockpile as many groceries and essential foods as possible, causing shortages in supermarkets worldwide, high levels of consumer frustration and driving many supermarkets to impose purchasing restrictions.
Increasing level of conversations in Social Media about Food Safety. In addition "Influencer" played an increasing role to trigger social media trends (also already pre-Covid).
Eating and Cooking at Home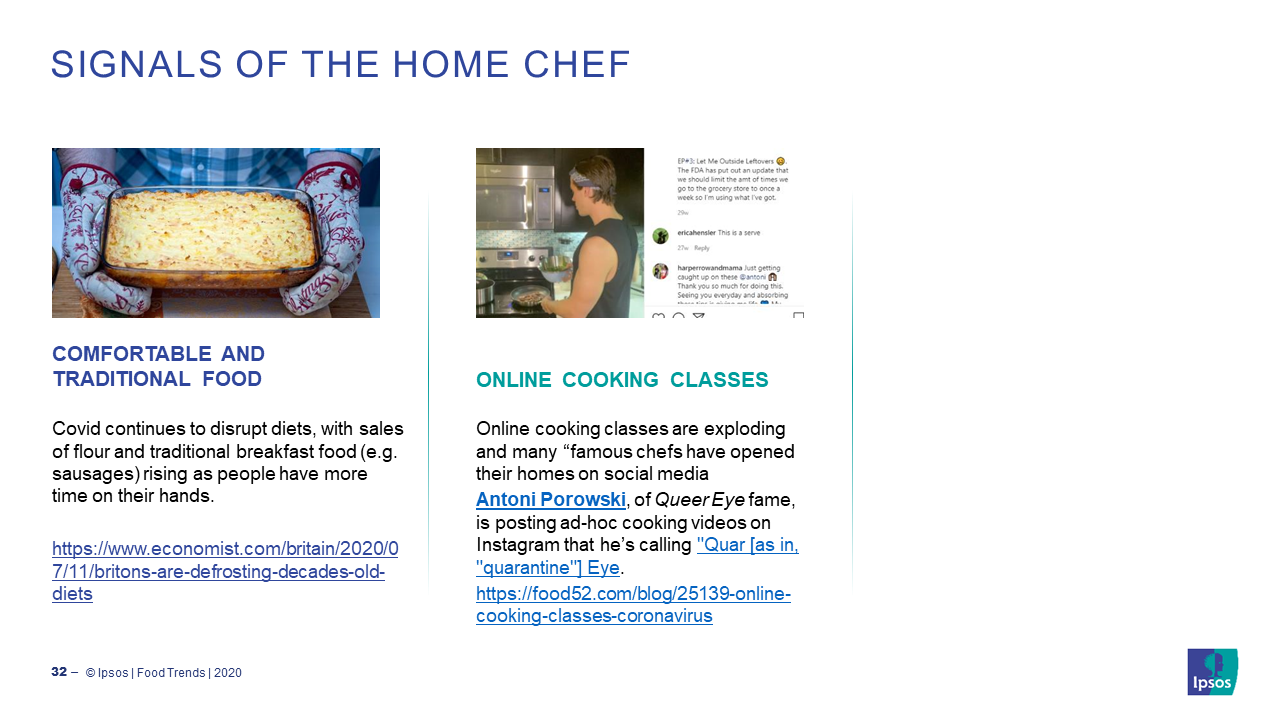 One of the reasons why cooking and dining at home might become lasting habits is that cooking is increasingly perceived as a hobby and not as a chore. A recent report by Ipsos in the Middle-East and North Africa observed that people in lockdown were trying and incorporating new foods within their own dishes across the region and are thus honing their culinary skills. (Ipsos MENA report)
The rise of the home chef
Over the past two years we have already seen the rise of consumers who can be classed as "foodies". "Foodies are seen as consumers who are deeply interested in exploring the world of food". Foodies pay a lot of attention to ingredients and authenticity. They like to cook and share with guests as much as they love eating good food.  In English-language conversations online we have recently seen conversations around the theme of the rise of the home chef.
Eating and Drinking Out-of-Home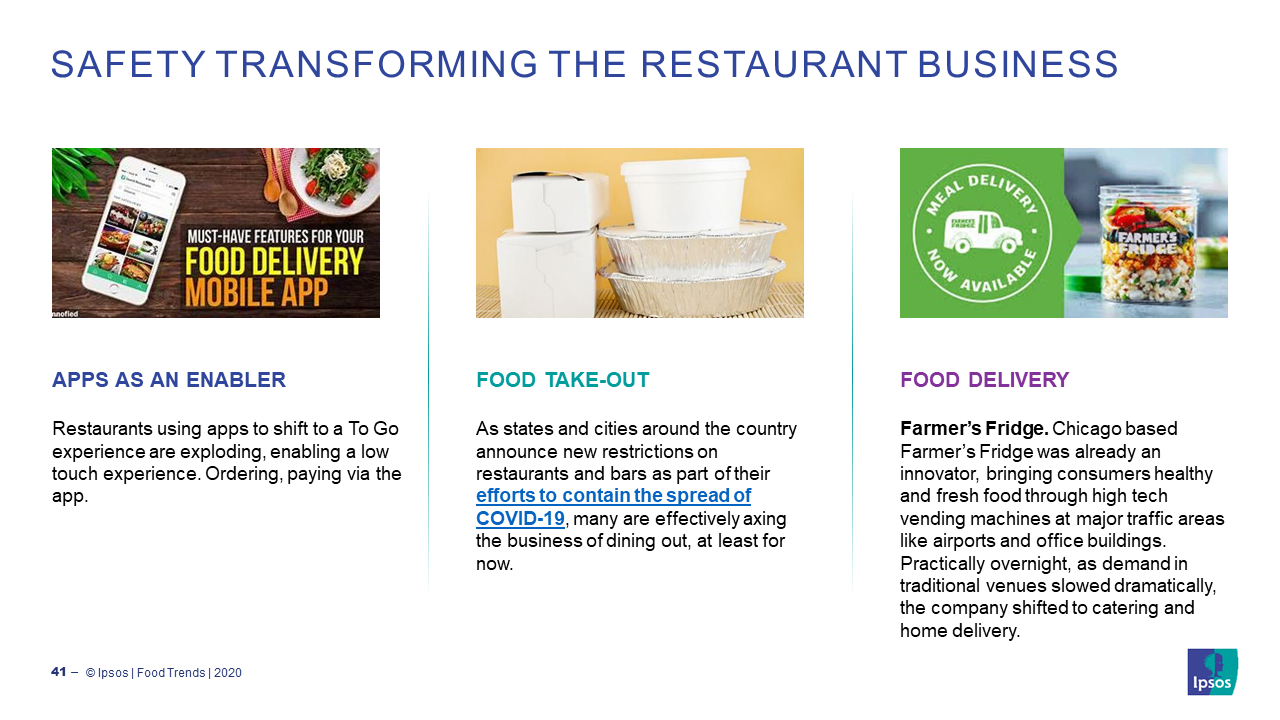 OOH is accounting for a third of food & drink business in the most affluent markets (Ipsos HoReCa report). The two occasions which most account for this share are snacking and having drinks: coffee and tea shops were the fastest growing OOH outlets, posting a 5.1% growth rate in 2017-2019. It is also to be noted that the OOH channel accounts for a larger share of revenue than of volume in all drink categories, which means that profit margins are higher than in supermarkets and grocery channels in general.  But a major transformation of the foodservice business was already under way before the coronavirus outbreak with the fast growth of food delivery. Ipsos data suggests that consumers are unlikely to immediately return to pre-outbreak levels of HoReCa and on-the-go consumption as restrictions are lifted since less than a majority would feel comfortable eating in a restaurant in 2020 (36% globally in our Essentials tracker's May Report).
Short Term: Safety transforming the restaurant business: Restaurants using apps to shift to a To Go experience are exploding, enabling a low touch experience. Ordering, paying via the app.
Mid- & Long Term: Food Experience in Retail will continue to grow: Creating emotional connections and experiences that reflect the brand promise has grown in importance and is expected to continue to increase. Although some types are on "pause", the prediction is still for a more experience driven future. This includes formats like food halls / food markets (as an example a new project in Switzerland: Bridge), personalisation, entertainment and the use of technology like robots, AI and 3D printing.