What You Did Not Know about Europe Affluent Opinion Leaders
For marketers tapping into the zeitgeist of opinion leaders is vital. Within any given sector opinion leaders are most likely to share positive information about your brand across a wide network both on- and offline. But who are they exactly?
Who is the Affluent Influential Opinion Leader?
Influential Opinion Leaders are defined by activities such as being interviewed by the media, having an article or book published or having set up a new company. They are early adopters, hyper connected, spend more minutes a day consuming media than the average European Affluent both offline and online. In fact, The Affluent Media Brand Engagement Study shows that when it comes to their engagement with media the opinion leaders consider international media to be more influential than non-Influential Opinion leaders (71% vs. 61%*). They are equally active when it comes to 'uploading / content sharing'. They share (27%), blog (17%) and comment / post (22%) more than non-Influential Opinion Leaders.
Europe's Great Adventurers
However, recent analysis shows that the Influential Opinion Leader is also Europe's great adventurer.  The IOL's are the most likely to value discovery, go on adventure holidays, live and work abroad, participate in extreme sports or gambling! Perhaps it is the spirit of exploration and curiosity which drives them to be more entrepreneurial of spirit and to push where the more timid among us fear to tread in business.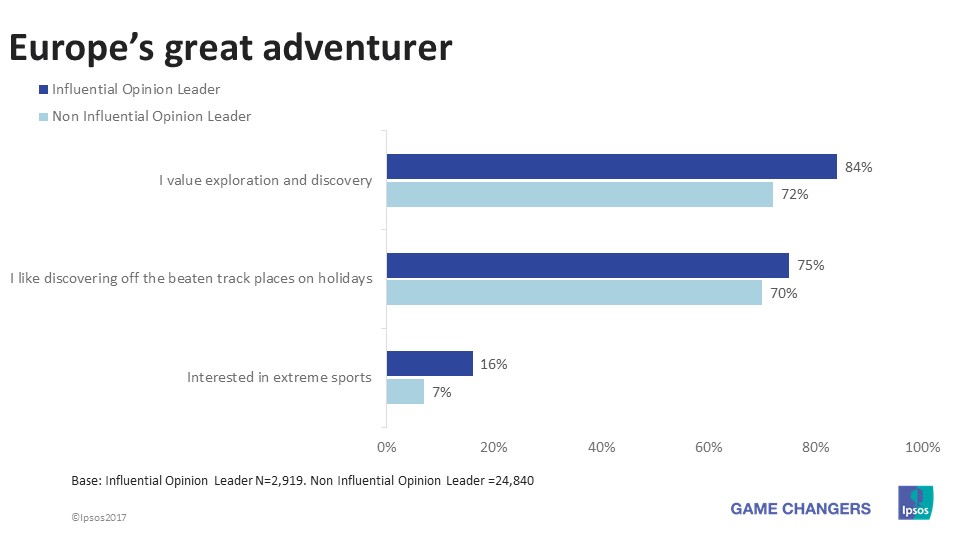 *Top-3 box on a 7-point scale from uninfluential through influential.