SpeakEasy Newsletter - Gen Z, Millennials & Virtual Banking in Hong Kong
Virtual Banking makes progress with Gen Z & Millennial population in Hong Kong although barriers persists, Ipsos Community Panel SpeakEasy reveals.
SpeakEasy is the Ipsos Syndicated Community Panel which focuses on the needs & attitudes of Hong Kong Gen Z & Millennial consumers. Each month, our Community Moderators share updates on a new relevant topic with consumers in Hong Kong. This month, we asked our community members to share more insights on the arrival of Virtual Banking in Hong Kong this year. Below are the Top 3 insights from this session: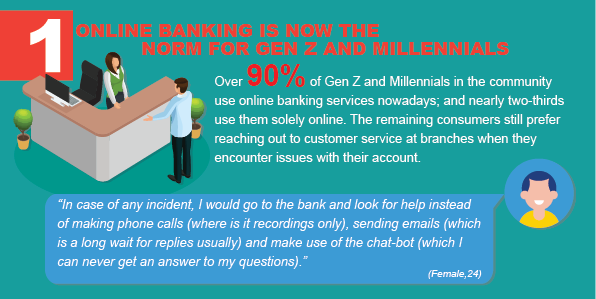 1. Online Banking is now the norm for Gen Z and Millennials
Over 90% of Gen Z and Millennials in the community use online banking services nowadays; and nearly two-thirds use them solely online. The remaining consumers still prefers reaching out to customers service at branches when they encounter issues with their account.
"In case of any incident, I would go to the bank and look for help instead of making phone calls (where is it recordings only), sending emails (which is a long wait for replies usually) and make use of the chat-bot (which I can never get an answer to my questions)."

2. Gen Z & Millennials are getting seduced by Virtual Banking offers in Hong Kong:
Every 1 in 5 Gen Z and Millennials in the community owns a virtual bank account. Early adopters have no particular concerns with the trustworthiness of VB but highlight its convenience, especially the application procedure.
"So excited to try something new! The online application procedure is so convenient!"
ZA Bank is being singled out as leader in the field due to its attractive interest rate.
"The interest rate is higher than traditional banks."
Meanwhile WeLab and Mox generated some appeal with offer of a physical card
"The debit card looks really nice! I want to have one."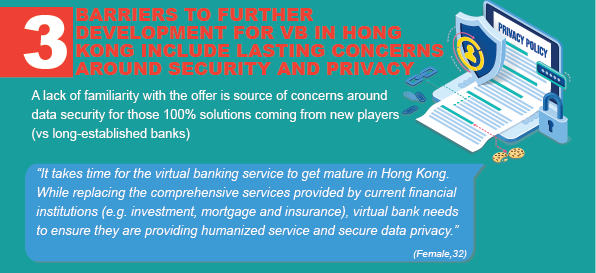 3. Barriers to further development for VB in Hong Kong include lasting concerns around security and privacy.
A lack of familiarity with the offer is source of concerns around data security for those 100% solutions coming from new players (vs long-established banks)
"It takes time for the virtual banking service to get mature in Hong Kong. While replacing the comprehensive services provided by current financial institutions (e.g. investment, mortgage and insurance), virtual bank needs to ensure they are providing humanized service and secure data privacy."
Ipsos' Syndicated Community Panel – SpeakEasy is live since July 2020. The syndicated nature of the panel allows clients to find out what their consumers have to say about their products, experiences & services very quickly and cost efficiently.
For more information about SpeakEasy please click Here
Next Month: deep Dive on the Systainability opportunity in Hong Kong
Download