Mobile
Over the past few years, we have seen an increased proliferation of mobile across the world. Not only have we seen the number of mobile users grow worldwide, but we've witnessed increased engagement of consumers with their mobile devices for a variety of everyday activities, whether it's watching videos, shopping and making purchases, or simply accessing the internet. We are now past the mobile tipping point, with mobile overtaking fixed internet access in many markets, across developed and developing economies. Consumer interactions with brands are, more than ever before, fragmented and multi-layered. Consumers are leading busy lives, and multi-task routinely in their day. Consequently, many of the planned brand exposures are missed and recall relevancy is eroding faster than expected.
What for?
Mobile brings us the opportunity to learn about the value and relevance of these continuous interactions, with each touch point representing a potential opportunity to understand consumer motivations, needs and wants.
The benefits that mobile can bring in regards to Time, Location, & Context are key to driving better insights:
Always-on interaction with respondents allowing fast turnaround and more engaging relationships with them.
More natural and real-time responses thanks to in-the-moment connections.
Richer content thanks to consumers sharing experience via images, videos, audio, and even location based data.
Research beyond responses using geolocation and passive to track smartphone usage and/or behaviour over time.
Allowing access to population segments no longer on PCs e.g., trailing millennials (those aged 18-24 years).
Evolving from simple SMS surveys to app-based quantitative/qualitative research and in-browser online mobile surveys, Ipsos offers an array of mobile platforms to help enhance your research via mobile.
Ipsos key applications are:
Device Agnostic research allowing respondents to answer our online surveys via the device of their choice - mobile or desktop
Fast Turnaround Solutions using overnight field approach (concept and ideas testing, Instant Brand Health, etc.)
Ethnography & Diaries
Campaign Sponsorship Effectiveness
Media Consumption with passive measurement and mobile diaries
Shopper, Path to Purchase and Population Movement with passive measurement and geolocation
Product Testing with mobile diaries
Customer Experience (travel, shopping, etc.)
Employee Feedback
Qualitative research with the Ipsos Applife application
How it works?
Ipsos Engage: this is Ipsos' interface and questionnaire template for Mobile in-browser surveying. This makes all research mobile friendly through device-responsive survey design. It allows our respondents to have an optimal viewing experience while taking surveys, on the device of their preference, desktop or mobile.
Ipsos Mobile App: this is the ideal platform to use when in-the-moment feedback needs to be collected, or when consumer perspectives need to be gathered over a longer period of time. Its interface provides a wide range of options from simple to more complex closed-, and open-ended questions, availing the technology inherent in the device, e.g., geolocation, and multimedia capture (pictures, videos, and audio recordings). It works both online and offline.
Ipsos AppLife: this is the ideal 'In-the-moment' qualitative research with the possibility of organising non-face-to-face discussions covering a wide-geographic area. It offers richer insights thanks to geolocation, pictures and video options. It also works both online and offline.
SMS:this approach is useful for regions with low smartphone penetration, but with high feature phone use, particularly when the research involves asking only a few questions, with no media capture and no need to re-contact.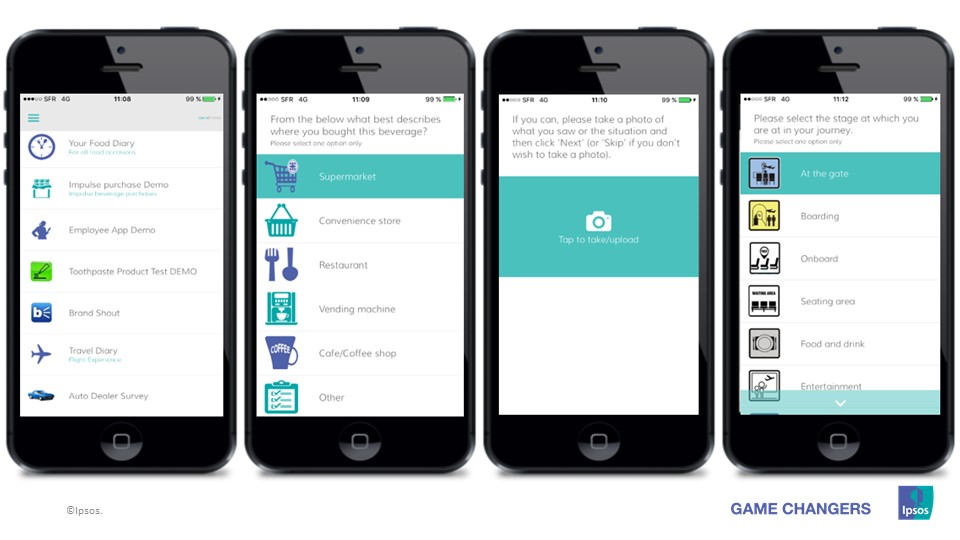 All research using the Ipsos Mobile App, benefits from an Online Reporting Dashboard, a user friendly platform allowing near real-time review of results.
Location based research - Geolocation
People tend to take their mobile phone with them everywhere. This makes it the perfect solution for asking questions as people are on the move.
Through geo-triggering, we can deliver surveys to participants with our mobile app as they enter, spend time at, or exit a location. Geo-tracking allows us to understand how people move around when on the go, without the need to ask questions.
Good scenarios for location based research include: population movement, travel experience, customer satisfaction, and shopping experience.
Shopper research leveraging geo-triggering allows for surveys to be issued at the right time e.g., immediately after a consumer has exited a retail location. Such an approach allows a brand to not only survey those who have made a purchase but to also understand those who visited but did not make a purchase or only purchased some of the items they planned.  As a result, a brand can understand the magnitude and reasons for missed shopping opportunities leading to development of measures to help mitigate such circumstances.
Case studies
1. USING MOBILE FOR IN HOME PROJECTS - Product test with In-the-moment mobile diary
A cosmetics brand wanted to test a face mask product in China before launch, and compare its performance to that of a major competitor in as much detail as possible. In addition to a standard product test (face to face survey at end of the usage period), the research design included a mobile diary to collect immediate reactions and perceptions during the usage period. The traditional recall method showed that the product was safe to launch as the prototype was at parity with or was superior to the competitor. However, the In-the-moment mobile diary provided granular insights about product strengths and weaknesses that the traditional approach did not capture. These insights lead to product improvements before launch (which would not have happened based on the end-of-usage survey alone) and enhanced product instructions.
2. LOCATION-BASED RESEARCH - Capturing in-store experience via geo-triggering
A brand wanted to have a better understanding of mobile behaviour while shopping. The aim was to engage with the consumers during, or right after the shopping experience to understand how they use their smartphone at the point of sale. Using an innovative combination of mobile surveying and geo-triggering, we collected data very close in time to the actual behavior by using context aware surveys. Once recruited each participant received a prompt to participate in the research 2 hours after the time that they entered the shopping mall. The brand was able to get new, detailed insights regarding the relationship between the digital and offline shopping experiences. The insights proved that an online strategy is vital for retailers and producers of consumer goods even if they predominately sell through offline stores, due to the use of smartphones.
3. BRAND COMMUNICATIONS RESEARCH - Understanding in-the-moment brand experiences
A brand wanted to evaluate the impact of a large pop-up event location during a Formula 1 Grand Prix in combination with attitudes and behaviors towards the brand itself. Event visitors were recruited to provide a baseline assessment of their relationship with the brand via a mobile survey. A Brand Moments App survey captured their in-the-moment reactions to different elements of the event, including brand communications. A post-wave mobile survey assessed the changes in KPIs and relationships with the brand. The brand was able to uncover important insights on attitudinal and behavioral KPIs that they needed to improve. They also developed key metrics related to consumers' closeness to the brand, including brand desire, Word-of-mouth, and perceptions which could then be tracked and improved upon in subsequent events.