Marketing Launches MENA's First Consumer FinTech Survey
The growth of financial services firms is exponential and continues to thrive. Investments in FinTech have seen a 50% increase in the last two years, and the region will be home to over 250 FinTech startups by 2020.
While the looming FinTech revolution is expected to completely change the game for financial services industry. Very little information is currently available on how consumers in the MENA region will react to these changes, and the extent to which they will accept them.
To help fill in this important gap and claim regional expertise in this space, Ipsos Marketing in MENA has launched the region's first syndicated consumer FinTech survey, FinTech*Watch, in order to determine the consumers perception to this growing industry in 3 key markets. The survey targets a range of sectors that will be impacted by the FinTech in the near future including: banking, telecommunications, digital, and payments services. The survey aims to provide clients with valuable insights on consumer attitudes and perceptions towards FinTech services and service providers, in addition to predictions on the behavioural shifts, and future trends in consumer behaviour.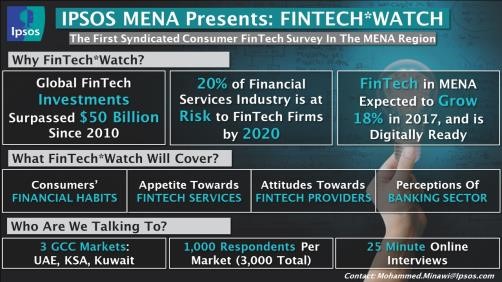 Clients from the region have already expressed interest in theFinTech*Watch, and with the first client signatures captured, the survey has already been launched in the UAE, the leading market and hub to MENA's FinTech. We will proceed to launch in Saudi Arabia and Kuwait in Q4 and the initial results will be released in October 2017.