Perceptions of Singaporeans on Domestic Abuse
3 in 10 Singaporeans say they or someone close to them have experienced domestic abuse. Latest study uncovers perceptions of Singaporeans on Domestic Abuse
With the growing number of domestic abuse cases reported in Singapore since 20161, Ipsos, global market agency conducted a survey in collaboration with United Women Singapore, a non-profit organisation working towards women's empowerment and gender equality, to understand the current perceptions of Singaporeans on domestic abuse.
"The survey found that 3 in 10 Singaporeans claim that they or someone close to them have experienced domestic abuse. We believe that 30% is too many. Much more needs to be done to protect the victims and shed light on the situation and especially what constitutes domestic abuse," asserts Georgette Tan, President of United Women Singapore. 
Survey findings were presented on 9th December at an event held at LinkedIn Asia-Pacific HQ Singapore, titled "Challenge the Apathy: Shedding Light on Domestic Abuse in Singapore".
The survey found that 3 in 10 Singaporeans claim that they (10%) or someone close to them (23%) have experienced domestic abuse. However, 40% of Singaporeans are apathetic, thinking that domestic abuse is not prevalent in Singapore, and that it rarely occurs.
Singaporeans' perceptions on domestic abuse
The Ministry of Social and Family Development (MSF) defines family abuse as a broad range of controlling behaviour which often takes a physical, sexual, and/or psychological nature, and typically involves fear, harm, intimidation and emotional deprivation. This may include verbal abuse, threats, harassment, intimidation and controlling behaviour like limiting access to friends, relatives and finances. It is recognised that family abuse can happen at any level of close interpersonal relationships—spouses, partners, parents, children, and siblings. 2 
The survey findings however show a disconnect between this definition and what Singaporeans perceive domestic abuse to be. 84% of Singaporeans consider that hitting a spouse and leaving a physical wound constitutes domestic abuse; but this percentage drops to 75% if one hits a spouse but does not leave a physical wound.  Approximately 7 in 10 people consider forcing a spouse to engage in sexual intercourse against their will (78%), verbal threats (70%) and restraining or holding them against their will (69%) as abuse.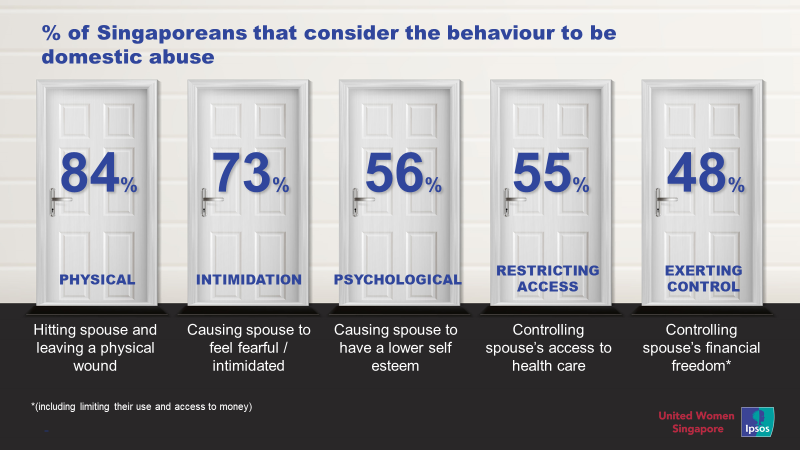 Missing the warning signs
Behaviours that could be warning signs of further aggression are also more likely to go unnoticed.  The views are somewhat divided on the less visible aspects of abuse. About half of Singaporeans do not consider that any action that causes a spouse to have lower self-esteem (44%), restricting a spouse's access to healthcare (45%) or financial freedom (52%) as domestic abuse.
While 58% of respondents consider expressing abnormally high levels of anger as violent behaviour, slamming doors or banging tables during a dispute is far less considered so (38%). Naturally, those who have encountered domestic abuse either themselves or someone close to them, feels this more strongly – 65% on expressing high levels of anger and 46% on slamming doors during a dispute.
The impact of domestic abuse goes beyond physical injuries
A common reason for victims to remain in their situation is the lack of financial independence but this is often overlooked. Only 48% of Singaporeans consider controlling their financial freedom to be domestic abuse. 
Elodie Causier, Director at Ipsos in Singapore comments, "From the interviews we conducted, the victims' finances are either controlled by the abuser, or are tied down to servicing home loans and other commitments that often involve the children. The decision to leave the marriage is often complex when there are other dependents."
The impact of domestic abuse transcends physical injuries and leaves a lasting impact on the entire family. 86% of Singaporeans recognise that domestic abuse does not only impact the spouse, but also their children.
Causier adds, "Even if the children are not directly abused, living and growing up under prolonged distressed environments has a psychological and emotional impact to them.  Victims tell of their children, who as adults, are unsure about the ideology of marriage or suffer self-esteem issues."
Taking responsibility
Most Singaporeans acknowledge that tackling domestic abuse is a shared responsibility with 82% agreeing that it is their responsibility to act if they encounter cases of domestic abuse.  But respondents agree that Singaporeans need to be more knowledgeable about domestic abuse in the country (86%), and that there is a need to talk more about how the issue can be countered or dealt with (84%). Many (41%) are still unclear on what to do if they or someone close to them experience domestic abuse.
While these figures are encouraging, there is still a sense of hesitation that exists amongst some Singaporeans. 1 in 5 believe that domestic abuse should not be reported by others as it is more important to preserve the sanctity of marriage.
Elodie Causier, comments, "It is encouraging that many Singaporeans are willing to do something if they encounter cases of domestic abuse, but more needs to be done to raise social awareness and more guidance given on where help can be found." 
Current legislation in Singapore applies a battery of penalties at varying levels according to the severity of each case and includes actions such as applying a Personal Protection Order, mandating counselling for the abuser, excluding the abuser from the shared residence with the victim, a monetary fine and a jail sentence.3
When asked what the appropriate penalties should be for abusers, more Singaporeans agree to the restraining order (77%) and mandating counselling for the abuser (78%). Fewer Singaporeans agree that a jail sentence (66%) is an appropriate penalty and are even less likely to consider a monetary fine (47%) to be a suitable measure.
Georgette Tan, President of United Women Singapore comments, "Recent efforts by the government are encouraging. The changes to the harassment act and the penal code offer stronger support to victims in Singapore. Additionally, in an age where corporate responsibility extends to employee well-being, we see that businesses can play a critical role in providing support to the women and men in their organisations. Domestic abuse is a multi-faceted issue and the solution needs to be holistic."