Singaporeans on National Values and Identity
A maturing Singapore, rooted in cultural pluralism, local food and Singlish, wants a country that is socially and environmentally conscious, and technologically progressive.
on 9th August 2020, Singapore celebrated her 55th year of Independence. The latest Ipsos survey conducted over the period of 7th to 11th August 2020 looks at National Pride and what Singaporeans identify with as being Singaporean. This period was also just weeks after the 2020 Singaporean General Election, where the Workers Party won 10 out of 93 seats in parliament, the most ever held by an opposition party since the first general election in 1968. The data presented here is contrasted against data collected in a similar survey, 5 years ago, in December 2015.
The survey was conducted online, among a nationally representative sample of 1,000 Singaporeans and Permanent Residents, aged 18 years old and above.
Proud to be Singaporean
85% of respondents say they are proud to be a Singapore Citizen/PR, about half of these (38%) saying that they are very proud to be so. In addition, 65% of respondents say that they are proud of their fellow Singaporeans.
66% of Singaporeans agree that Singapore is a better country to live in than other countries and more than half (55%) believe that Singapore is a better country to work in than other countries.
Only 3 in 10 believe Singapore is a better country to retire in than other countries. Although another one third of Singaporeans are undecided, neither agreeing nor disagreeing that it is a better place for retirement.
National Values Most Important to Singaporeans
When asked to select their top 5 values they believe are most important to Singapore as a country, respondents say that Singapore needs to Have an Honest & Transparent Government (72%), Be Just & Fair to All (55%), Be Safe (52%), Be Progressive (38%) and Be Socially and Environmentally Conscious (38%).
Being socially and environmentally conscious moved up from 7th position replacing Have a sense of Unity in 5th place in 2015. Other values that have significantly gained more importance are Technological Progressiveness (+14%), Freedom of Press (+7%) and Freedom of Speech (+7%).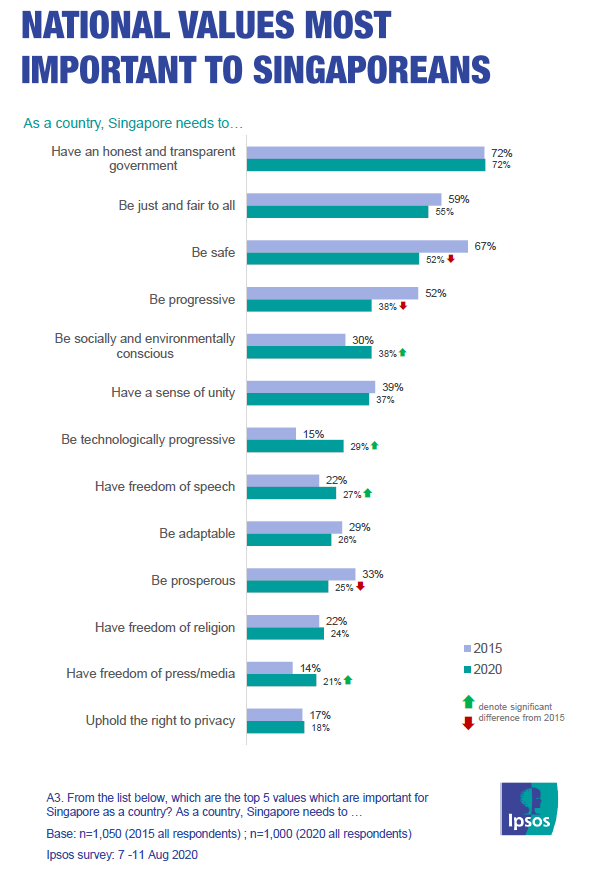 While being safe is one of the top values identified by Singaporeans, much fewer people in 2020 (-15% from 2015) said this was important for Singapore as a country. Being prosperous also saw fewer people saying it is a top value this year. Moving down 8% from 33% in 2015.
While having an honest and transparent government was in the top 5 values for most Singaporeans across age groups, this was felt more strongly among those 45 to 54 years of age (83%). Conversely, when it comes to being progressive, this was more strongly felt among the youth aged 18 to 24 years (45%) than those 45 to 54 years old (32%).
Tan Hui-Ching, Director of Public Affairs at Ipsos in Singapore said, "2020 is no doubt a momentous year in Singapore's history. The effects of fighting a global health pandemic have brought to light what Singaporeans value. The outcome of the recent General Elections confirms that Singaporeans are looking for change. Five years ago, Singaporeans placed more importance on Singapore being prosperous over being socially and environmentally conscious, but now more emphasis is placed on being socially and environmentally conscious which is in line with the government's push for a sustainable environment. Furthermore, in part due to globalisation and exposure to more debate over social media, Singaporeans today are placing more importance on justice and having their voices heard."
Most Notable Characteristics of Singapore
When asked to rate Singapore's performance on 17 aspects, the 5 most notable characteristics were Safety (83%), Infrastructure (80%), Cleanliness Standard (75%), Standard of Education (72%) and Standard of Healthcare (71%).
Tan adds, "Although being safe seems to have come down the importance list, Singapore's performance on safety was rated very highly by the people. I believe this indicates that being safe is not any less important, but that safety is now a given and synonymous with Singapore."
Compared to the scorecard in 2015, significant up-shifts are seen on Infrastructure, Cleanliness and Public Transport. On the other hand, much fewer Singaporeans feel we are doing as well on Caring for the Environment and Transparency of Government. Significantly fewer believe that Singapore is performing well in the areas of Employment Opportunities (34%), and Cost of Living (15%), the majority agreeing that there is much room for improvement in these areas.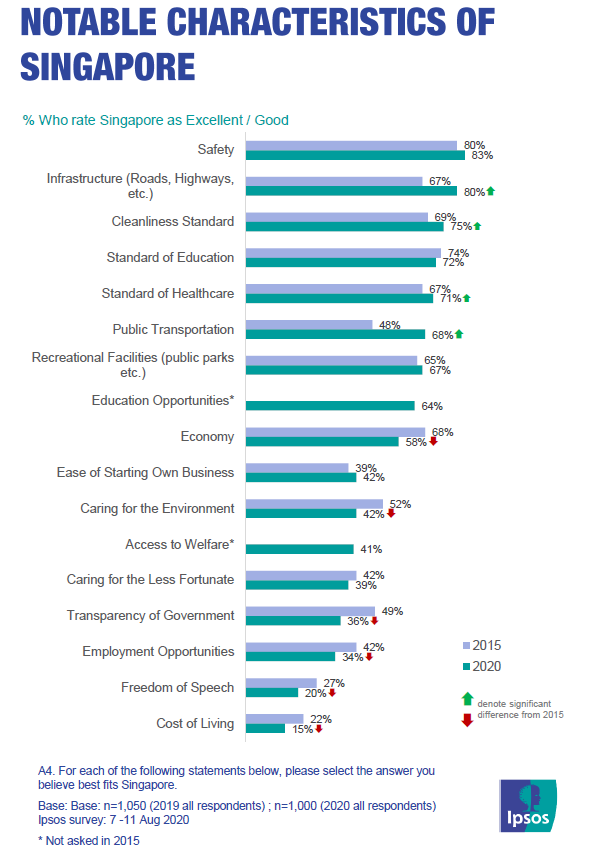 The Singaporean Identity - Cultural Pluralism, Local Food and Singlish
74% of Singaporeans agree that Being a Singaporean is an important part of their identity, and 58% consider themselves as patriotic residents of Singapore.
When asked what they consider to be important to the Singaporean Identity, 3 in 5 Singaporeans said a Multiracial and multireligious society. This was closely followed by Local food and delicacies (57%), World-class services (46%) such as Singapore Airlines and Changi Airport, and Singlish (44%).
The opinions as to what is most important to the Singaporean identity differ by age. World-class services and our Government are more important for the older Singaporeans, while those aged 18 – 24 years old were significantly more inclined to associate Singlish and Mother tongues with being Singaporean, perhaps reflective of a proud and confident younger generation.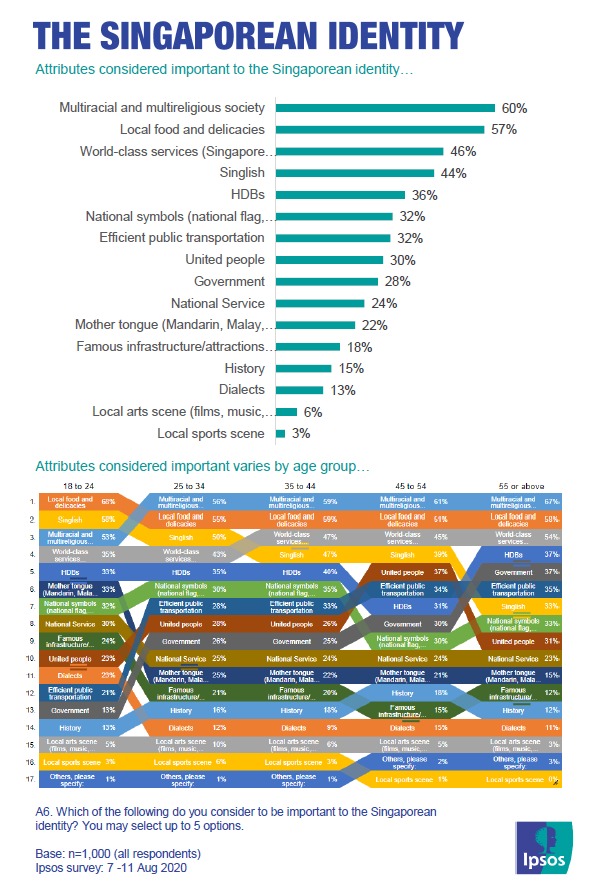 #SupportLocal
37% of Singaporeans say they are willing to pay more for products which are made in Singapore. This resonates among lower and higher income groups alike.
Nick Hunter, Director of Market Strategy and Understanding at Ipsos in Singapore comments, "There are a variety of factors that go into making a purchase decision, be it more tangible factors such as product quality and ease of navigation online, or the more emotional factors like affiliation to a brand and service experience. While it is encouraging to see that 37% are supportive of local businesses, there is another 41% of Singaporeans who are on the fence about paying more for Singapore-made products. This is a significant proportion of the market that poses a big opportunity for local brands to pull the right levers and sway them positively."