February 2021: Global consumer confidence showing little growth
This month's Ipsos Global Consumer Confidence Index rings in at 43.9, up 0.4 point from last month. While it is at its highest point since April 2020, the index remains nearly five points lower than it was 12 months ago when the World Health Organization declared a global health emergency. The pace of the global recovery remains very slow. This month's gain is on par with the average month-over-month gain of 0.4 point seen since August.
The Global Consumer Confidence Index is the average of 24 world markets' National Indices. It is based on a monthly survey of more than 17,500 adults under the age of 75 conducted on Ipsos' Global Advisor online platform. This survey was fielded between January 22 and February 5, 2021.
National Index Trends
A sign that consumer sentiment is barely budging across much of the world is that only two countries show a significant change (i.e., an increase or a decrease of at least 1.5 points) in their National Index when compared to January:
A loss of 2.3 points to 71.8 in China, its lowest level since September 2020;
A gain of 2.5 points to 56.1 in India, its highest level since April 2020.  
Compared to 12 months ago, just two countries record an increase in their National Index: China (+6.5) and Australia (+3.5). In contrast, 20 of the 24 countries display a National Index that is significantly lower than it was in February 2020, especially the United States (-12.6), Israel (-11.4), Mexico (-10.3), Poland (-10.2), and Spain (-9.9).  
Seven countries (the same as in January and December 2020) have a National Index higher than 50:
China (71.8),
Saudi Arabia (63.5),
India (56.1),
Sweden (55.1),
Australia (54.1),
Germany (51.1), and
the United States (50.3).
Only three countries continue recording a National Index below 35 this month, as Russia (36.3) no longer does:
Turkey (32.0),
South Africa (33.8), and
Spain (34.2).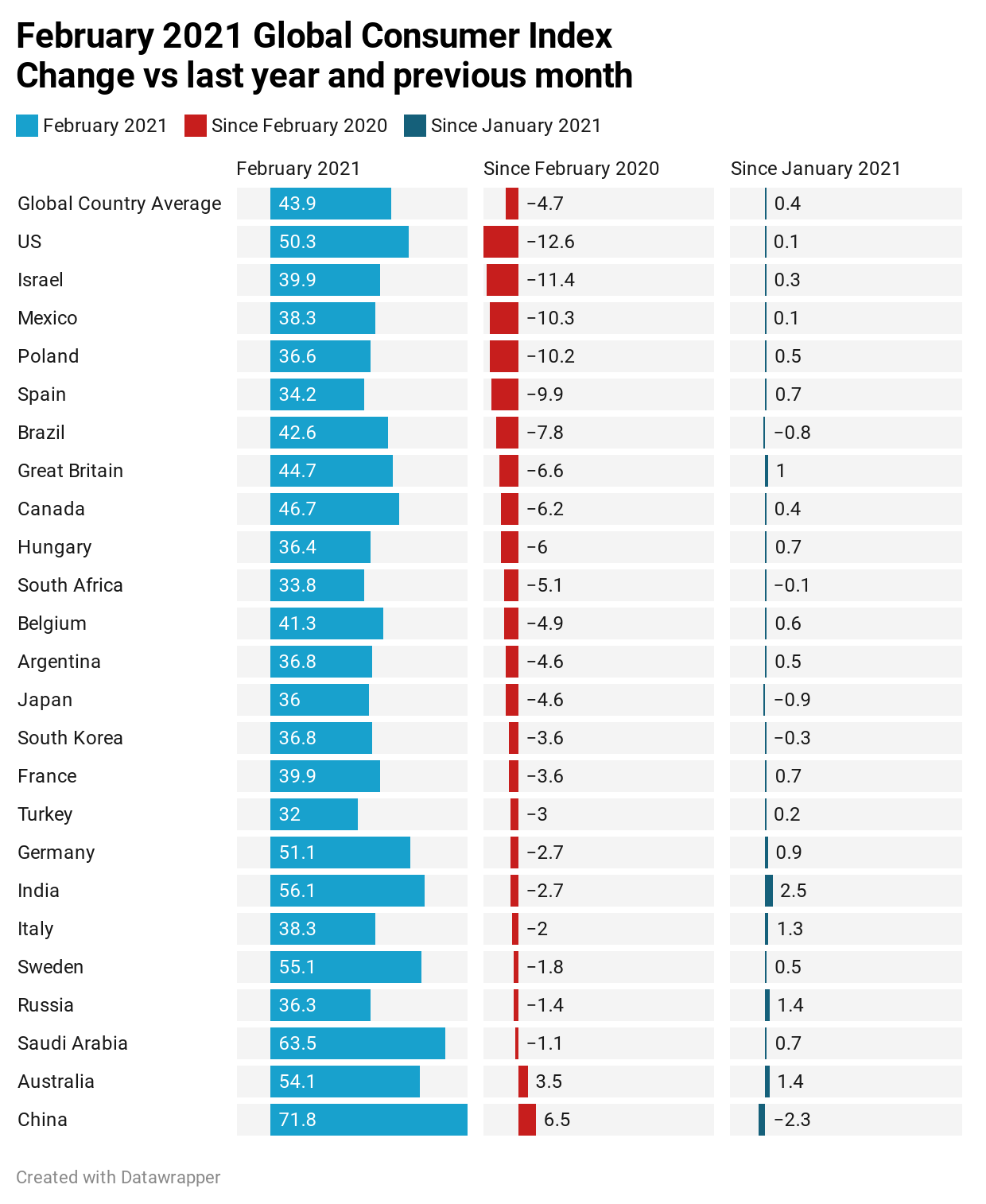 Visit our interactive portal, Consolidated Economic Indicators for graphic comparisons and trended data pertaining to the Ipsos Global Consumer Confidence Index and sub-indices—and all the questions on which they are based.
---
These findings are based on data from Refinitiv /Ipsos' Primary Consumer Sentiment Index (PCSI) collected in a monthly survey of consumers from 24 markets via Ipsos' Global Advisor online survey platform. For this survey, Ipsos interviews a total of 17,500+ adults aged 18-74 in the United States of America, Canada, Israel, Turkey, South Africa; and age 16-74 in all other markets each month. The monthly sample consists of 1,000+ individuals in each of Australia, Brazil, Canada, China (mainland), France, Germany, Italy, Japan, Spain, Great Britain, and the U.S., and 500+ individuals in each of Argentina, Belgium, Hungary, India, Israel, Mexico, Poland, Russia, Saudi Arabia, South Africa, South Korea, Sweden, and Turkey.