Majority expects governments to make environment a priority post Covid-19
Three in four people in 16 countries expect their governments to make protection of the environment a priority when planning a recovery from the coronavirus pandemic, according to a global Ipsos poll conducted to mark World Environment Day. These new results are confirming the worldwide importance of environmental issues as discussed in Ipsos' press release on Earth Day on 22 April this year.
In an online survey of 16,000 people from 21 to 24 May, a majority of people in all 16 countries agreed with this action, with the highest support in emerging markets of China (91%), India and Mexico (89%), Brazil (85%), and South Africa (84%).
Disagreement over making the environment a government priority in a COVID-19 recovery, is highest in Germany (36%), South Korea (29%), Japan and Russia (27%), United States and Canada (23%).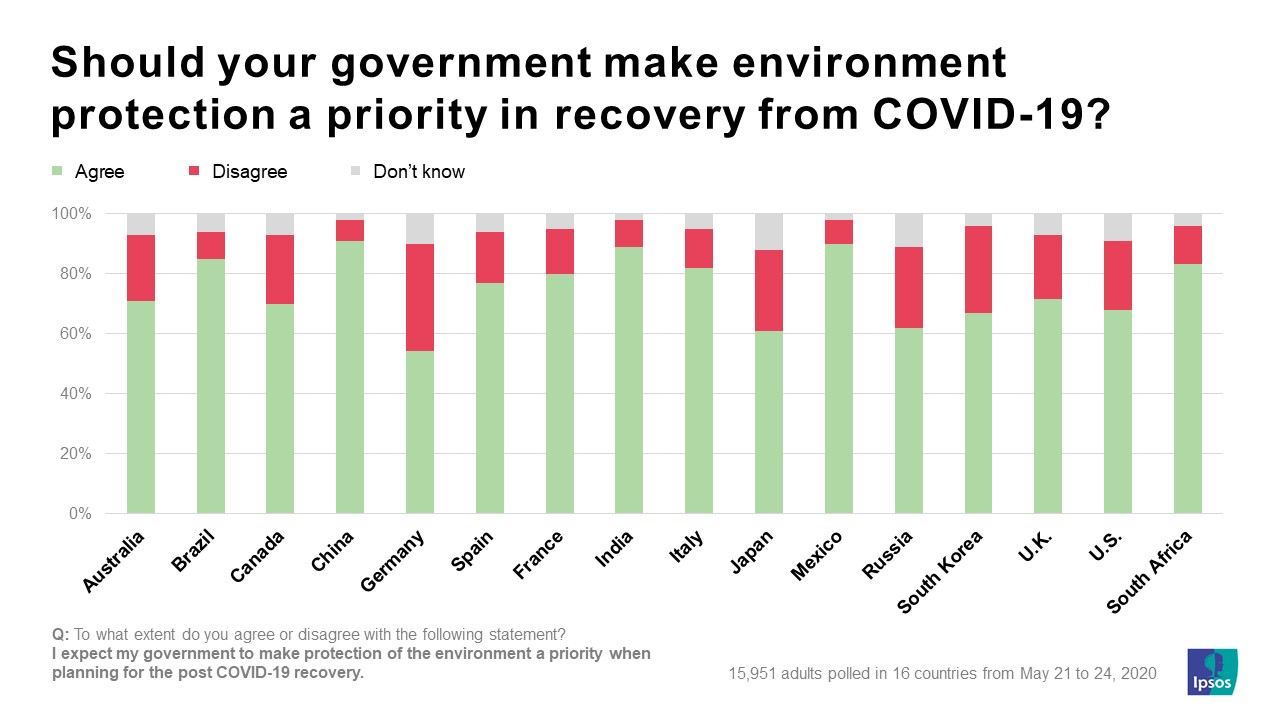 Added to this, there is a view that the environment is a personal priority for people, with half of respondents disagreeing that protecting the environment is far down on their list of priorities right now. This sentiment is highest in many European countries, including Germany and France (67%), followed by Mexico (65%), Spain and South Africa (60%).
Those that believe protecting the environment is not a top priority right now, are in India (67%), Italy (65%) and Russia (58%). People most divided on this issue are in the U.S. with only 1 percentage point separating those that see it as a top priority from those that don't, followed by Australia and Japan (with 4 percentage points between the two opinions).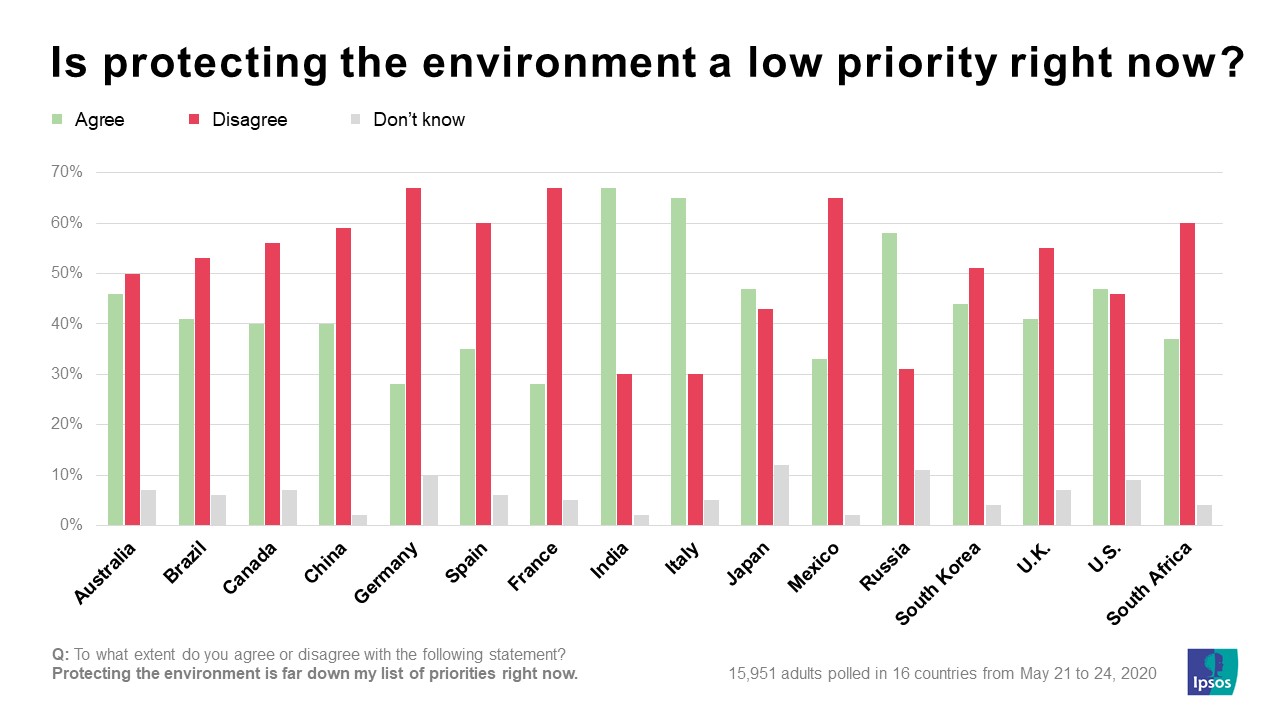 Environmental threat to health
In terms of how seriously people view environmental issues, more than four in five respondents globally say issues such as pollution, degradation of nature, deforestation, overfishing and climate change pose a serious threat to our health and well-being today.
This sentiment is highest again in the developing countries of China (93%), Mexico (91%), South Africa (90%), India and Italy (88%). Meanwhile, the U.S. has the highest proportion of people disagreeing with the seriousness of this threat (17%), followed by Australia (16%).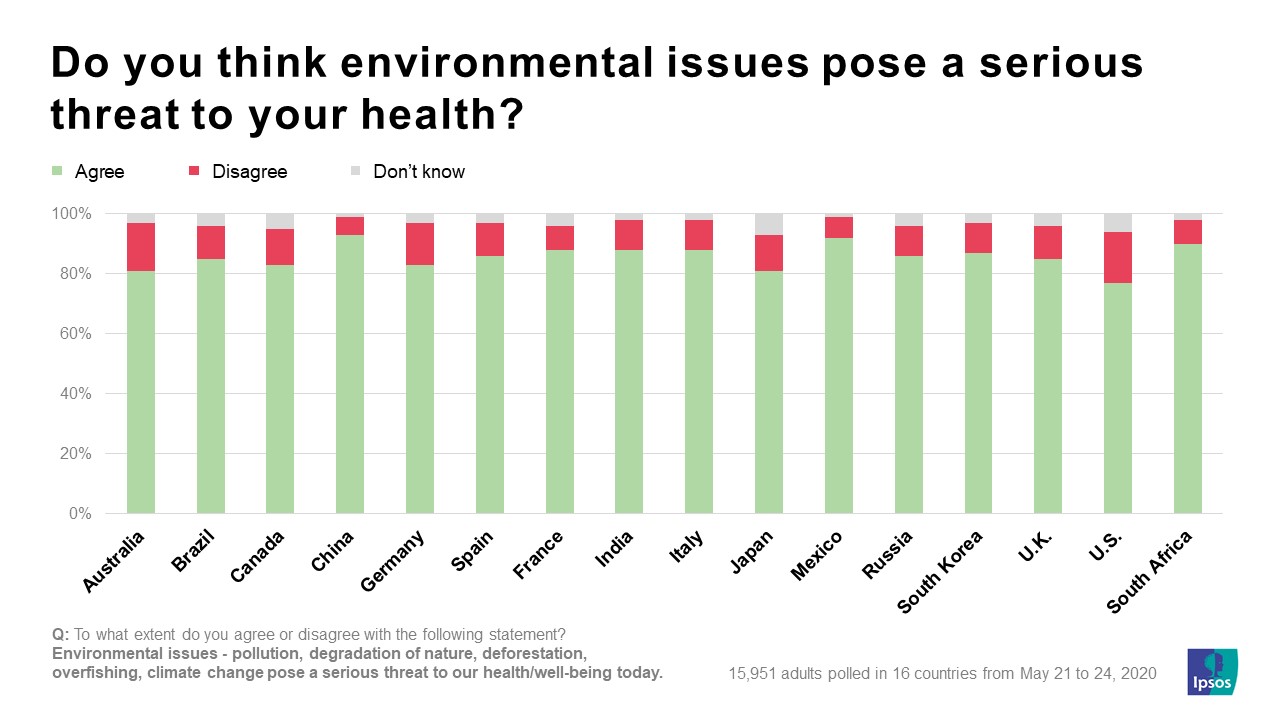 Overall, people feel a strong responsibility to ensure their generation does not destroy the planet for the next generation. Agreement with this sentiment is close to 80% and over in all the countries with China (92%) and South Africa (91%) topping the list.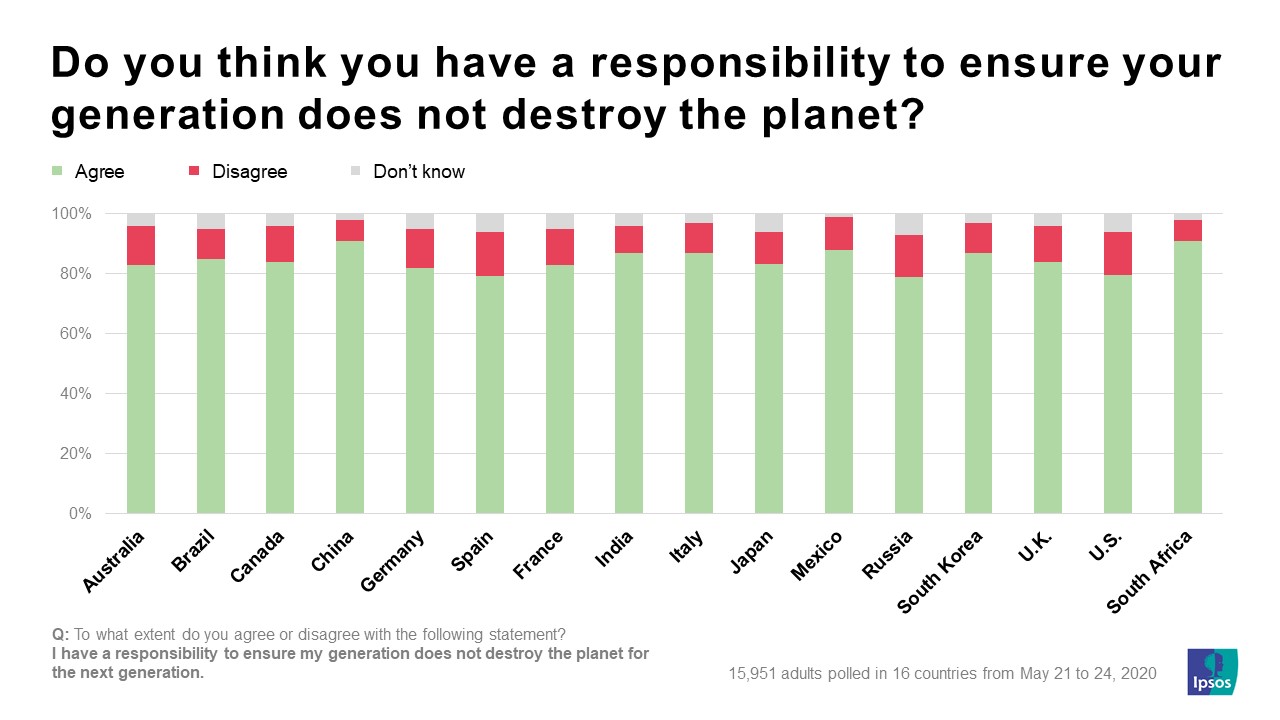 Looking back at Earth Day
The findings shared in this Environment Day release are again highlighting important issues as highlighted in the issues discussed on Earth Day in April 2020. It was said that South Africans' response to the issues of global warming and climate change was reflective of the environmental issues we had to deal with over the last few years of droughts and the Eskom / energy crisis. Combating water pollution, ensuring high water quality and the availability of future energy sources were mentioned by about a third of online South Africans at that stage. As the size of the population still places stress on scarce resources, three in every ten also want leaders to give attention to this issue.
Worldwide, two-thirds agreed that government actions should prioritise climate change issues in the economic recovery planning for "the day after tomorrow", after the Covid-19 crisis. A very high proportion (84%) of online South Africans agreed that "If South Africa's government does not act now to combat climate change, it will be failing the people of South Africa."
In South Africa, voting behaviour is entrenched and voters seldom change the party they vote for in an election, but almost two-thirds (64%) agreed that "If a political party's policies don't deal seriously with climate change, this would put me off voting for them." Although we should see this as a prompt for political parties to formulate viable environmental policies, it is important to keep in mind that this study was carried out online – covering almost two-thirds of the South African adult population. (Results are therefore not nationally representative.)
For more information on this news release, please contact:
Mari Harris
Director and Political Analyst, Ipsos South Africa
Mobile: +27 (0)82 557 5058
[email protected]

Ezethu Mandlelize
Service Line Manager: Public Affairs, Ipsos South Africa
Mobile: +27 (0)74 617 8023
[email protected]
About the study
These are the results of an Ipsos survey conducted May 21st to 24th, 2020 on the Global Advisor online platform among 15,951 adults aged 18-74 in Canada and the United States and 16-74 in Australia, Brazil, China, France, Germany, Italy, Spain, India, Japan, Mexico, Russia, South Africa, South Korea and the United Kingdom.
The sample for this study consists of approximately 1,000 individuals in each country. The samples in Australia, Canada, France, Germany, Italy, Spain, Japan, South Korea, the U.K. and the U.S. can be taken as representative of these countries' general adult population over age 16 or 18 (as above) and under the age of 75. The sample in Brazil, China, India, Mexico, Russia, and South Africa is more urban, more educated and/or more affluent than the general population and should be viewed as reflecting the views of the more "connected" segment of the population. The data is weighted so that each market's sample composition best reflects the demographic profile of the adult population according to the most recent census data.
Where results do not sum up to 100 or the 'difference' appears to be +/-1 more/less than the actual, this may be due to rounding, multiple responses or the exclusion of don't knows or not stated responses. The precision of Ipsos online polls is calculated using a credibility interval with a poll of 1,000 accurate to +/- 3.5 percentage points. For more information on the Ipsos use of credibility intervals, please visit the Ipsos website (www.ipsos.com).