Global consumer optimism at Its lowest in over two years in November 2019
Half of the 24 economies surveyed show a significant three-month decline in their Consumer Confidence Index.
At 48.6, November 2019's Ipsos Global Consumer Confidence Index is down 0.2 points over the past month and at its lowest since May 2017.
The three-month decline of 1.3 points in the Global Index is driven by a significant drop in 12 of the 24 measured markets during the same period: Turkey (-4.8 points), mainland China (-4.6), Italy (-4.2), India (-3.6), Australia (-2.7), Canada (-2.6), Spain (-2.2), Israel (-2.0), Belgium (-2.0), Argentina (-1.9), Sweden (-1.8), Russia (-1.5), and Germany (-1.5). Only one country shows a significant increase in is National Index over the past three months: Hungary (+2.3 points).
The Consumer Confidence Index, also called the "National Index," reflects consumer attitudes on the current and future state of their local economy, their personal finance situations, their savings and their confidence to make large investments. Mainland China continues to enjoy the highest National Index with a score of 69.1, followed by Saudi Arabia (63.3), the United States (61.1), and India (59.3). At the opposite end of the spectrum, Turkey stands at the bottom of the National Index with a score of 33.8, followed by Argentina (37.3) and Russia (39.1).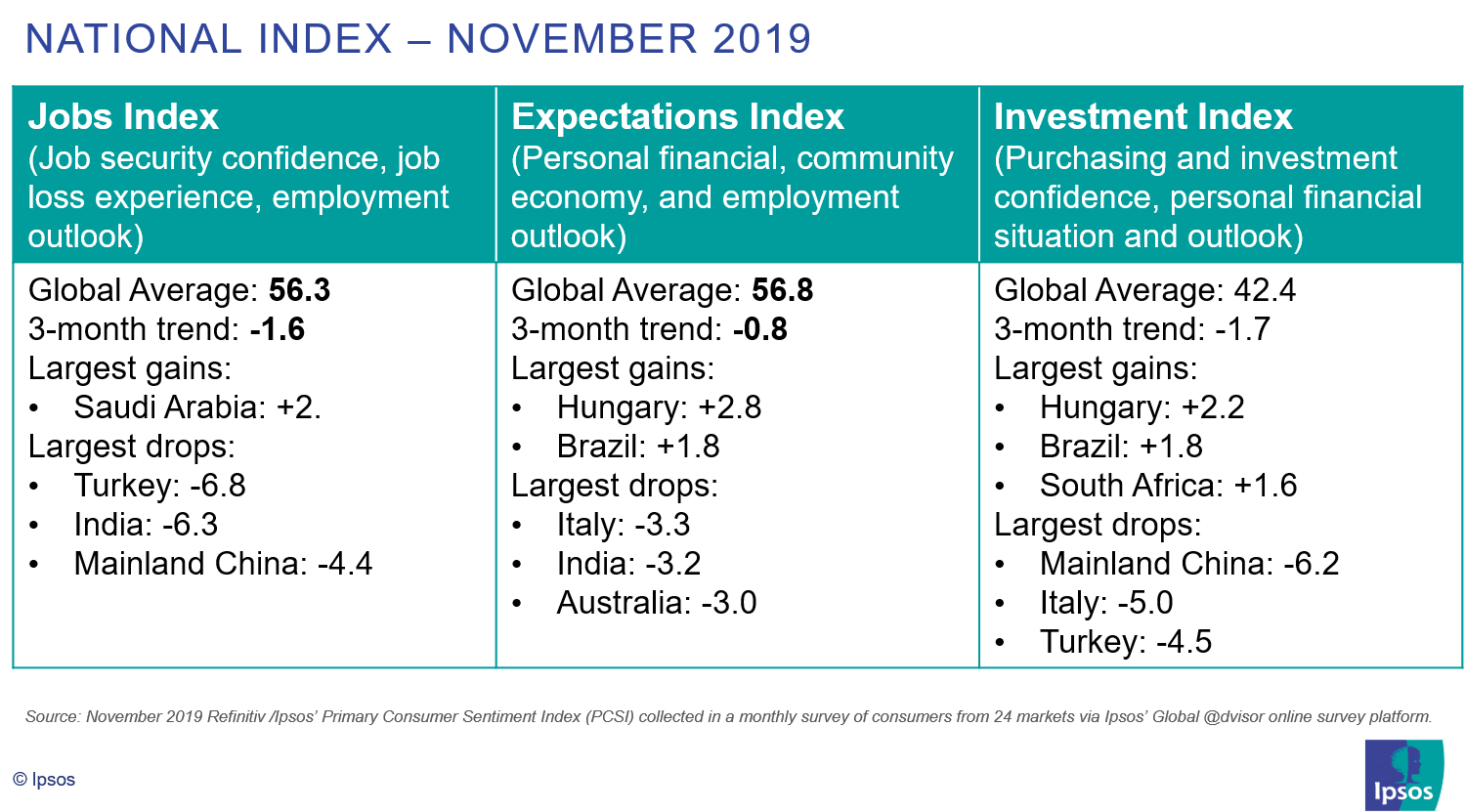 Visit our interactive portal, Ipsos Consolidated Economic Indicators for graphic comparisons and trended data pertaining to the Global Consumer Confidence Index and sub-indices - and all the questions on which they are based.
These findings are based on data from Refinitiv /Ipsos' Primary Consumer Sentiment Index (PCSI) collected in a monthly survey of consumers from 24 markets via Ipsos' Global @dvisor online survey platform. For this survey, Ipsos interviews a total of 17,500+ adults aged 18-74 in the United States of America, Canada, Israel, Turkey, South Africa; and age 16-74 in all other markets each month. The monthly sample consists of 1,000+ individuals in each of Australia, Brazil, Canada, China (mainland), France, Germany, Italy, Japan, Spain, Great Britain and the USA, and 500+ individuals in each of Argentina, Belgium, Hungary, India, Israel, Mexico, Poland, Russia, Saudi Arabia, South Africa, South Korea, Sweden and Turkey.