Will COVID casual become a permanent fashion look?
As the COVID-19 pandemic has accelerated the macro-trend of comfort casual apparel, brands and retailers face a strategic dilemma.
As the COVID-19 pandemic has accelerated the macro-trend of comfort casual apparel, brands and retailers face a strategic dilemma. If, when and how will shoppers re-integrate dress clothes in their wardrobes, or are fashion brands and retailers in for a permanent reset? The Ipsos Coronavirus Consumer Tracker offers some data behind the anecdotes:
People are saying they are wearing less makeup 13 times as often as those who say they are wearing more; for wearing work clothes, it's eight times; and even wearing shoes it's five times as many wearing less often than more.
Conversely, people are five times more likely to say they are wearing sweatpants or athleisure more during the day, and four times more likely to be wearing pajamas during the day more often than before the outbreak.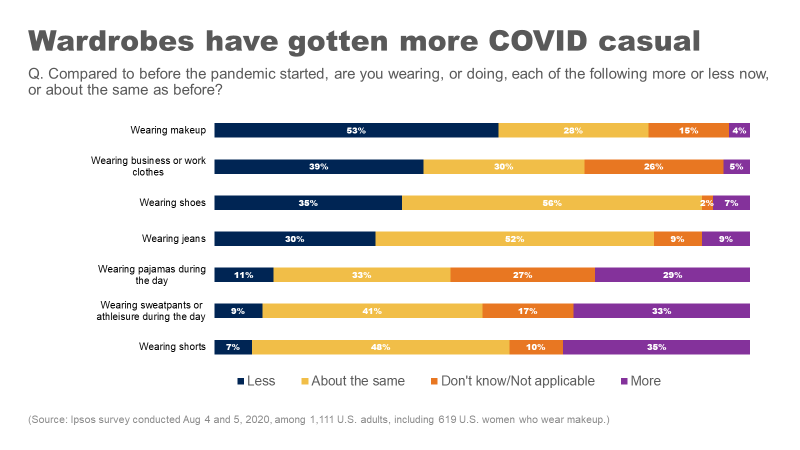 Certainly, remote work wardrobes are nothing new and business casual is more prevalent than ever at offices. But these results signal that the come-as-you-are look has become the norm. As Twitter user Shannon Downey put it: "I haven't worn real clothes since March. I do not recommend real clothes…Long live sweatpants!"
That doesn't mean that people are skipping business clothes entirely. During video meetings, for some, it's business-on-top, gym-on-the-bottom, beach-on-the-feet.
And while women overall are wearing less makeup—it's challenging to wear lipstick under a face mask—women ages 18-34 are the ones who are most likely to be wearing more makeup than before. Items that women were buying in the six weeks after lockdowns lifted was makeup for brows and lashes. Sales for these kinds of products that help make smiling eyes, or "smize" pop over a mask, matched or outgrew overall prestige beauty sales growth, according to NPD.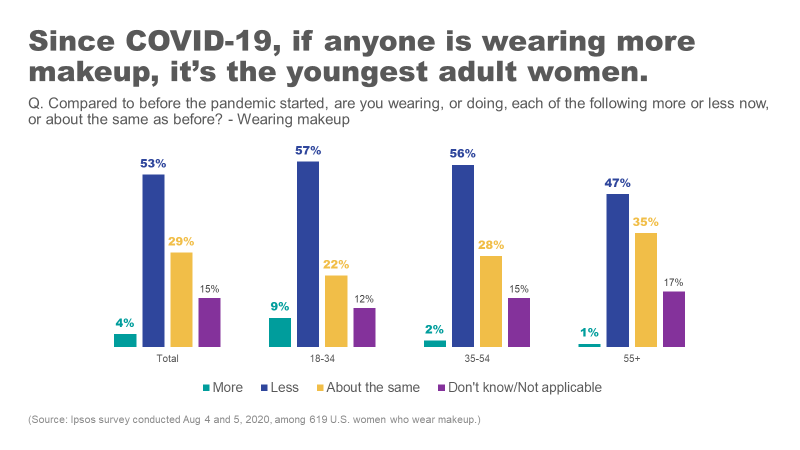 The big question is whether these trends will continue after the pandemic. Already, schools to courtrooms are trying to mandate dress codes for attending classes and meetings remotely. Yet, only 42% of parents say they're buying new clothes for their children, according to the latest Axios-Ipsos Coronavirus Index, making this Back-to-School season a bust.
When shoppers do buy clothes, they're likely to trade down to chains like Target, Walmart, and TJ Maxx. To wit, Target can attribute part of its outstanding second quarter sales performance to clothing, which rose by double digits, even while clothing stores lost 36% during that period. This likely is not just about saving money.
These big box stores give shoppers the chance to buy apparel along with essential products in a single trip. That makes sense as people consolidate shopping trips to avoid going into stores. More than half (57%) of consumers still feel that retail shopping is a risk, per the latest Axios-Ipsos Coronavirus Index.
One way that retailers and brands could capture these shoppers is to establish pop-up stores within a store. They could partner with essential retailers that provide a variety of merchandise for one-stop shopping. For example, Gap opening up a pop-up store inside Target stores, or better yet, maybe a Gap outlet store.
It's more likely than not that this casual comfort trend will trigger more casual business environments when offices reopen and people return to work. As workers have received a taste of that, it could be difficult to fully return to even business casual. However, businesses could re-establish power dressing norms of the 1980s as a signal that they're back to business. How many women want to burn their maternity clothing after baby is born? Could shoppers feel the same about their COVID clothes?
In either case, brands and retailers will need to make sure they remain as agile and flexible as possible; monitoring signals along that way that provide early warning signs of where the needs are going, and based on those signals, shifting into Plan B (or C) as quickly as possible.