A healthy and happy workforce is a more productive workforce
A growing body of evidence points to a positive relationship between employee wellbeing and productivity and documents it as a causal effect says a global survey conducted by Ipsos on behalf of Aon in order to understand how companies are addressing wellbeing and how a wellbeing program would impact company performance.
Globally, 82% say employee wellbeing is important at their company. The countries that are most likely to say wellbeing is important to their company are Finland (89%), Czech Republic (88%), Norway (88%), and New Zealand (88%). On the other hand, countries that are least likely to say wellbeing is important are Puerto Rico (67%), Ecuador (63%), and Peru (63%).
Top employee wellbeing issues globally include work-life balance (65%), mental health (46%), working environment/culture (44%), physical health (35%), and burnout (33%). Across regions, work-life balance is the top employee wellbeing issue followed by mental health in North America, Latin America, and EMEA. Working environment/culture is the second top issue in APAC. In North America, burnout is the third top issue and in the other regions, burnout is the fifth top issue.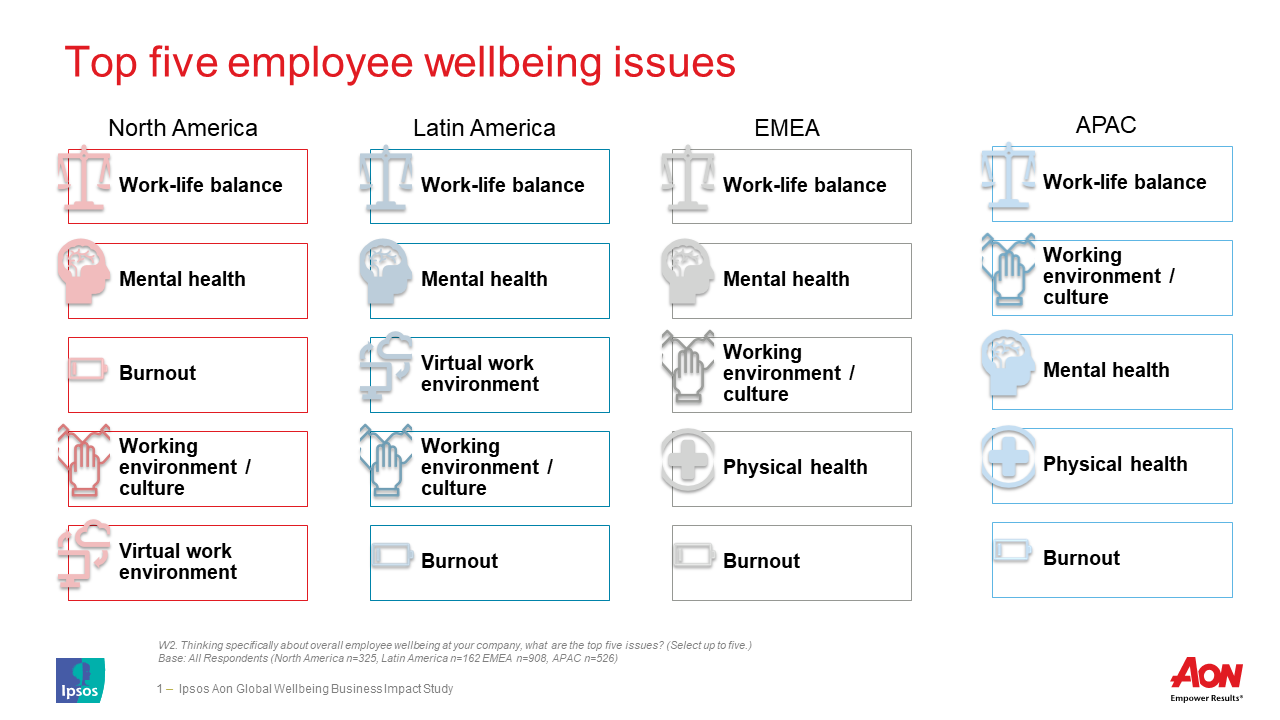 See the survey results and download the report on Aon's website here
Methodology
The questionnaire took on average 38 minutes to complete online. It was drafted by Aon in North American English and translated into 24 additional languages.
The survey sample was drawn from Aon's global contact database, Aon Connect, which includes organizations who are and who are not current Aon clients. Aon Connect covers 190 countries and over 500,000 contacts. A random selection process was undertaken by Ipsos to produce the survey sample focused on the largest countries and those who use common languages. In total, 41 countries were sampled, and the survey was carried out in 25 languages.