One in Ten (9%) of Canadians Lost Their Jobs in 2020 (+2), Representing Almost 3 Million Adult Canadians
More Able to Afford Essentials Due to Anemic Spending on Entertainment and Travel, But Real Barriers to Financial Security Remain
Toronto, ON, December 29, 2020 – 2020 will be remembered as the year when we took video calls in our pajama bottoms and worried about not being on mute while arguing with the kids. A recent Ipsos poll done exclusively for Global News highlights the ways in which Canadians' work lives have changed in the past year and the effect that these changes have had on their pocketbooks.
With slightly more Canadians than last year reporting having lost their jobs and fewer saying they've gotten new ones, the outlook going into the new year for those affected seems shaky. Furthermore, the poll found that with regard to households' financial situations, any meagre savings that could have been found from cutting out non-essential spending are still not enough to overcome barriers to financial security, especially when it comes to housing and a higher cost of living. This points the way for more attention to be paid to how the pandemic has disproportionately affected some social groups more than others, at the risk of making an uneven situation worse in the new year.
Work in 2020: The Year of the Home Office
In terms of Canadians' work lives, the overall picture that emerges from the past year is one where slightly more have lost their jobs and fewer got new ones. Just under 1 in 10 say they've either lost their job this year (9%, +2) or gotten a new one (8%, -5). While this may seem like small changes, these figures represent the livelihoods of millions of Canadians. Furthermore, this aggregate view masks nuances with regard to age. The pandemic has impacted younger Canadians more deeply than it has older ones; for instance, 17% of those aged 18-34 say that they've lost their job in the past year (compared to 10% among 35-54 and 3% among 55+).However, they are also more likely to say that they've got a new job (17% among 18-34 v. 8% among 35-54 and 2% among 55+).
Furthermore, fewer Canadians this year say that they retrained for a job or pursued further training this year (5%, -3), perhaps a sign of uncertainty about what the job market may be like post-COVID or the financial troubles that households may be under if they are unable to fund their studies.

More Affording Essentials, But Food and Housing Still Barriers to Financial Stability
Half (52%) of Canadians say they've cut down on their spending during this year, be it through reducing spending on non-essentials, cutting back on food and clothing to make ends meet, or sell off one's possessions to help pay the bills. A sign of the continued economic problems facing the province, 7 in 10 (71%) Albertans say they've had to do one of the aforementioned actions during the past year. The pandemic has even had an influence on the ways in which households across the country have been tightening their belts over the past year. More specifically, more say they are cutting down on non-essential spending on things such as entertainment and travel (43%, +5). This is no doubt due to many entertainment venues such as movie theatres, playhouses, and casinos having been closed for months and travel ground to a virtual standstill. Those in Alberta are the most likely to say that they've had to reduce non-essential spending (62%), along with those over 55 years of age (50%) and women (49%).
Relatedly, fewer Canadians are saying that they've had to cut back on the essentials such as food or clothing in order to pay for other essential needs (20%, -8). On top of having fewer opportunities to spend money during the pandemic, some households have been able to reallocate their spending and even re-evaluate what they believe is 'essential'. For instance, those able to work from home may find a little extra money leftover after not having to pay for a monthly transit pass, parking/gas to commute, or new work clothes. However, 3 in 10 (29%) Albertans say that they've had to reduce spending on essentials, as have a quarter (24%) of women.
However, being able to find a bit of money leftover to make ends meet does not mean that Canadians' financial problems are solved. Real barriers remain when it comes to helping Canadians achieve better financial security. While some of these barriers have been a little easier to overcome in the past year, others have gotten more difficult.
The rising cost of food is not only one of the top issues cited, it is also the problem that has gotten worse from last year. Over 1 in 10 (12%) say that the cost of groceries is the biggest barrier to financial security, an increase of five points from the same time last year. Understandably, those with household incomes of under $40,000 a year are more likely to mention this factor (19%). Housing costs, such as a mortgage or rent, are another concern for those Canadians grasping at financial stability. Approximately 1 in 10 (12%) specifically mention this being their greatest barrier to financial stability, with the proportion soaring to 21% among those in British Columbia.
Other barriers that Canadians mention include: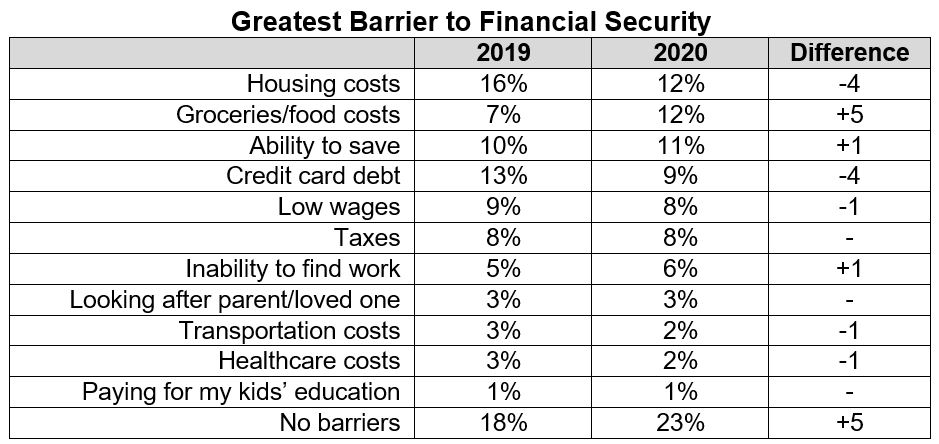 Another silver living to the pandemic is that almost a quarter (23%) of Canadians are fortunate enough to say that they don't have any barriers to financial stability, a five-point increase from the same time last year. Among those aged 55 years and over, this proportion reaches 33% (vs. 18% among 35-54 years and 16% among 18-34). However, a reminder of just how difficult those with more modest incomes have it during the pandemic, this proportion is only 10% among those households earning less than $40,000 a year. The fact that some groups may not have felt (or perhaps even benefited from) the effects of the pandemic does not mean that others have not been disadvantaged; as a vaccine begins to be distributed and minds turn towards rebuilding the economy, extra care must be paid to not worsen inequalities already affecting the lives of everyday Canadians.  
About the Study
These are some of the findings of an Ipsos poll conducted between December 11-14, 2020, on behalf of Global News. For this survey, a sample of 1,000 Canadians aged 18+ was interviewed online. Quotas and weighting were employed to ensure that the sample's composition reflects that of the Canadian population according to census parameters. The precision of Ipsos online polls is measured using a credibility interval. In this case, the poll is accurate to within ± 3.5 percentage points, 19 times out of 20, had all Canadians aged 18+ been polled. The credibility interval will be wider among subsets of the population. All sample surveys and polls may be subject to other sources of error, including, but not limited to coverage error, and measurement error.
For more information on this news release, please contact:
Darrell Bricker
CEO, Ipsos Global Public Affairs
+1 416 324 2001
© 2020, Ipsos Limited Partnership
This polling release and the data contained in it are the sole and exclusive property of Ipsos. They are NOT designed to support any election outcome or prediction model and no license to use the polling release or the data is either granted or implied by their publication. Ipsos does not endorse, and has no responsibility for the accuracy of, the result of any predictive model that incorporates this polling data. Furthermore, any use of this information to produce polling aggregations or election models without Ipsos' written permission will be considered a violation of our intellectual property, and Ipsos reserves the right to take appropriate legal action.
About Ipsos
Ipsos is the world's third largest market research company, present in 90 markets and employing more than 18,000 people.
Our passionately curious research professionals, analysts and scientists have built unique multi-specialist capabilities that provide true understanding and powerful insights into the actions, opinions and motivations of citizens, consumers, patients, customers or employees. We serve more than 5000 clients across the world with 75 business solutions.
Founded in France in 1975, Ipsos is listed on the Euronext Paris since July 1st, 1999. The company is part of the SBF 120 and the Mid-60 index and is eligible for the Deferred Settlement Service (SRD).
ISIN code FR0000073298, Reuters ISOS.PA, Bloomberg IPS:FP