Politicians and Tech Giants Should Top Santa's Naughty List while Healthcare Workers Make the Nice List, Say Canadians
Toronto, ON, December 23, 2021 – A new poll by Ipsos on behalf of Global News reveals who Canadian's think will make Santa's naughty and nice lists this year, and it looks like world leaders and tech moguls may be settling for a piece of coal.
Who is on the naughty list? Putin Narrowly Ahead of Trudeau
2021 was a Canadian election year, a year of global political unrest, and a continuation of the challenges of COVID-19. Given this turmoil, it is perhaps unsurprising that Canadians would place politicians on the naughty list. Canadians are most likely to place Vladimir Putin (44%) at the top of the naughty list. The Russian leader is closely followed by Canada's own Justin Trudeau -- 40% of Canadians believe the Prime Minister should have his year rewarded with a lump of coal. Ontario Premier Doug Ford rounds out the politicians at the top of the naughty list: 29% of Canadians think he'll be receiving coal on December 25th, with residents of Ontario being more censorious than most towards the premier (39% ON vs. 30% ATL, 29% BC, 28% AB, 24% SK/MB, 15% QC).
Bad behaviour is not limited to politicians. Titans of the tech industry including Meta (formerly Facebook) CEO Mark Zuckerberg (32%) and Amazon CEO Jeff Bezos (26%) are both placed near the top of the naughty list by Canadians.
Who is on the nice list? Ryan Reynolds Bests the Queen
A range of change makers fall on the nice list in 2021. Neary 19 months into the COVID-19 pandemic, the Canadian public place healthcare workers (54%) at the top of the nice list. Recent recipient of the Governor General's Performing Arts Award Ryan Reynolds makes the nice list this year with three in ten Canadians (29%) indicating the actor should receive a full stocking, slightly more than the proportion who felt the same way about the Queen (25%). In fact, the Queen is more likely to be on the nice list than her grandson: Prince Harry and Meghan Markle have nearly equal chances of presents or coal (16% nice, 17% naughty) according to Canadians.
Rounding out the top of the nice list are women who are leaders in their respective fields: 23% of Canadians place Dr. Theresa Tam on the nice list while 22% think climate activist Greta Thunberg has been good this past year and deserving of Santa's attention.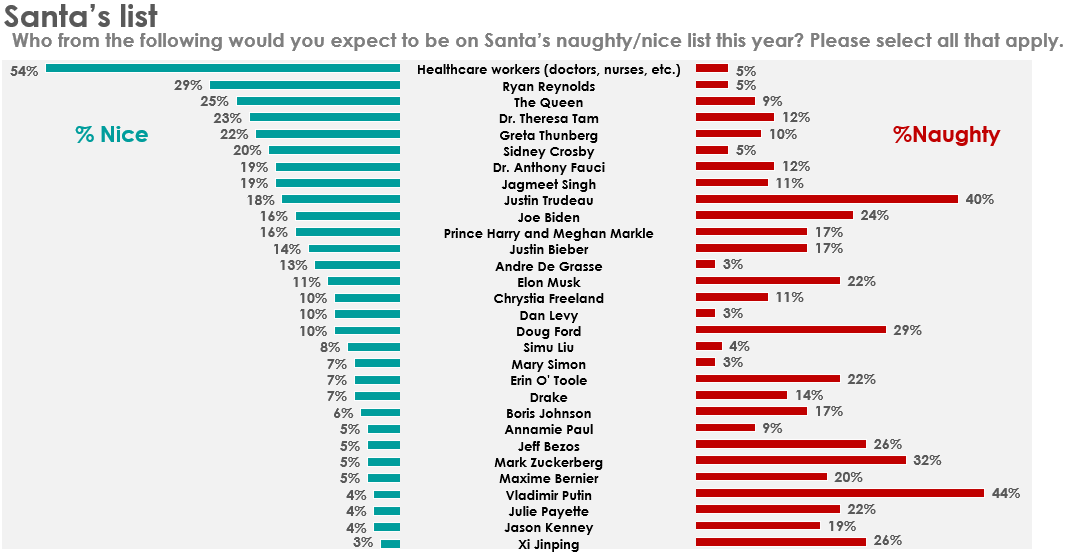 Spotlight on Canadian Politicians
Canadians are largely in agreement that international politicians will be receiving lumps of coal this year: alongside President Putin, Canadian's place Xi Jinping (26% naughty, 3% nice), and Joe Biden (24% naughty, 16% nice) on the naughty list. However, when it comes to their own, Canadians are less unanimous. While 40% think the Prime Minister will end up on the naughty list, 18% think Justin Trudeau has been good this year, perhaps reflecting the divided opinions that have arisen in the latest election cycle. Political figures including Jagmeet Singh (19% nice, 11% naughty), Chrystia Freeland (10% nice, 11% naughty), Erin O'Toole (7% nice, 22% naughty) and Annamie Paul (5% nice, 9% naughty) have split chances of seeing full stockings or lumps of coal.
The data shows however that attitudes towards Canadian politicians (and whether they have been good or bad this year) varies regionally. Residents of Alberta are more likely to place Justin Trudeau (56% AB vs. 53% SK/MB, 44% BC, 44% ATL, 42% ON, 23% QC) and Jason Kenney (50% AB vs. 27% BC, 22% ATL, 19% SK/MB, 12% ON, 9% QC) on the naughty list alongside finance minister Chrystia Freeland (19% AB vs. 12% BC, 12% SK/MB, 11% ON, 9% ATL, 4% QC). Contrastingly, Atlantic Canada is more likely to place conservative leader Erin O'Toole on the naughty list (36% ATL vs. 26% AB, 24% SK/MB, 24% ON, 22% BC, 12% QC).
About the Study
These are some of the findings of an Ipsos poll conducted between December 10 and 15, 2021, on behalf of Global News. For this survey, a sample of 1,001 Canadians aged 18+ was interviewed. Quotas and weighting were employed to ensure that the sample's composition reflects that of the Canadian population according to census parameters. The precision of Ipsos online polls is measured using a credibility interval. In this case, the poll is accurate to within ± 3.5 percentage points, 19 times out of 20, had all Canadians aged 18+ been polled. The credibility interval will be wider among subsets of the population. All sample surveys and polls may be subject to other sources of error, including, but not limited to coverage error, and measurement error.

For more information on this news release, please contact:
Darrell Bricker
CEO, Ipsos Global Public Affairs
+1 416 324 2001
[email protected]
About Ipsos
Ipsos is the world's third largest market research company, present in 90 markets and employing more than 18,000 people.
Our passionately curious research professionals, analysts and scientists have built unique multi-specialist capabilities that provide true understanding and powerful insights into the actions, opinions and motivations of citizens, consumers, patients, customers or employees. We serve more than 5000 clients across the world with 75 business solutions.
Founded in France in 1975, Ipsos is listed on the Euronext Paris since July 1st, 1999. The company is part of the SBF 120 and the Mid-60 index and is eligible for the Deferred Settlement Service (SRD).
ISIN code FR0000073298, Reuters ISOS.PA, Bloomberg IPS:FP