Global Consumer Confidence Index: May 2021
Expectations Index is back to its pre-pandemic level with gains for the 6th month in a row. Here, we give you the summary of our Confidence Index Survey that measures consumer attitudes on the current and future state of local economies, personal finance situations, savings, and confidence to make large investments.
Our Global Consumer Confidence Index shows a month-to-month gain of nine-tenths of a point - sitting just 2.3 points below its pre-pandemic level of January 2020. Of note, this month's Expectations Index, indicative of consumers' outlook on their local economy, financial situation, and employment, is back to its pre-pandemic level and slightly above its 11-year historical average. Ten of the 24 countries surveyed show significant growth in their National Index when compared to last month. 
National Index Trends
The Global Consumer Confidence Index reads at 46.4, up from 45.5 in April, marking six straight months of gains.
Eight countries have a National Index above 50: China (72.6), Saudi Arabia (65.7), the U.S. (59.5), Sweden (57.3), Australia (56.6), Great Britain (54.2), India (53.0) and Germany (52.4).
Only two countries have a National Index below 35: Turkey (30.0) and Argentina (34.4).
Once again, the three countries in the survey showing the highest levels of month-over-month growth (the U.S., Israel, and Great Britain) are also those leading in vaccination rollout as per Oxford University data.  
Expectations, Jobs, and Investment Index Trends
For the third month in a row, the Expectations, Jobs, and Investment Indices all display month-on-month gains. Great Britain, Israel, Poland, Saudi Arabia, Spain, and the U.S see significant gains (at least 1.5 points) across all three indices. Meanwhile, India and Turkey record significant drops on all three.
After gaining 0.6 points from last month, the global Investment Index currently reads at 40.5. The Investment Index now sits 1.9 points behind its January 2020 reading. 
The Expectations Index sits at 57.1 with a gain of 0.9 points over last month, surpassing its level of January 2020 by 0.1 point.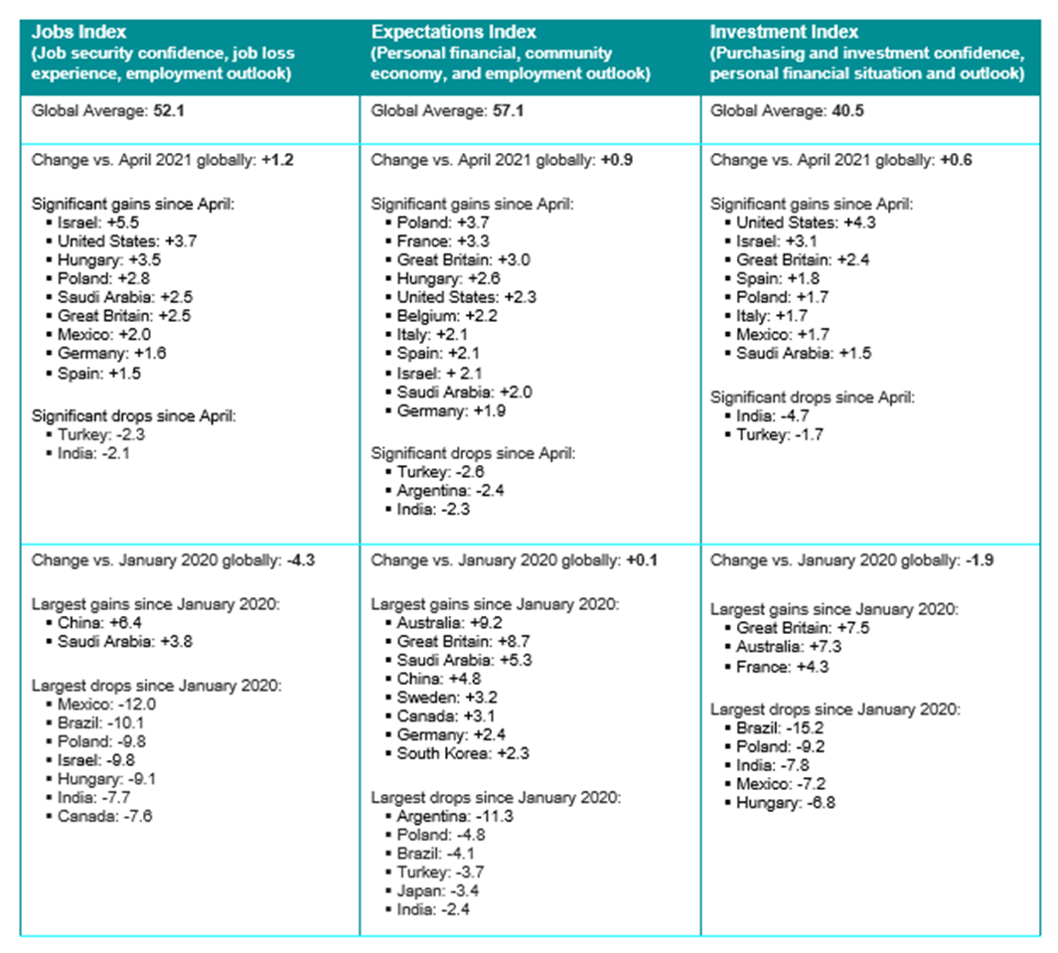 Visit our interactive portal Consolidated Economic Indicators for graphic comparisons and trended data pertaining to the Ipsos Global Consumer Confidence Index and sub-indices—and all the questions on which they are based.
About the Study
The Global Consumer Confidence Index is the average of 24 countries' National Indices. It is based on a monthly survey of more than 17,500 adults under the age of 75 conducted on Ipsos' Global Advisor online platform. These findings are based on data from Refinitiv /Ipsos' Primary Consumer Sentiment Index (PCSI) collected between April 23 and May 7, 2021.
Download