Ipsos unveils IndiaBus Solution
Ipsos unveils IndiaBus Solution - India specific, rigorous, omnibus offering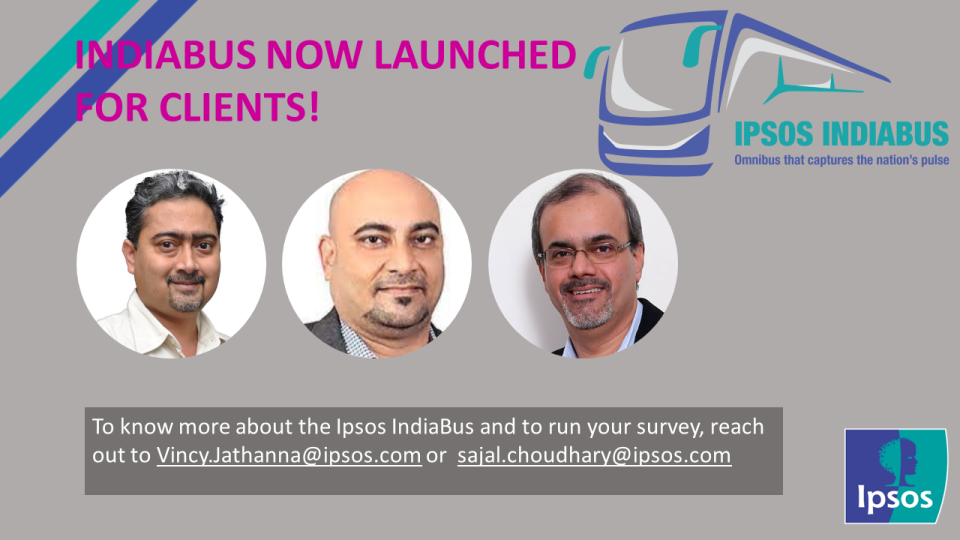 Ipsos India today virtually launched its new IndiaBus solution for clients, an omnibus study designed to run once or twice in a month, covering a large sample, with pan India coverage, enabling a number of clients to simultaneously run their surveys, specific and customized to their needs, by blocking the seats (survey slots) in the bus.
Speaking about the new capability/ offering, Amit Adarkar, CEO, Ipsos India said, "Ipsos IndiaBus solution has been launched to cater to the clients' long standing demand for a continuous survey that could run a few times in a month, with a large statistically robust sample, covering the length and breadth of the country. This survey will run for a multitude of clients providing them with timely insights. At Ipsos, we are committed to bringing the widest range of solutions to our Clients, and IndiaBus is the latest addition to our repertoire."
Ipsos IndiaBus covers a sample of 1800 respondents offline (face-to-face) and a 400 sample online, in every wave of the omnibus survey. The respondents belong to SEC A, B and C households, from the metros, tier 1, 2 and 3 towns, covering 16 cities in all. There is also coverage by age cohorts, gender and target groups.
Vincy Jathanna, Country Service Line Leader, Observer, who is spearheading this initiative in India, said, "Ipsos globally runs the multi-country omnibus studies which have India as a constant participant. But typically, the global omnibus that runs in 70+ markets around the world, captures views of a niche target group for India – the digitally savvy, educated, connected audience from the upper crust of society. The IndiaBus aims to provide a more authentic, representative and  view of consumer behavior and perspectives across different target groups, providing clients a robust national coverage across Tier 1, 2 and 3 town classes with the right hybrid mix of online and offline FW methodology. This according to me will be the First any omnibus ever offered."
Omnibus survey versus conventional research
Elucidating on the relevance and rationale of running a large India omnibus study, Parijat Chakraborty, Group Service Line Leader, Public Affairs & Corporate Reputation, Ipsos India, stated, "India omnibus or IndiaBus is not meant to replace the conventional, rigorous, custom research that we do for clients using our specialized capabilities like brand tracking, market strategy and innovation, product testing, ad testing, mystery shopping, social research, ethnography, etc. Omnibus studies are meant to be faster turnaround surveys, covering a large representative sample, for validating a hypothesis, or getting feedback on a creative or communication and other pressing client needs, when they have time crunch, but they still cannot proceed with implementation, without factoring in the consumer view."
"We have put in a large investment to launch the IndiaBus. We have run months of trials to smoothen its functioning. And now we are ready and inviting clients to hop onto the IndiaBus with their research requirements. Yes, there will be a Chinese wall between all clients who ride the bus following our four principles of security, speed, simplicity and substance," added Adarkar.    
About Ipsos
Ipsos is the world's third largest market research company, present in 90 markets and employing more than 18,000 people.
Our passionately curious research professionals, analysts and scientists have built unique multi-specialist capabilities that provide true understanding and powerful insights into the actions, opinions and motivations of citizens, consumers, patients, customers or employees. We serve more than 5000 clients across the world with 75 business solutions.
Founded in France in 1975, Ipsos is listed on the Euronext Paris since July 1st, 1999. The company is part of the SBF 120 and the Mid-60 index and is eligible for the Deferred Settlement Service (SRD).
ISIN code FR0000073298, Reuters ISOS.PA, Bloomberg IPS : FP www.ipsos.com