Money talks or budget walks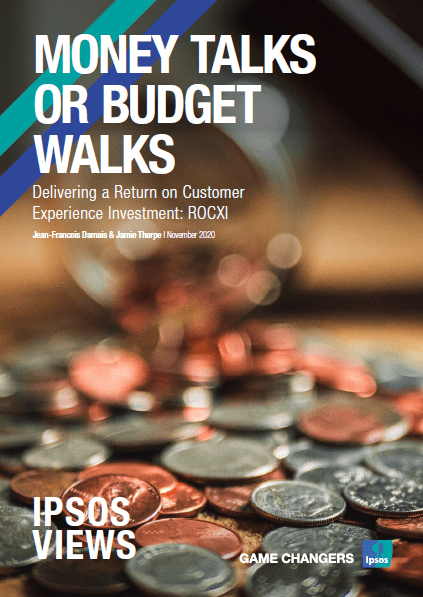 Customer experience (CX) is a business imperative that can be the difference between organisational success or failure. It is key to differentiating an organisation's offer, and an increasingly powerful driver of brand choice, loyalty, genuine advocacy, and cost to serve. The C-suite is focussing on what CX can do for them. CX professionals are in the spotlight; they are being expected to do more with less. Results need to be tangible, impact must be felt. Unlocking CX potential is a game changer.
CX professionals of today are focussed on many things, with the top three we are seeing being:
ROCXI: Delivering a Return on CX Investment – How much is CX worth to my business?
CX Maturity – How do we compare to CX leaders and what is our path to CX excellence?
Closed Loop – How should I best act on the feedback that my customers are providing?
In this new paper from Ipsos' Customer Experience team, we address point one, the widely acknowledged link between CX success and the financial performance of organisations; ROCXI: Delivering a Return on CX Investment. We demonstrate the importance of CX in building a powerful business case for change, and how to set about quantifying the impact of CX on business performance and unlocking resources accordingly.
Customer Perspective podcast
In addition to the paper, you can download and listen to Series 2, Episode 2 of our Customer Perspective podcast: Delivering a Return on CX Investment (ROCXI) – the practical steps involved in financial linkage modelling.